On the Same Path
By Molly H. Rufus
10th grade, Homeschooled, VA
With lines from "Colombia: After the Violence" by Sara Reardon, Greg Kendall-Ball, and Adam Levy, a Pulitzer Center reporting project
After the Violence
I thought, "I'm face to face with a monster."
War had positioned him to think the same of me,
yet he looked at me,
yet he saw me as a human being.
The Road to Peace
He said, "See me. As a human being.
Forget the screams echoing inside your ear,
the tattoos crawling up my sleeve,
the morality of an action.
What would you do for a better world?"
Weight of the Past
He said, "Can you see me? As a human being?
Don't look away—I'll keep talking; listen:
My brother was dying—
Cocaine and streetlife—
I had no job, I had no antidote,
Who to blame but Colombia?"
Interlude of Retrospect
Can't you see the worst part of conflict?
We get confused between the weight of the past,
and the fragility of the present, chest constricted,
filled with rising fears that peace is only temporary; hold fast.
Look alive, look alive.
A Battle Within
He said, "See me. As a human bei-"
I screamed, "See me. The FARC killed my family, my village,
so many others in an arc of torture. Why should I care of your
brother?
I cannot care about your brother.
You and your FARC kidnapped thousands of people for
ransom. How much was their life worth to you?!"
Silence reigns. Sudden pains. Desperate anger, nothing to gain.
He said, quietly, "Nothing. At the time."
Interlude of Retrospect
I whispered, "Oh sir. I see you.
I do.
But I don't want to.
I want to step away from you.
Pain is something I can't forget-
Nor can you! Don't lie to yourself.
Stop pretending you're everything I am."
An Uncertain Future
He said, "See me. As a human being."
I still walked away. I thought I saw him.
Author's note:
You know, I've never read about a war's aftermath and had the peace leap out at me. True peace doesn't exist in this world and that's what I wanted to showcase here: "peace" is a cycle of war. The differences still exist after the war, the pain still lives, and the beliefs never leave. This is a conversation, both verbal and mental, between two survivors, and it evolves into a story that many survivors face: rejection from the other side.
---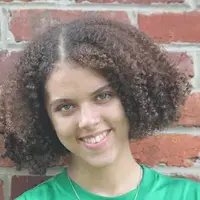 Born and raised a Virginia girl, Molly Rufus is a homeschooled high school student, intensively studying music and writing. She has big passions for playing guitar, singing, and writing songs, most of which start out as poems. 
She loves art, dogs, the next big music award show, cooking, and green tea, preferably with mint.
Read more winning entries from the 2018 Fighting Words Poetry Contest