Dear U.S. Representative Greg Stanton,
You may not know this, but Arizona happens to be the state with the third highest number of cases of missing and murdered Indigenous women and girls (MMIWG) in the United States. In the Pulitzer Center news story "A Well of Grief: The Relatives of Murdered Native Women Speak Out," author Sara Hylton introduces the topic with the discovery of Olivia Lonebear's body, one of the countless women who become victims of the MMIWG crisis. Hylton writes, "It was here, in the deep blue lake, that [Lissa Yellow-bird Chase] and volunteers from her group the Sahnish Scouts of North Dakota, found the body of Olivia Lonebear. The 32-year-old and mother of five had last been seen in New Town, a small oil-boom city on the edge of Fort Berthold Reservation, nine months prior." Lonebear's case may sound extremely similar to other missing Indigenous victims, as many of these women who go missing receive minimal help from law enforcement. The MMIWG movement was primarily established in the U.S. and Canada to spread awareness about the extreme murder and disappearance rates among the Indigenous community—mainly women and girls. However, these Native victims often receive little to no media coverage.
This "hidden epidemic" has made Native American women and girls more vulnerable to race-based violence, since they are targeted by crimes like abduction, assault, and murder far more than non-Natives. This issue has greatly impacted my Native sisters, whether they reside in the Navajo Nation or in urban cities. And why is that? Many U.S. law enforcement systems dreadfully neglect the urgency of this crisis that is affecting my community—ranging from little girls half my age to elderly women from whom I would seek wisdom. Hylton mentions that "while Canada collects some data, the U.S. federal government does not track how many people like Lonebear go missing or turn up murdered." Notice how the quote highlights that Canada tracks "some" MMIWG cases; it clearly shows that Canada gives the bare minimum when it comes to seeking justice for Indigenous victims. Furthermore, the U.S. collects no data whatsoever. So many missing Indigenous women are not receiving the justice they deserve because their cases are ignored by law enforcement. And as a young Navajo woman, I generate a huge target on my back for simply walking to school or riding the city bus.
Now, you're most likely wondering how you can contribute to the solution, rather than the problem. It is essential to establish a law requiring the Arizona public information system to track every missing Indigenous woman in both urban cities and reservations. Every Indigenous woman that is considered missing must immediately be placed within city records and cases must remain active until found. Since the 1978 Oliphant v. Suquamish Indian Tribe case, tribal counties have been prohibited from prosecuting non-Natives over crimes committed against Indigenous people. This policy must be repealed in order to properly punish non-Native perpetrators and provide justice to the Indigenous victims and their families. Thank you for reading my letter on the MMIWG crisis, and I hope you take my suggestions into consideration for the sake of my Indigenous sisters and me.
No More Stolen Sisters,
Gabriella Miller
---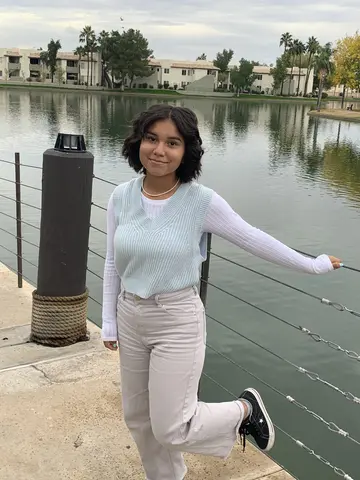 Gabriella Miller is a young Indigenous woman, currently a junior at Chandler High School in Chandler, Arizona. She was born in Shiprock, New Mexico as a member of the Navajo Nation. Gabriella holds an unweighted GPA of 3.93 and is treasurer of her school's Native American Club. Additionally, she is a proud dancer for Chandler High School's Dance Department (Advanced). Gabriella is currently working a part-time job as a Fry's Courtesy Clerk. She is an ACE (Achieving a College Education) student at Chandler-Gilbert Community College. Gabriella was surprised and overjoyed to discover that her letter was chosen. She is very passionate about the MMIWG movement and Indigenous people's rights. Not too long ago, a longtime friend of Gabriella suddenly lost her life within one morning, yet no further investigation was implemented. Gabriella is unhappy with the ongoing violence against Indigenous women and girls. She wrote this letter to bring more awareness to this crisis as her community is severely affected by this global issue.
Read more winning entries from the 2021 Local Letters for Global Change contest!