By Evan Li
10th grade, Charlotte Latin School, NC
With lines from "The Endless Battle of the Guardians of the Jungle Against the Logging Mafia in the Peruvian Amazon," by Susana Lay and Michael Tweddle, a Pulitzer Center reporting project
    I.      Bark
As if trying to bind the forest,
The iron chains of Shihuahuacos trunks.
There is no grammar to express the felling of a god,
Whose brown body cracked, dewed with eternity,
Who spoke with the screaming piha and symphony
Of insects. They lived for a thousand years, and now
We can only trace their existence in burns.
The requiem of the Las Piedras Forest
is silence. Distilled in the black, stagnant
Water that pools around decapitated trunks
Swaying with the white T-shirt
In an abandoned hideout of a man
Who cut a millennium with his chainsaw
In forgettable, summer hours.
    II.        Flesh
As if trying to bind the forest,
The death of fourteen environmental defenders.
There is no grammar to express the murder of each human being,
Whose brown bodies camped in the rainforest, sticky with heat and mud,
Who spoke for the Shihuahuacos, withstanding threats
That fell like violent rain. Once forest, they found
In the new cacao and cornfields, burned remains.
The forest guards of the Las Piedras forest
Will have no requiem. Defiance distilled
In the Shihuahuaco's reddish-brown
Trunk that even cut down, still protects itself
With enormous, ancient roots, like buttresses,
Like the forest guards cast
In a different form of flesh.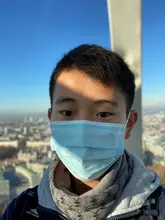 Evan Li is a rising junior at Charlotte Latin School. In 8th grade they joined their school's debate team where they were exposed to, and subsequently fell in love with, anti-capitalist and queer theory. He's still growing as an activist, but hopes that writing about social issues will help him in his journey. He has been previously published in the New York Times as a winner of its 2021 Coming of Age contest. He's passionate about fighting against climate change and participates in ACE (Action Climate Emergency) and the Sunrise Movement.
Read more winning entries from the 2022 Fighting Words Poetry Contest.