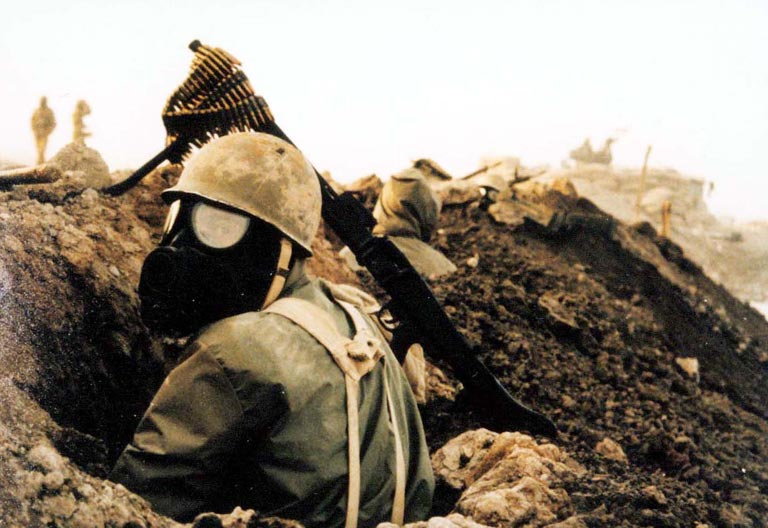 Chemical weapons made their infamous debut in the trenches during World War I. Now in the 21st century, another generation is combating chemical weapons that are being unleashed on civilians. 
Beginning in the Iran-Iraq War in the 1980s, Iraq used sulfur mustard on Iranian soldiers and civilians, as well as two of its own creations: nerve agents, sarin and tabun. These chemical weapons caused thousands of people to suffer horrific deaths and left survivors with long-term effects because of their exposure to the gases. 
On Monday, April 9, 2018, please join us for a screening of the documentary "Winds of Chemical Warfare," followed by a discussion with Pulitzer Center grantee journalist Richard Stone and filmmaker Fabienne Lips-Dumas. 
The film, written and directed by Lips-Dumas, investigates the aftermath of Iraq's chemical warfare, the stories of the survivors, and the influence those weapons had on Iran's nuclear agreement. Stone, who oversees international news coverage for Science Magazine, also discusses his Pulitzer Center-supported project, "Iran's Victims of Nerve Agent Warfare"
From 2000 to 2012, Stone served as a foreign correspondent for Science, starting out in the U.K. as the magazine's European Editor and as a Visiting Writer at the University of Cambridge. The last stop on his overseas tour was Beijing, where he opened the magazine's Asia bureau in 2007. He returned to the magazine's home office in Washington, D.C., in early 2013. Besides his curent project, covering Iran's victims of chemical attacks, Stone has also produced the project, The U.S.-China Nuclear Rapprochement, as a Pulitzer Center grantee.
Lips-Dumas is an internationally awarded producer, director, writer and journalist. In 2015, she wrote and directed a feature documentary for ARTE, RTBF and YLE on the proliferation and the legacy of chemical weapons arsenals: "Winds of Chemical Warfare." She collaborates regularly with the French magazine XXI and has been published by Le Monde. She is currently working on a documentary set in Northern Ireland. Born in Paris, France, Lips-Dumas  became a filmmaker in Vancouver, Canada where she lived for many years before moving to Washington D.C.
RELATED ISSUES