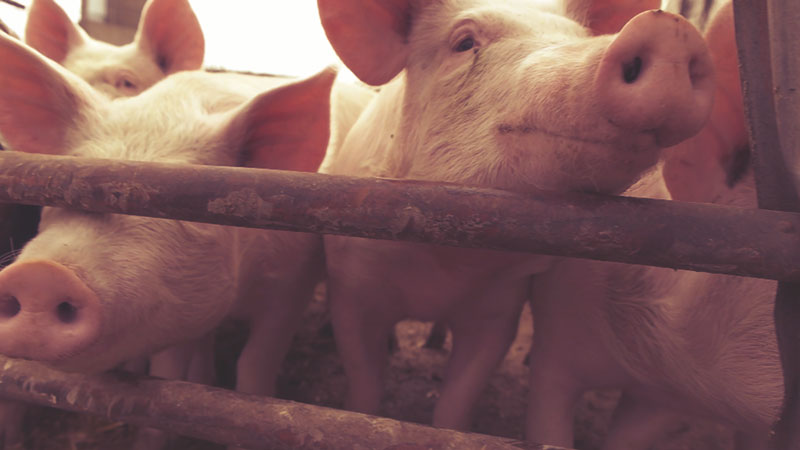 The world premiere of Enrico Parenti and Stefano Liberti's Pulitzer Center-supported documentary film "Soyalism" will be on November 18, 2018, at the 31st International Documentary Film Festival Amsterdam (IDFA).
"Soyalism" follows the entire chain of pork production, from vast soybean plantations in the Brazilian rainforest to hypermodern slaughterhouses in China, where a spokesperson proudly reports that they can slaughter 600 pigs an hour. It describes the whole system as it has been created in the United States and exported across the world. Companies once restricted their operations to a single link in the chain, but since the 1970s a number of powerful corporations have slowly but surely taken over the entire industry: from feed production, which is primarily soybeans, to the slaughterhouses, and to the distribution of the final product.
The film is part of Parenti and Liberti's Pulitzer Center project, Mozambique's Controversial Plan to Industrialize Food Production. The project investigates ProSavana, one of the world's biggest agro-industrial project: it aims to convert a 14-million-hectare area in northern Mozambique to commercial agriculture. This project wants to shed light on this underreported story by questioning all of the stakeholders: the farmers who are protesting the project, government officials, and the entrepreneurs who are investing in the area with the support of Mozambique's government.
The IDFA offers an independent and inspiring meeting place for audiences and professionals to see a diverse and high-quality program. The diverse nature of the event applies to the form and content of the films as well as to the cultural backgrounds of the filmmakers.
For more information on IDFA visit: idfa.nl/en/ For more information on 'Soyalism' visit: soyalism.com
RELATED ISSUES

Trade

Food

Issue
Land and Property Rights
Land and Property Rights