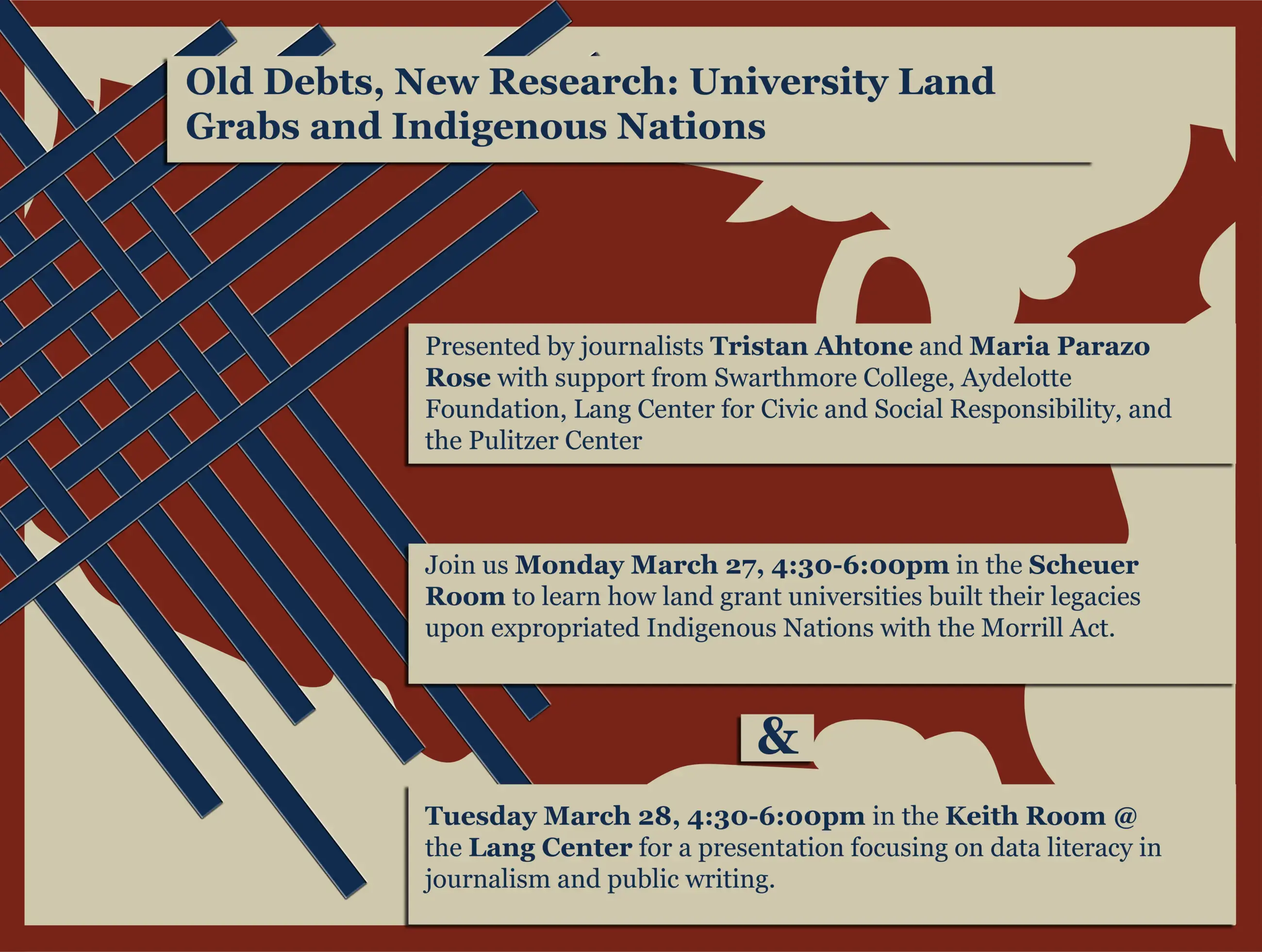 Monday, March 27: 'Investigating Land Grants to Universities'
Join grantee Tristan Ahtone to learn how land grant universities built upon expropriated Indigenous Nations with the Morrill Act. The Morrill Act bestowed 11 million acres of public land for states to sell to land grant schools. While made legally "public" by force and deceit, these lands were not uninhabited. Indeed, the Morrill Act constitutes the "largest wealth transfer from tribal nations to American colleges nationwide."
Ahtone and his team at High Country News presented in "stunning detail" just how much land grant universities profited from Indigenous land. By combining investigative skill with data analysis, the team isolated an irony at the heart of institutions renowned for civic participation and diversity of thought.
Tuesday, March 28: 'What Gets Counted, Counts.'
Feminist geographer and activist Joni Seager asserted this, explaining that we fail to capture important data that we don't think to measure—without the right categories and awareness, we misunderstand the nuances of problems, ignore qualitative experiences, and overlook people of different identities. And without this kind of data, we can't really create informed solutions. Data journalism and utilizing data in storytelling can be a space to challenge this.
Join Ahtone and spatial data analyst Maria Parazo Rose to explore examples of how data journalism has catalyzed new forms of storytelling and discuss what can be considered as data. They will also look at a case study of how data "Land Grab Universities" was used in a small-scale project to reimagine the value of land.
---
This event is made possible by support from Swarthmore College, Aydelotte Foundation, Lang Center for Civic and Social Responsibility, and the Pulitzer Center.
RELATED ISSUES

Issue
Land and Property Rights
Land and Property Rights

Issue
Indigenous Communities
Indigenous Communities

Governance