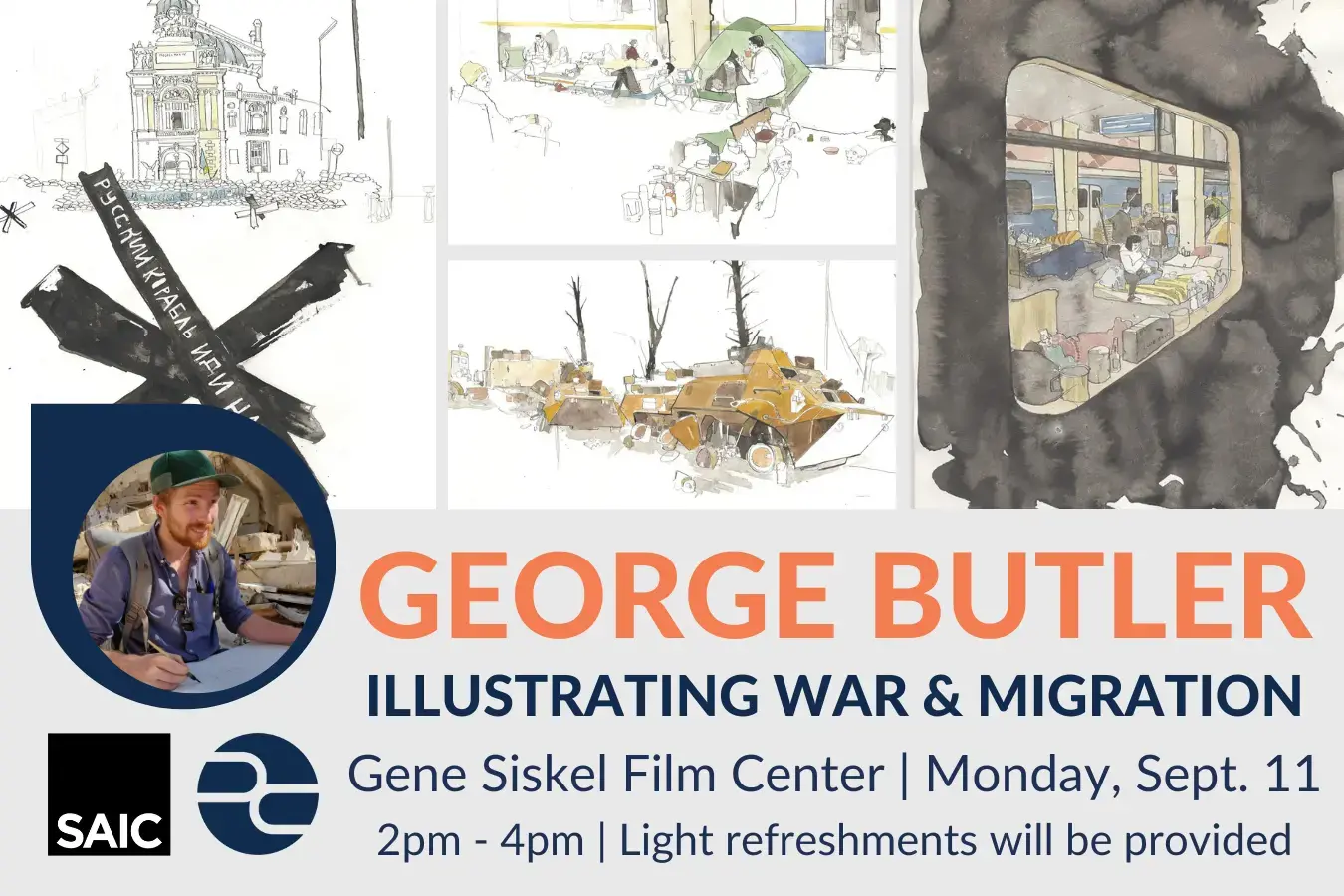 Illustrator, journalist, and Pulitzer Center grantee George Butler will visit School of the Art Institute in Chicago to speak with students and share about his experiences merging art and journalism. Butler draws in real time as a witness, documenting conflict zones, climate issues, humanitarian crises, and social issues for the news in pen, ink, and watercolor. 
Butler will present at the Gene Siskel Film Center on Monday, September 11 from 2:00-4:00pm CDT. The program will include a presentation of Butler's work and a discussion about his process and perspective with SAIC Executive Director Emily Long, followed by an audience Q&A. The reception begins at 2:00pm, with light refreshments. This presentation is free and open to the public.
The following day, Butler will also visit classes at the School of the Art Institute of Chicago on Tuesday, Sept. 12. 
Over the last 15 years Butler has been commissioned to offer a deliberately slow alternative to the headlines. He attaches his drawings to the personal testimonies of those that he meets and records their resolve and resilience alongside the vulnerability of their situations. This has included in a leprosy clinic in Nepal, a militia in Yemen, the mass graves in Bucha, Ukraine, a cesarean section in Afghanistan, the artisanal oil fields of Myanmar, the aftermath of the 2023 earthquake in Turkey and Syria, and most recently, the war in Ukraine.
RELATED INITIATIVES
RELATED ISSUES

Issue
Migration and Refugees
Migration and Refugees

Issue
Conflict and Peace Building
Conflict and Peace Building