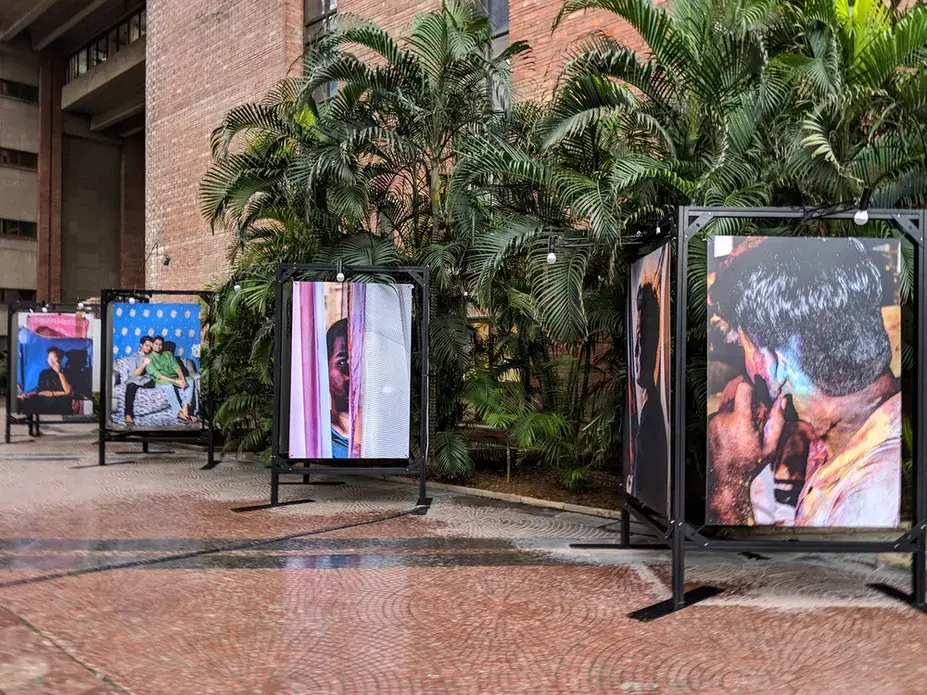 From Thursday, January 10 until Thursday, January 31, 2019, the India Habitat Centre in New Delhi hosts "Both Sides of The Veil - Living and Loving In Queer India," an immersive exhibition comprised of photographs and multi-channel video projections of India's LGBTQ+ community. The show features some 50 images, including the work of Pulitzer Center grantees Jake Naughton and Aarti Singh and is spread out across the large campus in public exhibit.
Despite the newfound legal freedom for members of India's queer community, there are many social barriers that remain before anything like true equality can be claimed. 
Singh and Naughton are co-founders of Suno Labs, which they describe as a "creative incubator for new ways of telling stories that bring together people and ideas." 
In the exhibition description, Suno Labs writes, "Taken as a whole, the installation disrupts the narrative of an endless march towards progress. 'Both Sides of The Veil' is explicitly designed to provoke feelings of destabilisation, as well as empathy for India's LGBTQ+ community, who, for years, were denied the ability to love who they want."
Exhibit programming includes: 
January 12: Exhibition Launch Party, India Habitat Centre
January 17, 25 and 28: Street Projections of Both Sides of the Veil, Jhilmil, Delhi, Durgha Puri, Delhi and Adchini Village, Delhi (respectively)
January 26 and 27: Exhibition Tours with Suno Labs Co-Founders Aarti Singh and Jake Naughton
January 28, 11:00: Sisak Film Screening, Auditorium @ SACAC, Q+A with Suno Labs and with film director Faraz Ansari to follow
January 28, 13:30: Both Sides of the Veil Artists Talk @ SACAC
Click here for more information.
RELATED ISSUES