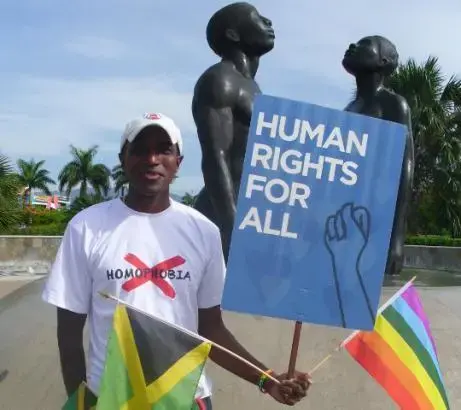 "The Abominable Crime," Micah Fink's award-winning documentary on homophobia in Jamaica, screens at the Trinidad and Tobago Film Festival on Wednesday, September 17 and Sunday, September 28.

The film is one of three Festival selections in contention for a prize sponsored by Amnesty International for a Caribbean film that best highlights a human rights issue.

Jamaica has the reputation of being one of the most violently anti-gay countries in the world. Jamaica's anti-buggery law, which refers to homosexuality as "an abominable crime", is a legacy of the British colonial past. The Pulitzer Center-supported documentary follows the lives of individuals from Jamaica's gay community who are under the constant threat of harassment and violence. Fink spent more than four years filming in five countries: Jamaica, Canada, the Netherlands, United Kingdom and United States. It tells the story of Simone Edwards, a single mother who survives an anti-gay shooting but is forced to flee the country to protect herself and her daughter, and Maurice Tomlinson, a leading activist and lawyer whose marriage to another man is made public, placing him in danger as well.

This film is an outcome of Fink's original project supported by the Pulitzer Center: "Glass Closet: Sex, Stigma and HIV/AIDS in Jamaica." View the film's trailer.

Wednesday, September 17
1:00 pm
MovieTowne
Lot D, MovieTowne Boulevard
Audrey Jeffers Highway
Port of Spain
Trinidad, West Indies

Sunday, September 28
3:30 pm
Little Carib Theatre
White St
Port of Spain
Trinidad and Tobago

For more information, please visit the website of the Trinidad and Tobago Film Festival.
RELATED ISSUES