By Beatrix Stone
11th grade, Strathcona High School, Edmonton, Canada
With lines from "'It's Not for the Faint-hearted': The Story of India's Intrepid Women Seaweed Divers" by Kamala Thiagarajan, a Pulitzer Center reporting project
What was mere water now hope,
Washing bright colours clean of pain,
Clean of sorrow,
Cool escape from the shore,
Dive deeper in.
We watch out for each other here,
Shadowed by the eyes of grandmothers and great grandmothers.
They set their own rhythm.
Welcome to the dance,
Welcome to the dive.
It's not for the faint-hearted.
You won't see any men here.
Clawing life from the rocks,
Ripping 3 to 4 dollars from the cloudy water.
Here the currents of time have found a true rival 
In this tradition. 
It is our livelihood 
Not to run from the shore,
But to dive deep into the water.
5000 women in the region persist.
5000 women wrapping their fingers.
Thick strips fight off the cuts.
The sunlight is blinding,
The sea is calling.
There is poison within and behind,
Venom in the water,
Venom on the shore,
Our lives above the water as rocky
As the seabed .
A female labor force is largely
Invisible,
But they dive,
With hardly a backward glance
Into the waters 
Again,
Pulling on the hope deep down,
Dollars from cracks in the rocks,
Ripping life from the jaws of the beast,
And throwing it
With a
Flick of the wrist
Back to the shore.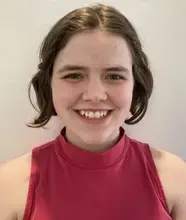 Beatrix Stone is a grade eleven student in Alberta, Canada. She began writing poetry in grade five, as part of a school wide program for slam poetry. She has continued to work on this art, including taking part in multiple Pulitzer contests over the years. When she's not writing, she enjoys karate, longboarding, and playing guitar. She has loved watching the Fighting Words contest grow over the last few years, and is grateful for all of those involved in making it happen. Thank you!
Read more winning entries from the 2023 Fighting Words Poetry Contest.