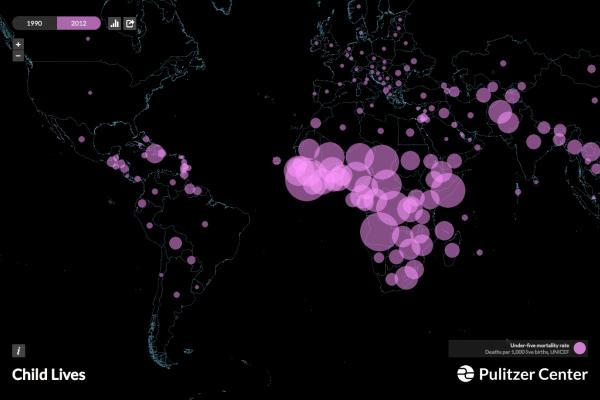 SAVING 90 MILLION LIVES

It's the nature of journalism to focus on what's wrong. And in a world that's full of violence and suffering there's no shortage of subjects. But a new Pulitzer Center interactive map spotlights instead a remarkable success, and one that has gone under-reported — the extraordinary decline in the rate of child mortality.

"Child Lives" uses UNICEF data to illustrate on a country-by-country basis the advances that have saved 90 million young lives since 1990. The map is easily embeddable and we welcome others, including news organizations, to make use of this resource.

THE BEATING HEART OF CAMBODIA

For centuries, Cambodia's Tonle Sap Lake has been one of the world's vital freshwater ecosystems, producing more than 300,000 tons of fish each year. For that reason and also for the pulsing cycle of monsoon floods that replenish it each year, Tonle Sap has been called the "beating heart" of Cambodia.

But as Pulitzer Center grantee Chris Berdik writes in The New York Times, "the Tonle Sap is in trouble — from overfishing to feed a fast-growing population, from the cutting of mangrove forests that shelter young fish, from hydroelectric dams upstream, and from the dry seasons that are expected to grow hotter and longer with climate change."

Chris and Pulitzer Center senior producer Steve Sapienza have joined together in a multimedia project for the Times, the Virginia Quarterly Review and the PBS NewsHour that looks at how a team of scientists are developing a computer model to track an array of connections between human activity and natural systems.

The idea, according to Chris, "is to peer into the lake's future to predict how different developmental, economic and regulatory choices may ripple through this interconnected and fast-changing ecosystem, and to plan a sustainable way forward."

SEEDS OF HOPE

In the world of video documentaries you always hope that your film will find its moment. That may have been the case this past week in London. Coverage of the Global Summit to End Sexual Violence in Conflict, a conference organized by British Foreign Secretary William Hague and actress Angelina Jolie was dominated by "Seeds of Hope," the remarkable film on sexual violence in the eastern Democratic Republic of Congo by Pulitzer Center grantee Fiona Lloyd-Davies.

"Unforgettable . . . extraordinary" and at times "almost unbearable," the London Evening Standard wrote. The Daily Mail Online called it "chilling" and "unprecedented," especially the direct testimony Fiona recorded from a young soldier declaring that "When we rape we feel free." Newsweek said the film was "visually stunning and gut-achingly harrowing." CNN said it was "shocking." "Powerful," said International Business.

Fiona has been documenting sexual violence in the eastern provinces of the Democratic Republic of Congo for over a decade. "Seeds of Hope" takes the reporting even deeper, telling the story of a community of women subjected to rape but refusing to let those assaults define their lives. The film, told entirely in the voices of the women themselves, is by turns disturbing and heart-breaking but inspiring throughout.

We are so proud of the work Fiona has done—and deeply moved by the courage of the women whose stories she tells.