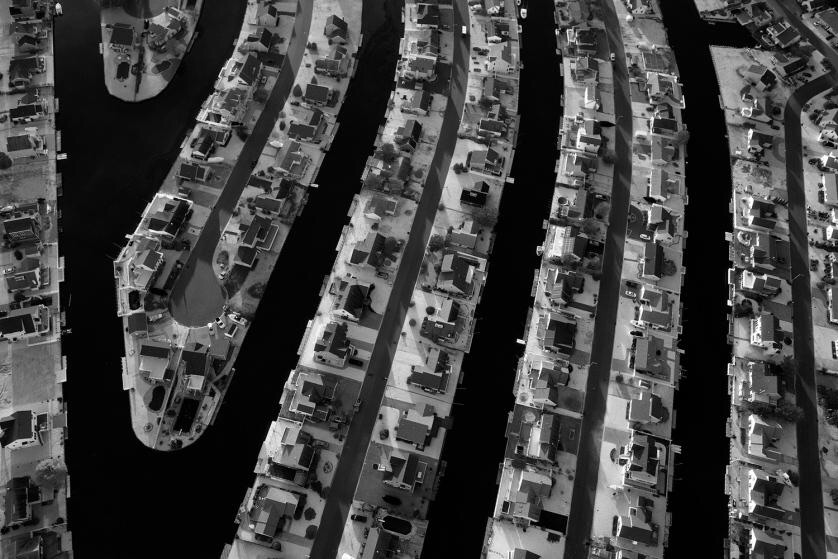 DRONE'S-EYE-VIEW

"When a drone looks at a thing, that thing has a way of looking like a target," writes book critic and author Lev Grossman. "People become silhouettes at a shooting range. Buildings look vulnerable, their roofs helplessly exposed and defenseless. Most colors disappear, and the remaining blacks, whites and greys evacuate the scene of all human meaning."

Grossman's essay in Time accompanies Pulitzer Center grantee Tomas van Houtryve's stark photographs of the American landscape through the eyes of a drone, part of an ongoing project in which Tomas deploys his own drone to raise thought-provoking questions about the American government's increasing use of this weapon against foreign enemies.

"A drone seems particularly appropriate because it's increasingly how America views the rest of the world," Tomas tells Time. "I wanted to turn things around. What do we look like from a drone's-eye view? Suspicious? Prosperous? Free and happy?"

JOURNALISTS IN JAIL

The power struggle between Recep Tayyip Erdoğan, Turkey's increasingly autocratic president, and Fethullah Gülen, an influential imam who has taken up residence in Pennsylvania's Poconos, culminated in the arrest last week of nearly two dozen Turkish journalists, media executives and others, most of them associated with Zaman, a powerful pro-Gülen media group.

Pulitzer Center grantee Jenna Krajeski sorts out the complicated crisis in a dispatch for The New Yorker. She notes that Gülen and Erdoğan were once allies, and back then the Zaman papers were enthusiastic supporters of Erdoğan's moderately Islamist A.K.P.party.

"Since the split, the paper has become an outspoken critic of the government"—but independent journalists are not really sure where Zaman stands. "Detractors say, for example, that Zaman's coverage of last year's Gezi protests and of the Kurdish issue have reflected Gülen's interests more than the truth on the ground."

Says Jenna: "The A.K.P. might be relying on past grievances to distract from the basic violations of freedom of expression that characterize the arrests. It is in the party's interest to present the raid as an attack on Gülenists, not on journalists."

ON THE FRONTLINE AGAINST EBOLA

Pulitzer Center grantee Erika Check Hayden has been reporting from Sierra Leone on Ebola survivors who continue to work as nurses, caregivers, counsellors, organizers and outreach workers. Their efforts are critical in the struggle to contain the epidemic, but as Erika notes in this dispatch for Nature, Ebola is not their only enemy.

"[T]hey also fight discrimination and stigma, lingering health problems and poverty—a legacy of the ongoing Ebola epidemic that is only now beginning to be addressed, seven months after the virus emerged in the country," writes Erika.

Until next week,

Tom Hundley
Senior Editor