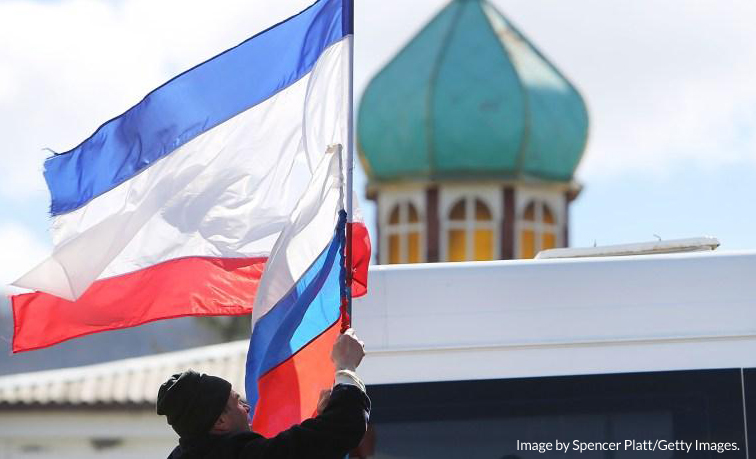 BUYER'S REMORSE IN CRIMEA

It's not just the Russian flags fluttering from atop public buildings. Everything has changed in Crimea, writes Pulitzer Center grantee Dimiter Kenarov.

"Nearly a year after Putin's annexation, the Crimean Peninsula—unrecognized as Russian by the vast majority of U.N. countries, and facing severe international isolation—is virtually an island. The place feels sad and forlorn—like an abandoned amusement park. Gone are the bustling days of tourism, of boisterous vacationers. Foreigners have become as rare a sight here as they were during the Soviet era."

Crimean residents had legitimate complaints about Ukrainian rule when they voted overwhelmingly last March to rejoin Russia, but Moscow, with its supposedly more dynamic economy, has hardly offered a better alternative, reports Dimiter in this dispatch for Foreign Policy.

"Most understood that moving from one country to another would not be easy, but the real hardships still appeared distant and abstract back then, obscured by a patriotic carnival of flags and songs. But with the holidays over, the reality of the new Crimea has reasserted itself. For better or worse, Crimea is Russian now and there is no turning back."

AN AGE OLD PROBLEM

Pulitzer Center student fellow Michelle Ferng, a Johns Hopkins Global Health Scholar, sheds light on an underreported epidemic: "Older adults worldwide suffering from abuse and abandonment, often by those closest to them. The majority of victims remain hidden from public view. Only rarely do extreme cases command attention."

In her feature story for the Johns Hopkins Bloomberg School of Public Health magazine, Michelle writes that "one of the most tragic facets of the coming demographic shift is elder abuse, which can take various forms: physical, psychological/ emotional, financial/material and sexual, as well as abandonment or neglect."

Examining the crisis in Peru, Michelle documents the cases of several older adults who have been left to fend for themselves. It is a surprising problem that appears to be growing across the region. "In many ways, time is running out," says Michelle. "Between 2000 and 2050, the proportion of the world's population over 60 years old is projected to double from about 11 to 22 percent, according to the WHO. One million people turn 60 every month, and 80 percent of these are in the developing world."

HOMOPHOBIA IN JAMAICA

Over the years, we've supported a number of projects on the problem of homophobia in Jamaica. The work has been highly praised in the U.S., but we also hope that it will have impact in the place where it matters most: Jamaica. For that reason we were surprised and pleased when Pulitzer Center grantee Micah Fink's documentary "The Abominable Crime" received favorable notice in The Jamaica Gleaner, the country's oldest newspaper.

Discrimination against the LGBT community in Jamaica is sanctioned by the country's legal code, endorsed from the pulpits of its churches and deeply embedded in popular culture. Micah's film follows the story of two Jamaicans, a man and a woman, who were forced to leave Jamaica because of their sexual orientation.

"This is a film that gives voice to gay Jamaicans forced to flee their homeland due to endemic anti-gay violence," Micah told the newspaper. "I am hoping that people will come to understand the damage that has been done by Jamaica's culture of homophobia."

Until next week,

Tom Hundley
Senior Editor
RELATED ISSUES

Governance

Issue
Conflict and Peace Building
Conflict and Peace Building