Pulitzer Center Update August 18, 2023
Webinar: Protecting the Amazon's Wildlife and Biodiversity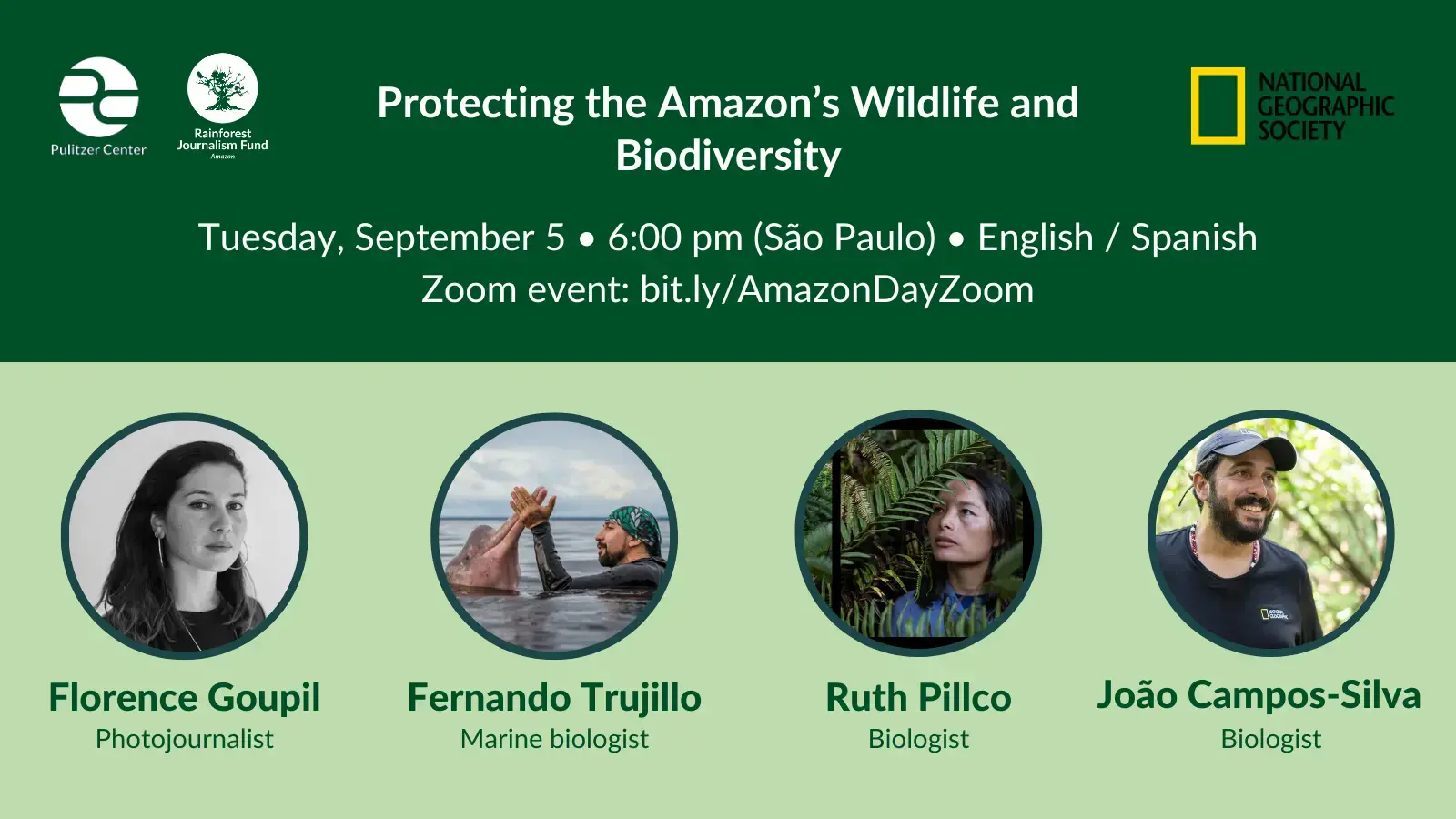 The Pulitzer Center Rainforest Journalism Fund (RJF) and the National Geographic Society will host an online webinar on September 5, 2023, at 6:00pm BSB (São Paulo) to celebrate Amazon Rainforest Day.
The webinar will showcase how journalists and researchers join forces to understand rainforest dynamics: From the pink dolphins and arapaima fish to the Indigenous language that is almost extinct in Peru. More importantly, the webinar will look at how journalists and researchers can work together to enrich the understanding of the status and health of rainforests.
Last April, National Geographic Society and Rolex launched the Perpetual Planet Amazon Expedition, a multi-year science and storytelling transect of the Amazon River basin, from the Andes to the Atlantic: from the glaciers at the source of the watershed to the Andean bears in the cloud forests of Peru, to the pink dolphins and arapaima fish of the flooded forest to the mangroves on the Atlantic Coast.
In this webinar, you'll hear from National Geographic Explorers Ruthmery Pillco Huarcaya, João Campos-Silva, and Fernando Trujillo, each leading a component of the Perpetual Planet Amazon Expedition that will inform insights into wildlife migration and habitat range. RJF grantee Florence Goupil will share her experience and visuals while working with Pillco on an expedition in Peru.
Event details: 
Time: 6:00pm BSB (São Paulo) 
Language: Spanish with live interpretation to English
Duration: 90 minutes
Registration link: https://bit.ly/AmazonDayZoom 
Panelists: 
Florence Goupil, photojournalist, Rainforest Journalist Fund Grantee, National Geographic Explorer

Fernando Trujillo

, marine biologist, Whitley Gold Award recipient, National Geographic Explorer  

Ruth Pillco, biologist, National Geographic Explorer

João Campos-Silva

, biologist, Fulbright Scholar, Rolex Laureate, National Geographic Explorer