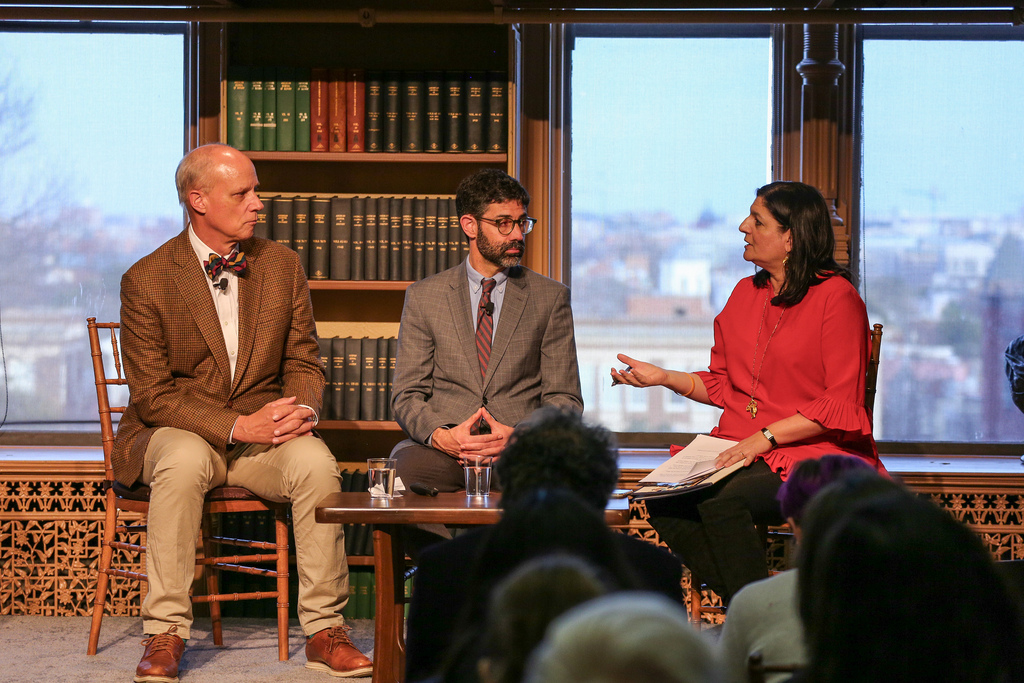 Finding a viable solution to climate change is fraught with the obstacles—ranging from economic to cultural to purely logistical—that come along with any fundamental societal shift.
In an issue that has long been exacerbated by miscommunication, and in a conversation that has veered from the scientific into the fiercely political, how can visual storytelling and religion be used to understand, process, and ultimately confront climate change?
George Steinmetz presents his photography in the Georgetown University Riggs Library. Image courtesy of GU Berkley Center. USA, 2019.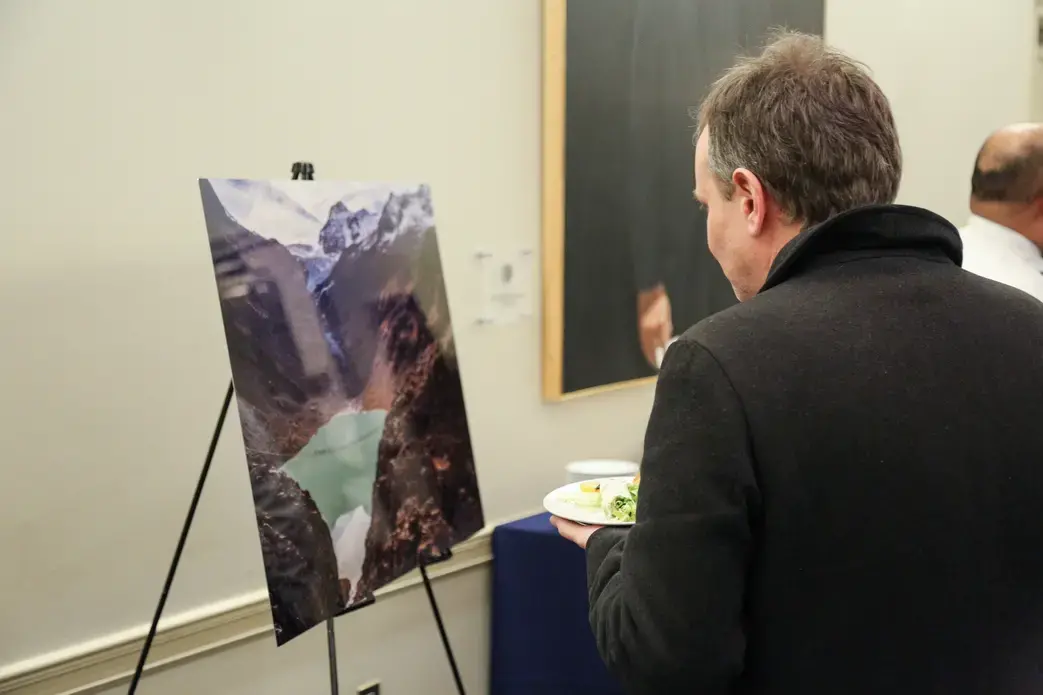 Event attendees browse photos and enjoy post-panel reception. Image courtesy of GU Berkley Center. USA, 2019.  



The event "Religion and Climate Change: A Visual and Scholarly Representation," moderated by Pulitzer Center Executive Editor Indira Lakshmanan and featuring "Losing Earth" photographer George Steinmetz and American University's Evan Berry, examined such questions. For the Pulitzer Center-funded New York Times Magazine project "Losing Earth," Steinmetz had one year to document the best visual representations of climate change on each continent. Steinmetz used aerial photography to illustrate the "scope of the problem," but also emphasized the personal. "I try to take pictures where there's something human that you can relate to," he says.
Berry, whose research focuses on the ways in which religious ideas and organizations mobilize in response to climate change and other environmental challenges, addressed the complex interplay between climate change and religion: religion can be a tool for coping with the realities of climate change, but in the United States specifically, it can also hinder action by providing a platform to discredit the phenomenon's scientific underpinnings— some of which are viewed as contradictory to religious teachings.
Questions of ethics and responsibility—both on the individual and on the state level— were also addressed. "We need to clean up our own act" said Steinmetz, and "[help] communities [around the world] adapt to rapidly changing environments" added Berry.
Georgetown University and its Berkley Center for Religion, Peace, and World Affairs are part of the Pulitzer Center's Campus Consortium network along with more than 30 other colleges including American University.
RELATED ISSUES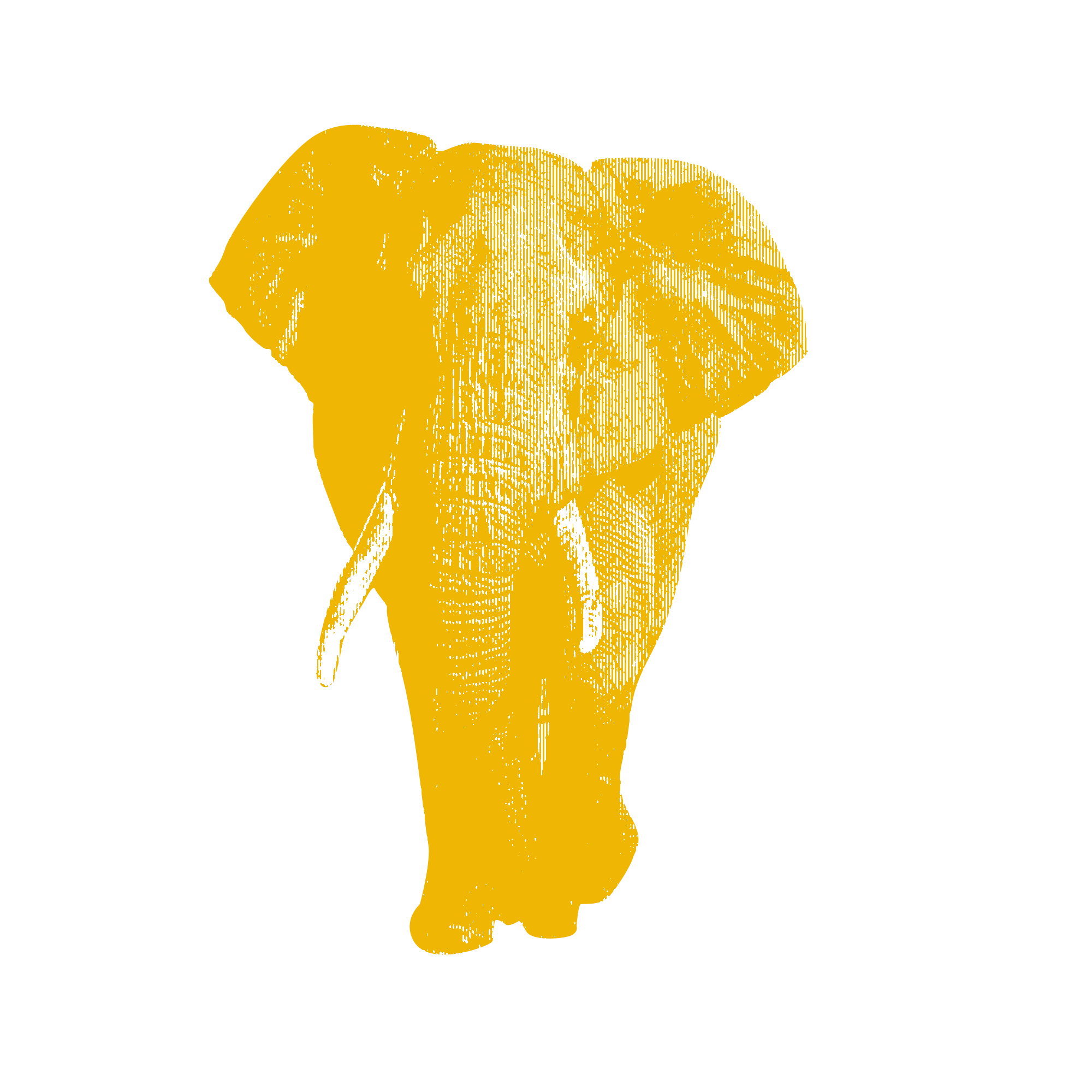 Issue
Environment and Climate Change
Environment and Climate Change

Religion