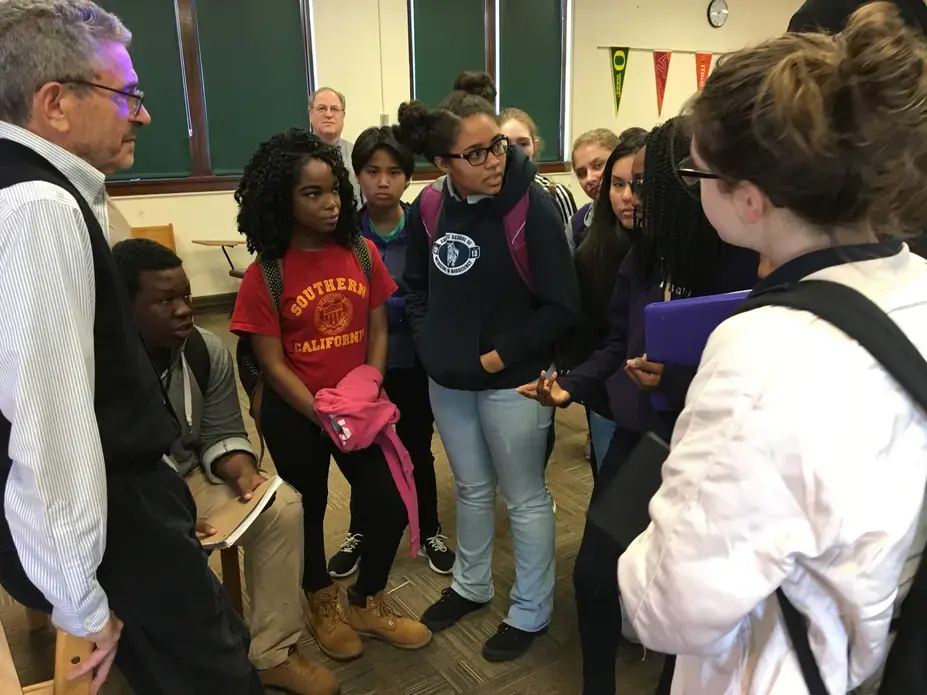 Members of the Model UN club gathered after Richard Bernstein's presentation at the Collegiate School of Medicine and Bioscience to debate US relations with China and Taiwan. Image by Mark Schulte. St. Louis, 2016.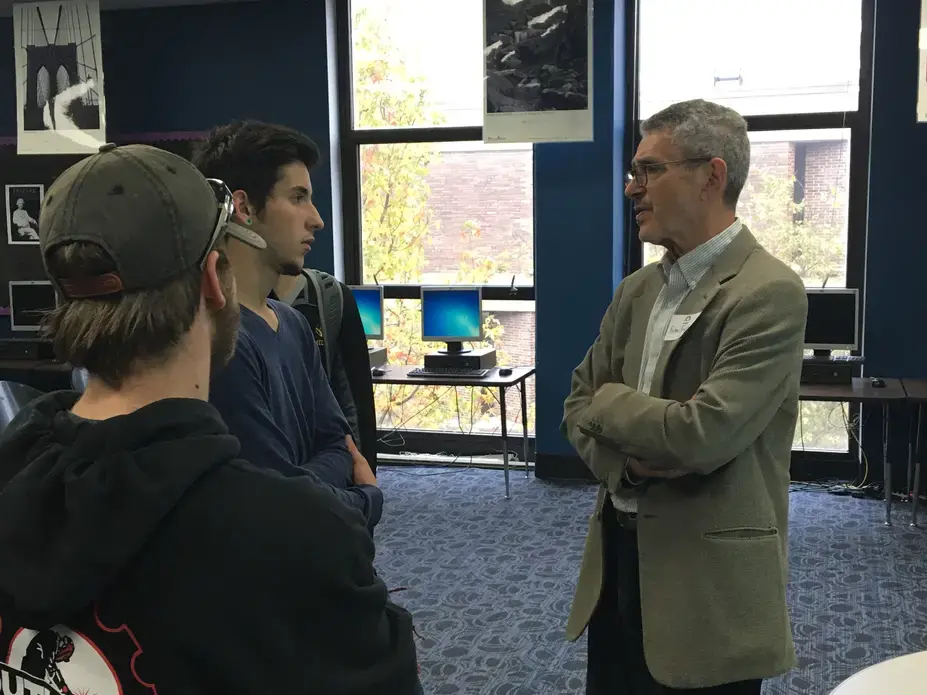 Parkway West students take the opportunity to pick Richard Bernstein's brain on Taiwan after he presents to Kristen Collins's class. Image by Mark Schulte. St. Louis, 2016.



When word spread last week that president-elect Donald Trump had broken with decades of diplomatic protocol by speaking with Taiwanese president Tsai Ing-Wen, many in the US were probably obliged to do some hasty research to understand why it was news. But nearly 600 high school students in St. Louis immediately comprehended the significance of that moment.

That's because just weeks earlier they had spoken with Taiwan expert Richard Bernstein about the recent past and likely future of the island. Bernstein is a longtime New York Times and Time magazine foreign correspondent who founded Time's China bureau in 1979 and is the author of five books about the country. His 2015 project for the Pulitzer Center, "Taiwan: A Changing Status Quo," formed the basis for discussions about Taiwan's relationship with mainland China and the United States in high schools across the St. Louis area, from Collinsville to the Collegiate School of Medicine and Bioscience to Parkway West.

The Pulitzer Center's education program, like our journalism projects, seeks to draw attention to long-running global issues that tend not to be much in the news. So, as in the case of Taiwan, our conversations with students are about the story itself, but also about why it matters, and why it should be in the news.

Richard Bernstein's Taiwan tour is a great example of the value and relevance of our approach. Just weeks after Bernstein had students across St. Louis debating the US stance towards Taiwan, whose democratic traditions and free press are more like our own than those of the mainland, the phone call between Trump and Ing-Wen brought the issue to broad global attention. See some of the topics and activities the students explored on our Lesson Builder.

"Students were engaged about this topic because they already knew more than they thought they did," said Alexia Weitzel, who teaches contemporary issues at Lindbergh High School. "It was great to see those 'aha' moments. Students are excited now to follow the story."
RELATED ISSUES