Pulitzer Center Update August 16, 2018
Southern African Journalists Delve into Property Rights Reporting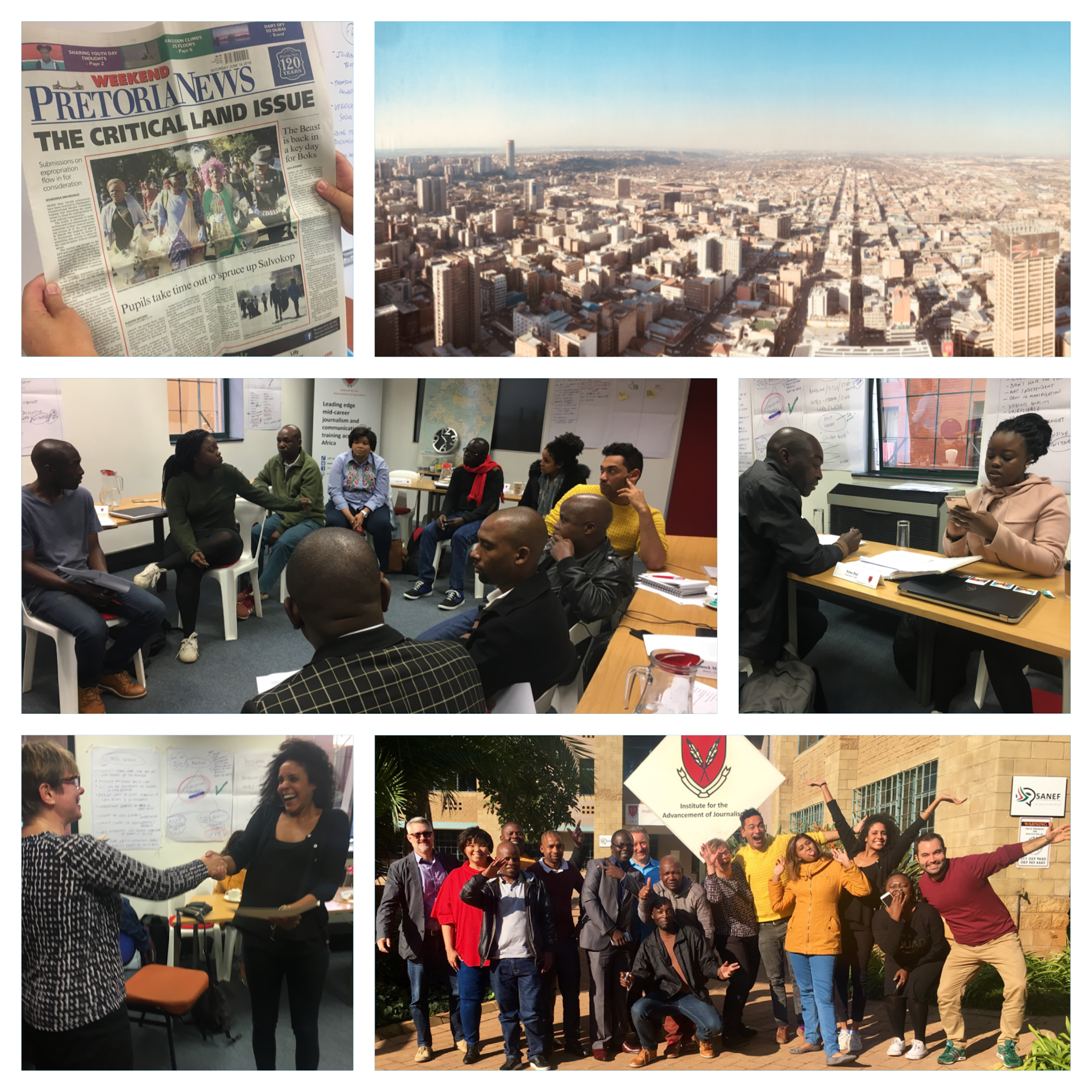 Ten reporters from across Southern Africa attended a unique journalism training on reporting land and property rights held in Johannesburg, South Africa, from July 31 thru August 3.
The workshop, part of an ongoing collaboration between the Pulitzer Center on Crisis Reporting and the Thomson Reuters Foundation, seeks to train journalists on current property rights issues, fact-checking, data journalism, as well as to reinforce best practices in journalism in approaching property rights stories.  Last year's workshop was held in Rio de Janeiro, Brazil.
The four day workshop in Johannesburg featured facilitators Rex Merrifield, Astrid Zweynert (Thomson Reuters Foundation's PLACE) and Steve Sapienza (Pulitzer Center) working with 10 participants—four from South Africa, four from Zimbabwe and one each from Zambia and Malawi. 
Southern Africa was chosen as the location of this year's workshop because many countries in the region are in the process of reexamining their land and property laws in an effort to reduce land disputes caused by rapid urbanization, historical inequalities, and a rising number of land deals related to agricultural and commercial development.   
During the week, the journalists were joined by 11 speakers who represented a wide range of knowledge and viewpoints related to property rights and journalism. 
Neville Chainee, Deputy Director-General of Strategy and Planning for Human Settlements, South African Government, addressed the nation's challenges with informal settlement improvements—a lingering issue that has resulted in a constant 1.27 million households living in informal conditions over the past 15 years.
Professor Benjamin Cousins from the Institute for Poverty, Land and Agrarian Studies (PLAAS), University of the Western Cape, spoke about customary land tenure and the complex underlying principles that inform land tenure in Africa. 
Oxpeckers' Fiona Macleod and Mozambican journalist Estacio Valoi presented their transnational multimedia investigative reporting project called "Kruger's Contested Borderlands" and Valoi shared many great undercover investigative tips with the journalists. 
Code for Africa's Tricia Govindasamy and Jacopo Ottaviani shared several Pulitzer Center-supported data journalism and multimedia projects related to land and property rights issues and offered their tips and guidance to the journalists on future projects. Post-workshop, Code for Africa released a very useful dossier on land rights in Africa.
Wordsworth Odame Larbi and Mackay Rigava, of the Land Policy Initiative, shared information regarding continental land trends, as well as common Southern Africa land issues, such as the unequal distribution of land, tenure insecurity, colonial legacies, management of natural resources, state sovereignty over land, large-scale land investment, and gender and women's land rights.  They also invited the journalists to apply for a workshop at the upcoming 2019 Conference on Land Policy in Africa.
Africa Check's Gopolang Makou and Kate Wilkinsons spoke about the importance of fact-checking as a tool to hold public figures accountable in a democracy, and how to combat fake news and verify photos and videos, while reinforcing the three fundamental principles of fact-checking: impartiality, transparency, accuracy.
The workshop ended with the journalists brainstorming story ideas related to property rights and with a call for story proposals from the trainees by the Pulitzer Center and Thomson Reuters Foundation.
RELATED ISSUES