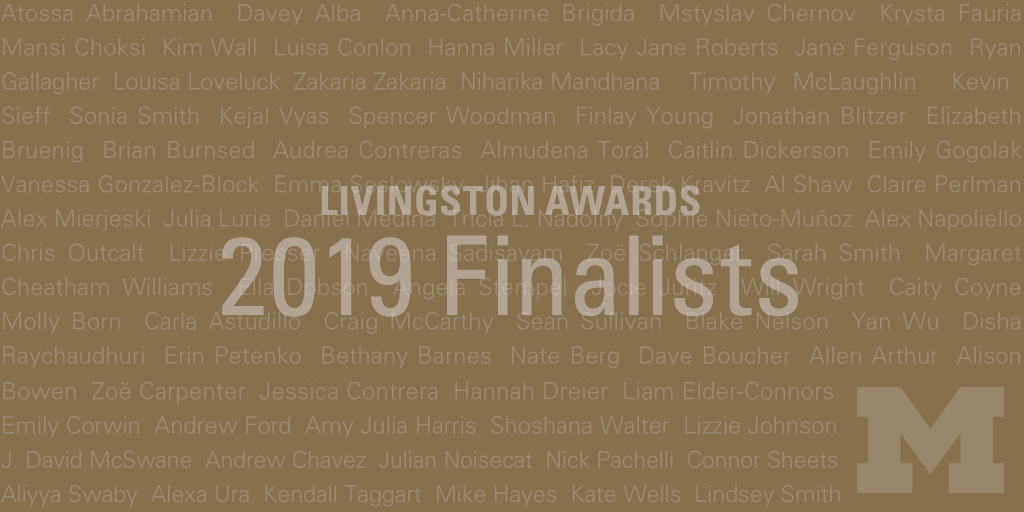 On May 1, 2019, the University of Michigan announced the finalists for its annual Livingston Awards for Young Journalists. Pulitzer Center grantees Luisa Conlon, Lacy Jane Roberts, and Hanna Miller were selected as finalists in the Excellence in International Reporting category for their Pulitzer Center-supported short film, "We Became Fragments."
"We Became Fragments" follows Syrian teenager Ibraheem Sarhan as he struggles to build a new life in Winnipeg, Canada. Sarhan was forced to flee Syria with his father after a bombing killed his mother and four siblings. The film documents his first week of high school in Winnipeg.
Past Pulitzer Center grantees nominated for 2019 Livingston Awards include Jonathan Blitzer, Zoë Carpenter, Jane Ferguson, and Emily Gogolak.
The Livingston Awards honor the best reporting and storytelling by journalists under the age of 35 across all forms of journalism. 55 finalists were chosen from more than 400 entries.
National judges will announce the winners on June 4, 2019 at the annual Livingston Awards luncheon in New York City. For a full list of finalists please visit this link.
RELATED ISSUES

Issue
Migration and Refugees
Migration and Refugees

Children and Youth