Pulitzer Center Update September 20, 2010
Pakistan: Human Rights Coverage During Emergencies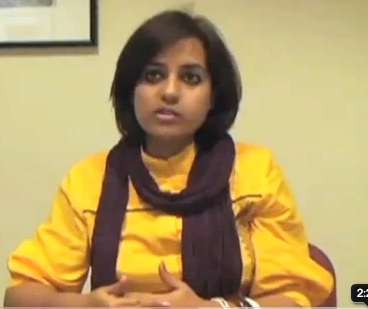 In the video above, Rabia Mehmood, a Pakistani journalist, discusses her background covering human rights issues. She highlights the important role journalism plays in eradicating stereotypes and misinformation, especially in Pakistan where suicide bombings and terrorism create competition for coverage of equally important stories like maternal health, which receive far less attention.

Mehmood, a journalist in the Lahore bureau of Express 24/7 Television in Pakistan, is on a nine-month fellowship at the Massachusetts Institute of Technology. Awarded by the International Women's Media Foundation, the Elizabeth Neuffer Fellowship provides Mehmood, who holds Master's and Bachelor's degrees in mass communication, with resources to spend an academic year focusing on human rights and social justice related reporting.

Mehmood's coverage in Pakistan has included reporting on women's rights, freedom of speech and political unrest as well as terrorist attacks and hostage sieges in Lahore and the arrest and trial of a leader of a militant organization.

View the Pulitzer Center's newest reporting from Pakistan, The Great Flood of 2010: Pakistan's Struggle to Stay Afloat.

Video for this post shot by Summer Marion and edited by Jake Naughton.