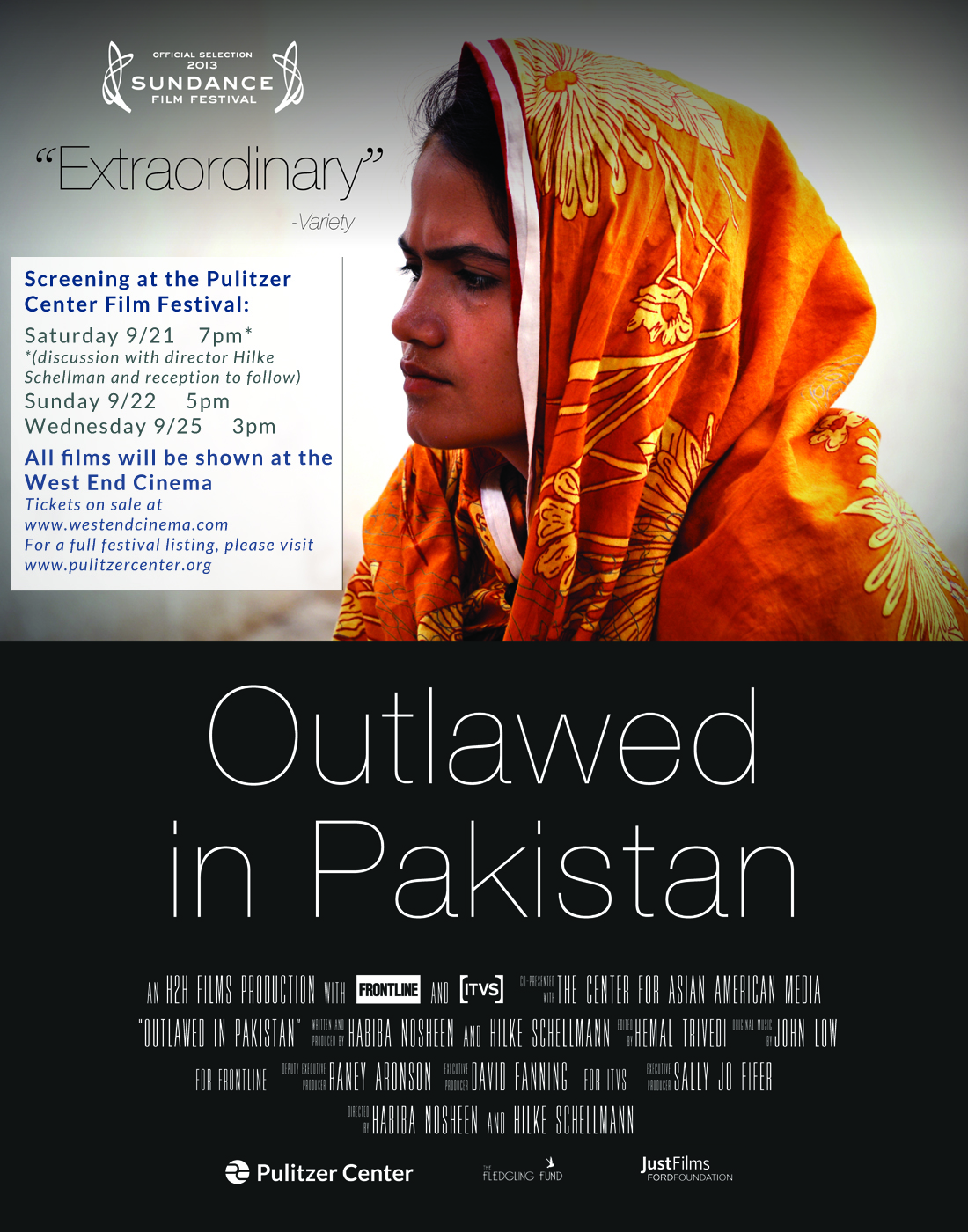 Join us for the Pulitzer Center Film Festival, "Global Crises, Human Stories." The festival features "Outlawed in Pakistan," which tells the story of Kainat Soomro as she takes her rape case to Pakistan's deeply flawed court system in hopes of getting justice. The 13-year-old Kainat accuses four men of gang rape and shortly after is ordered to be killed by her village elders.

Spanning over five years, the story is told through the perspective of Kainat and the four men accused of her rape. The film shows the extraordinary strength that women like Kainat possess, as they resist societal norms and turn their backs on tribal traditions to demand justice from a legal system that continues to fail them. Directed by Habiba Nosheen and Hilke Schellmann. Running Time 52 minutes.

The United Nations estimates that as many as 5,000 people may be the victims of honor killings each year. But experts argue that the actual rate of incidents is exponentially higher, and Pakistan remains the country with the highest number of honor killings in the world.

The film premiered at the Sundance Film Festival in January 2013 and was broadcasted on PBS Frontline Spring 2013. The film was also shown at AFI Docs in June 2013.

Saturday's screening will be followed by a discussion with co-director Hilke Schellmann and a light reception.

Tickets are $5 general admission, and $3 for students and seniors.

Tickets on sale at http://www.westendcinema.com/

Outlawed in Pakistan Screening Times

Saturday, September 21:
7 pm: Discussion with co-director Hilke Schellmann
Reception to follow

Sunday, September 22:
5 pm

Wednesday, September 25:
3 pm

West End Cinema
2301 M St NW, Washington, DC 20037


All Films in the Festival:
The Abominable Crime:Homophobia's deadly consequences in Jamaica, and the fight for freedom, security––and understanding. Directed by Micah Fink.
No Fire Zone: The true story of war crimes committed at the end of the Sri Lankan civil war in 2009. Directed by Callum Macrae.
Outlawed in Pakistan: A rape victim's odyssey through her country's flawed justice system. Directed by Habiba Nosheen and Hilke Schellmann.
Seeds of Hope: One woman shines a beacon of hope to dispel the despair of women survivors of rape in the Democratic Republic of Congo. Directed by Fiona Lloyd-Davies.
Pulitzer Center Photojournalist Shorts: A special shorts program featuring work by award-winning photojournalists including Shiho Fukada, Stephanie Sinclair, Dominic Bracco II, Larry C. Price, Andre Lambertson, Joshua Cogan, and Allison Shelley.

See the full film festival schedule.
RELATED ISSUES

Women

Criminal Justice