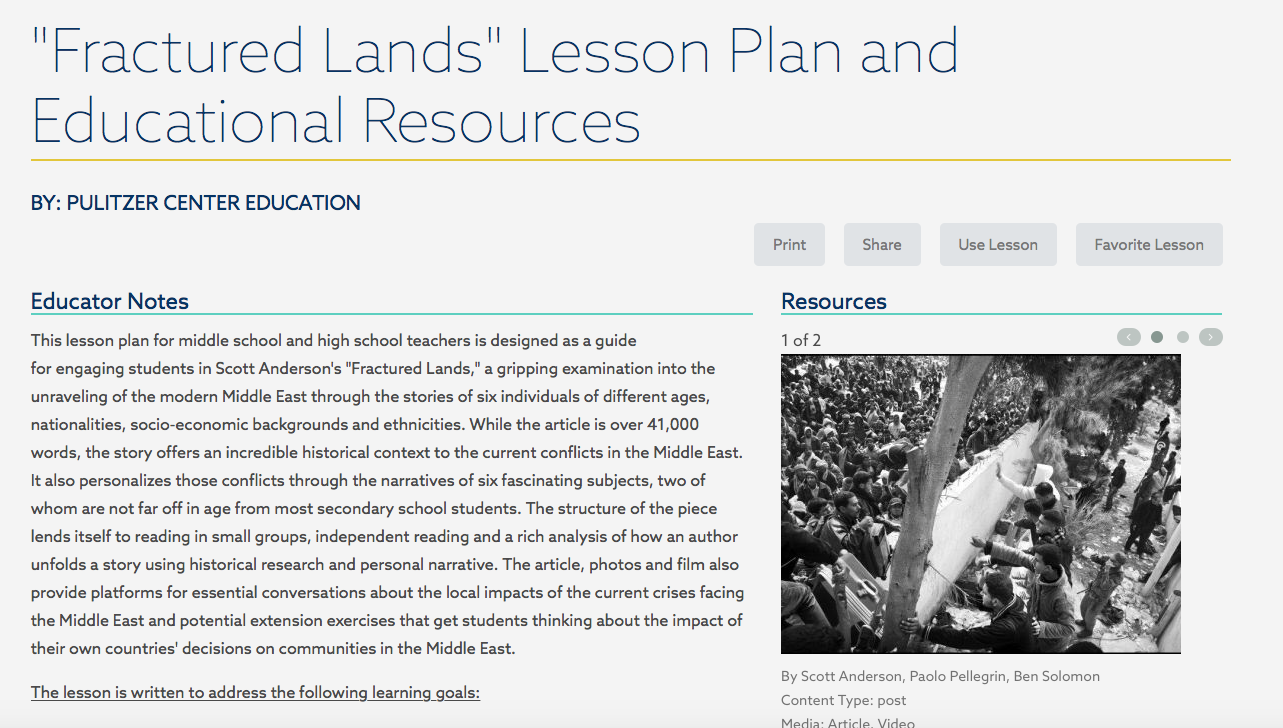 The Pulitzer Center on Crisis Reporting is excited to share two new lesson plans and education programming connected to The New York Times Magazine "Fractured Lands," the groundbreaking August 14, 2016, edition of the magazine that is devoted entirely to the work of Pulitzer Center grantees Scott Anderson, Paolo Pellegrin, and Ben C. Solomon.

In a gripping story that follows six individuals—of different ages, nationalities, socio-economic backgrounds and ethnicities—Anderson examines the unraveling of the modern Middle East from the invasion of Iraq in 2003 to the rise of ISIS and the global refugee crisis. Accompanying the piece are 20 black and white photographs by Pellegrin and a virtual-reality experience by Solomon that transports the viewer to the Iraqi city of Falluja and the heart of the campaign against ISIS.

The Pulitzer Center education team has created a series of lesson plans on our online Lesson Builder tool to connect educators and students to this essential story. Our K-12 lesson plan outlines activities and reflection questions introducing the themes of "Fractured Lands," comprehension questions for all chapters, discussion questions that encourage analysis of the story's structure and theme, and a series of extension activities that can be used to further student engagement with the story. A college-level lesson plan by Elon University School of Communications Associate Professor Glenn Scott provides guiding questions and activities that deepen analysis of "Fractured Lands" through research and discussion. Both lessons can be easily adapted and modified by creating a Lesson Builder account.

Contact [email protected] if you would like support in connecting your students to "Fractured Lands."
RELATED ISSUES

Issue
Conflict and Peace Building
Conflict and Peace Building

Governance