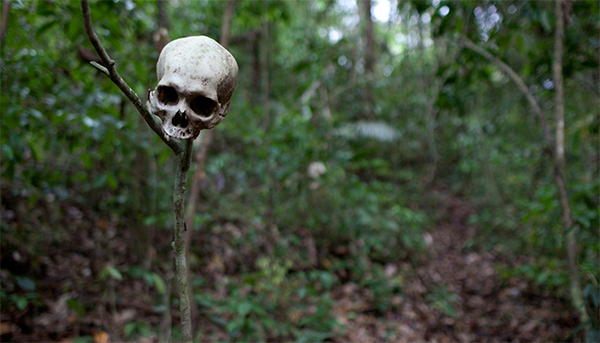 Jason Motlagh's story, "Skull on a Stake," has earned a silver medal in the travel news/investigative reporting category at the 2016-2017 Lowell Thomas Travel Journalism Competition, hosted by the Society of American Travel Writers, adding to an impressive list of accolades for the veteran journalist.
The Lowell Thomas Travel Journalism Competition is a yearly event that celebrates excellence in travel writing. The competition, which has been running since 1985, says that its awards are "recognized as the most prestigious in travel journalism." This year's event attracted almost 1,200 entries in categories ranging from adventure travel to cultural tourism.
The award ceremony took place on October 30, 2017 in Portland, Oregon, where Motlagh's achievement was announced. His story, written for Outside, captures the journalist's vivid journey through the Darién Gap as he travels with American-bound immigrants. Over the course of 11 days, the group travelled over 200 miles, evading perilous obstacles that have caused the notorious Gap to be known as one of the most dangerous jungles in the world.
"Jason Motlagh's narrative puts readers in the boat with the migrants as they struggle toward their journey's heartbreaking conclusion," write the judges of the competition. "By the end, you swear you can feel the fear and humidity rising."
Motlagh is no stranger to reporting on gritty topics. The writer, photographer, filmmaker, and editor has contributed to over a dozen Pulitzer Center projects, reporting on crisis, conflict, and culture in 40 countries. His most recent piece, also for Outside, draws a compelling link between the ferocious sport of buzkashi and power dynamics in Afghan politics.
His immersive storytelling ability drew the eye of the 25-person competition panel, staffed by professors at the University of Missouri's School of Journalism. In a press release, the Society of American Travel Writers states that the judges were "impressed by the use of narrative techniques in this year's entries." The Society, founded in 1955, supports travel writers by providing professional support and encouraging the "conservation and preservation of travel resources worldwide."
Congratulations to Jason and the other finalists. You can see a full list on the Society of Amerian Travel Writers website.
RELATED ISSUES