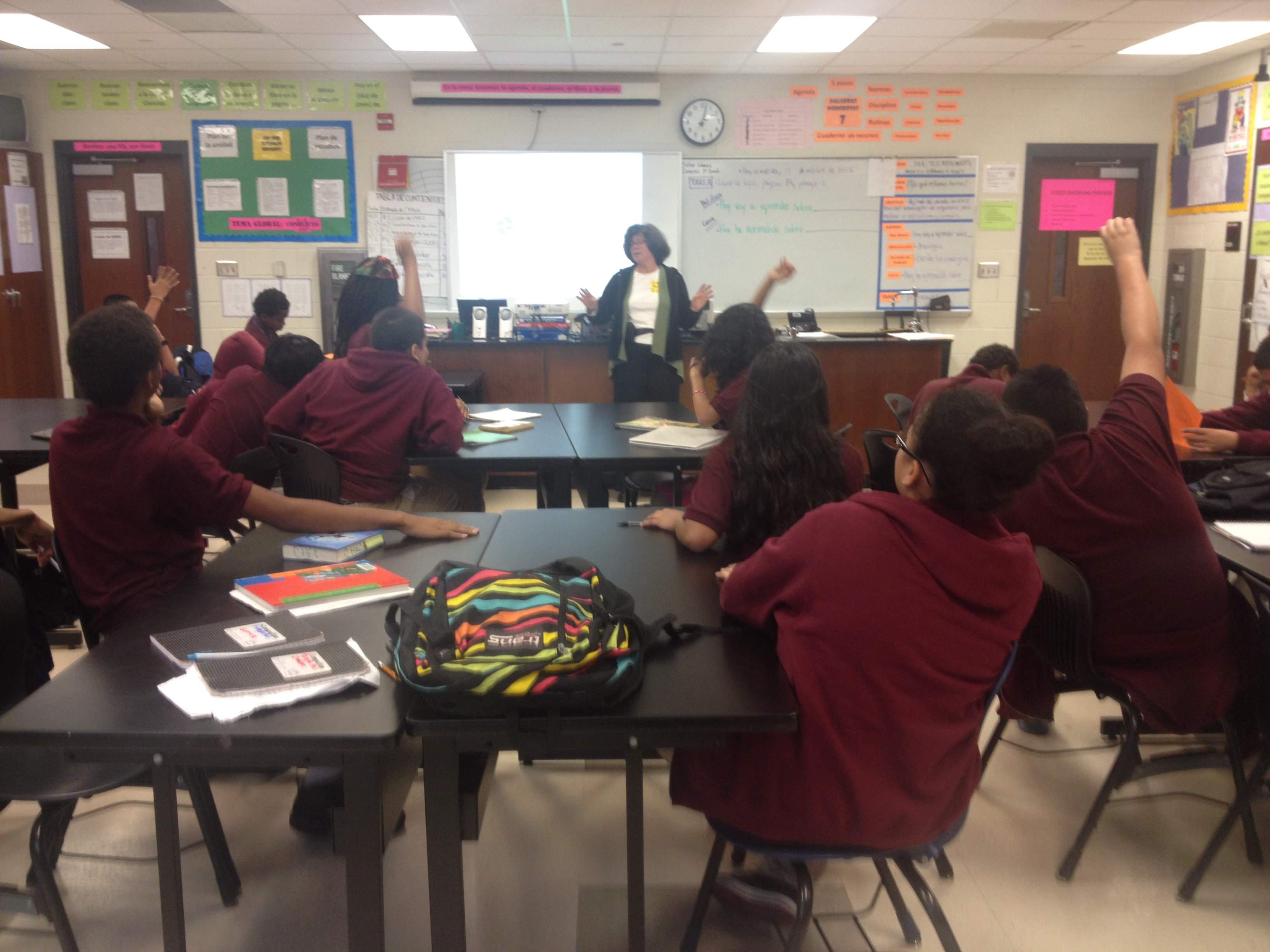 Award-winning global health reporter Joanne Silberner opened each of her talks at three DC high schools Friday, Oct. 11, the same way.

"Go to where the silence is and say something," she told students, quoting journalist Amy Goodman. This approach, which Silberner said she takes in her own work, has certainly been successful: her Pulitzer Center-supported Global Cancer series won the Victor Cohn Prize for Excellence in Medical Science Reporting, the 2013 European School of Oncology's (ESO) Best Cancer Reporter Award and a 2013 Communication Award from The National Academy of Sciences, National Academy of Engineering, and Institute of Medicine.

Silberner traveled to the east coast from her home in Seattle for the first-ever Johns Hopkins-Pulitzer Center Symposium at Hopkins' Bloomberg School of Public Health in Baltimore, Md., Oct. 10. The following day she visited a biology class at Cesar Chavez Public Charter School, Parkside High School Campus, students at Chavez's Capitol Hill Campus, and a seventh-grade life science class at Lincoln Middle School before returning to the Pulitzer Center offices to speak with Kent State University faculty members and administrators.

At Chavez-Capitol Hill, students gathered voluntarily on their lunch hour to talk with Silberner. She asked them why they were there; most explained that they had a friend or relative with cancer so they were interested in the global manifestation of the disease.

At Lincoln, Silberner asked the students to raise their hands if they knew someone with diabetes or high blood pressure. Nearly all hands went up. "My grandpa," one shouted. "My grandmother," said another.

"How are they doing?" Silberner asked. The students said "fine." Most mentioned insulin pumps.

"In Cambodia," Silberner said, bringing an international perspective to the conversation, "it [diabetes or high blood pressure] might kill them."

Silberner also related an anecdote that raised important and interesting questions about ethics in journalism. She'd met families at the cancer hospital in Uganda who couldn't afford transportation for treatment. She told the Lincoln class she had enough money in her pocket to pay for all of their transportation for a week but didn't give it to them. Then she and the students, the majority of whom were shocked at this decision, debated whether it was the best choice for Silberner as a journalist and as a human being.

Oct. 11 was also the second International Day of the Girl, a day designated by the United Nations to draw attention to issues affecting young women around the globe while also celebrating their resilience and empowerment. This year's theme, "innovations in girls' education," fit in with Silberner's discussions of cancer's global proliferation: educating girls and women about cancer and its treatment is crucial in the battle against the disease in developing countries. If left untreated, for example, HIV puts its afflicted at a higher risk than others for certain types of cancer, including cervical. Silberner talked about the importance of education in preventing HIV.

"There have been studies that have shown that just educating girls – getting them into a secondary school…they're empowered. They usually end up learning about HIV…and it actually cuts their risk of infection 50%," Silberner said. "This is a little more subtle; this is a little more complicated to market, but it's effective."
RELATED ISSUES