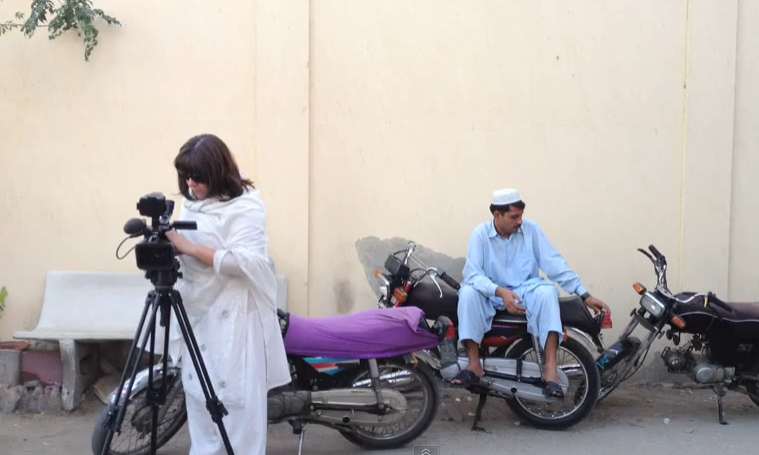 The Committee to Protect Journalists ranked Pakistan as the 10th worst country in its 2012 Impunity Index, which chronicles unsolved murders of journalists. The report was published on April 17, 2012 and lists 19 unsolved killings of journalists in Pakistan, up from 14 unsolved cases a year before.

I am not a Pakistani, nor do I look Pakistani. My German roots can make it difficult for me to blend in the country where I have been reporting for the Pulitzer Center with my colleague Habiba Nosheen, who is Pakistani-born and has reported from there for years. But even with having someone like her on the ground with me, reporting from Pakistan hasn't been a breeze.

Take this experience: We had an important reporting event on a Sunday morning in Karachi. The Human Rights Commission of Pakistan had invited us to meet victims of "honor killings." Unfortunately, one of Habiba's relatives died the night before and she and her family, whom I was staying with, had to leave town to attend the funeral.

I'm pretty worldly, I thought -- I'll be fine.

Since we had already arranged for a car and a driver I decided to do the interview by myself. I dressed in traditional Pakistani clothing and a tightly wrapped headscarf in an attempt to not draw any attention to myself.

We had hired a company to provide transportation during our reporting trip. I had assumed that the driver would be the same as the one from the day before, but it turned out that our new driver didn't speak English and I, unfortunately, only spoke three phrases of Urdu. This wasn't going to be as smooth as I thought, but I didn't hesitate to jump in the car for the sake of securing an important interview.

I had written down the address and the driver communicated somehow through gestures that he knew where this part of town was. He started driving and I soon realized that I had no idea where in Karachi we were heading to.

And, yes, I started to feel uncomfortable.

The drive took a long time and from time to time we got stuck in traffic. Men on motorbikes drove past us and stared at me. Clearly, my attempt at blending in wasn't going so well. I felt they knew that I was a foreign and, for the lack of a better word, helpless.

While stuck in traffic with a driver I couldn't communicate with, I realized that Pakistan is not a country where I can just get out of a car and hail a cab or take a bus if I felt uncomfortable.

After 20 minutes, which felt like two hours, I decided to call Habiba -- I just needed to speak to someone. I couldn't get through to her and realized that I had run out of money on our pay-as-you go cell phone.

At that point, I really felt lost and scared. All the warnings that my German parents had shared with me to convince me not to go to Pakistan rang in my head, and all the worse case scenarios came rushing into my imagination. I was afraid that I might get kidnapped, something that happens frequently in Pakistan, and that I wouldn't even have a phone to call someone.

It also appeared that the driver couldn't find the right building because he was just driving around in circles.

But suddenly an unusual calm set in. I was stuck in the car, but my brain decided to calm down and make the best of it. I showed the driver the phone numbers for the Human Rights Commission.

Calling from his cell phone, after a few tries, he finally reached someone at the office and they were able to guide us to the right building. Journalistically, the visit was well worth the effort. I met a young woman whose journey to get justice in Pakistan prompted Habiba and I to do a documentary on her plight.

But I did learn some important lessons on that day that have served me well in my subsequent reporting in Pakistan. Always keep an extra phone card and never assume the driver will speak English. Oh, and always try to travel with a local journalist who can speak the language and knows which parts of town are safe. And if you are stuck, trust the people around you.
RELATED ISSUES