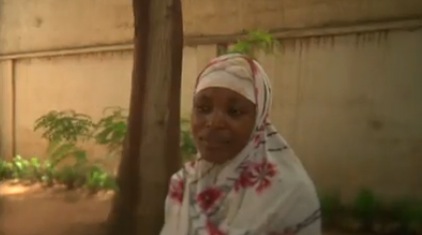 This piece originally ran on PBS Newshours: The Rundown

Were announcing the start of something new: A partnership with the Economist magazine to showcase the art of filmmaking, called the Economist Film Project.

Together, the NewsHour and the Economist have chosen examples of interesting, independently-produced documentaries from around the world. Youll see excerpts on the NewsHour broadcast and additional materials here on the Rundown blog and on the Economists website.

The first installment airs Thursday, with an excerpt from the "Edge of Joy," which takes us inside a busy maternity ward in Nigeria, a country where maternal deaths are among the highest in the world. You can watch a trailer below. A word of caution -- this film contains some graphic images and events.

The feature was produced and directed by Dawn Sinclair Shapiro, who has worked as a writer and producer for a number of national news programs, and directed another documentary "Inside the Handy Writers Colony," which previously aired on PBS.

Learn more about the Economist film project and, if you are a filmmaker, find out how to submit a piece of work for the project, here.

And you can read a dispatch from the "Edge of Joy" producer-director Dawn Sinclair Shapiro about her film after the jump:

In the time it takes to read this post, somewhere in the world a pregnant woman will have started hemorrhaging and her baby might soon be motherless. One thousand women die every day trying to bring new life into the world, and this toll is what drew me to shoot my documentary film, the "Edge of Joy."

I encountered many of the heartbreaking and hopeful stories that underpin this global tragedy, but it was only through the people, the doctors and nurses of Nigeria that I was able to tell them. The roughly one dozen Nigerian doctors and midwives I worked with closely over the course of making the film, didnt push agendas, or act as obstructionists when I asked tough questions or wanted to follow story lines to their natural conclusions.

Nigeria is better known for corruption and oil production than as the vanguard of fighting maternal mortality, but this small close-knit group of men and a handful of women trusted me not to create an indicting portrait of pregnancy and childbirth in their West African country.

Documentary filmmaking is an art, not a science, and at times during the making of this film, the process was challenging. I always kept my questions dignified and did my reproductive health homework so I could ask informed questions in hospitals and in the communities.

Getting permission to film in such sensitive settings requires government approval, a process that Habib Sadauki, the second obstetrician/gynecologist to be trained in the Nigerian state of Kano, helped me through.

After many meetings with the Ministry of Health and a mutual understanding that I would have a "minder" assigned to me while filming in the north, I was given permission to film in tertiary hospitals and primary health centers.

What I didnt know at the time is that the then Minister of Health Babatunde Osotimehin, recently appointed executive director of the U.N. Population Fund, had approved the access himself. During his tenure as minister, his office approved some ground breaking research about postpartum hemorrhaging.

I caught up with Osotimehin in May of 2009 at a health conference in Los Angeles. Our scheduled time to sit down and talk on camera kept being pushed back, so I made the bold move of taking over the role of the waitress at the café where he was enjoying a coffee.

Handing him a glass of water, I introduced myself as the filmmaker who had been documenting maternal health initiatives in Nigeria. I kept going on and on and he stopped me and said something to the effect of "you are persistent and persuasive just like they say" and with that got up, and came to sit with me for more than an hour.

We discussed safe motherhood, community leadership for better healthcare and, at the conclusion of our interview he shook my hand and said "your access is continued, enjoy your next trip to Nigeria." My field director and I began breaking down the equipment and she asked why I looked dazed. I said I was not even aware our access had to be renewed.

The freedom to shoot in medical settings was crucial to documenting the harsh realities of giving birth in Nigeria. In the film, blood became a ubiquitous character: women were losing too much of it, there wasnt enough of it when you needed it and midwives were always trying to keep it from flowing.

"Hemorrhage requires that you stop the bleeding and you repair the blood loss. If you dont repair (replace) the blood loss the woman will die," Sadauki told me.

We documented a case of severe bleeding where the midwives were able to manage a patients hemorrhage with a drug and saline until her husband found a pint of blood and she received the transfusion in time to save her life.

And there are new tools on the horizon. A low-tech first aid device, known as the non-pneumatic anti-shock garment, shunts blood out of the extremities and back to the vital organs in cases of hemorrhage. No magic bullet, but a potential game changer for women giving birth in the developing world and new hope for the health care providers.

After I showed this film recently, I was embraced by a woman in the audience who thanked me for saving the world. Locked in a bear hug with a complete stranger, I thought to myself: "Thank you, but no, Im not saving the world, I just make films about people who are saving the world." --Dawn Sinclair Shapiro T

he NewsHour global health unit has also reported on the issue of maternal mortality around the world. Watch their story on efforts to address the issue in rural parts of Peru. And stay tuned for more from the Economist Film Project.