Pulitzer Center Update May 23, 2013
David Rohde Elected to Pulitzer Center Board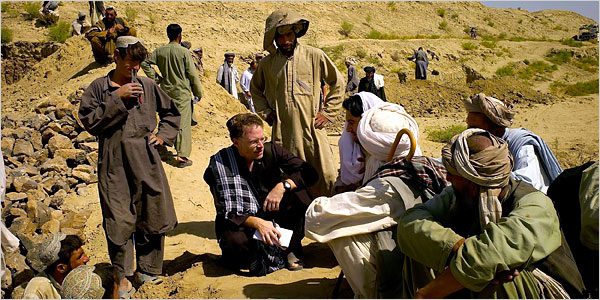 The Pulitzer Center is pleased to announce the election of David Rohde to its board of directors.

David, a foreign affairs columnist for Reuters and The Atlantic, is a former reporter for The New York Times and The Christian Science Monitor. He won a Pulitzer Prize for his Monitor reporting that exposed the massacre in 1995 of Bosnian Muslims by Serbian forces in Srebrenica. He shared in a second Pulitzer Prize, awarded in 2009, as a member of the New York Times team covering Afghanistan and Pakistan.

David has written three books, among them the just published "Beyond War: Reimagining American Influence in a New Middle East." His first book was "Endgame: The Betrayal and Fall of Srebrenica, Europe's Worst Massacre Since World War II." His second, "A Rope and A Prayer: A Kidnapping from Two Sides," was co-written with his wife, Kristen Mulvihill. It is their account of his abduction by the Taliban in 2008, his seven months in captivity, and his eventual escape. David grew up in Maine and is a graduate of Brown University. He and his wife and daughter live in New York City.

David is among the most respected journalists in the world, with deep experience covering the kinds of issues that the Pulitzer Center addresses every day. We know that his judgment and expertise will serve us in many ways and we look forward to working together.

On the board David joins Emily Rauh Pulitzer, chair and founder of the Pulitzer Foundation for the Arts; Katherine Moore, of Rye, NY; William Bush, partner and general counsel, BDT Capital Partners; Jon Sawyer, executive director of the Pulitzer Center; Joel Motley, managing director of Public Capital Advisors, LLC and co-chair of Human Rights Watch; Betsy Dietel, senior partner with Dietel Partners; and Linda Winslow, executive producer of PBS NewsHour.