Pulitzer Center Update June 2, 2023
Celebrating Visual Storytelling at Photoville📸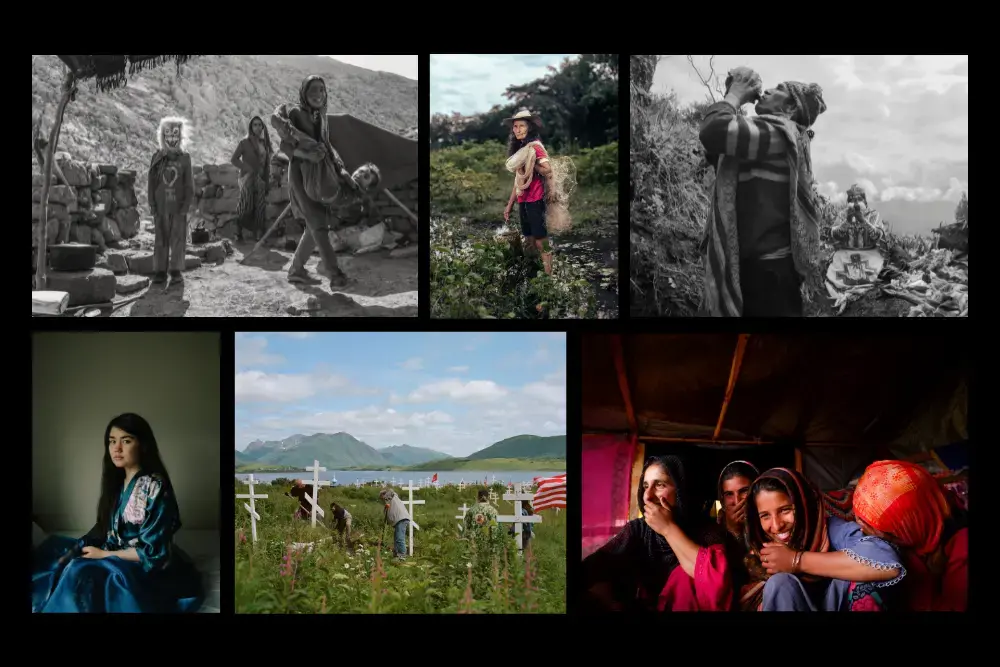 Pulitzer Center Returns to Photoville in New York City This Month
Entering our ninth year of partnership with Photoville, we are excited to feature several of our photojournalist grantees in two Pulitzer Center-curated exhibits, Traditions and Resistance and Far From Home. The Photoville festival is a unique opportunity for our talented network of photojournalists to add visibility to their work. Both exhibits will be on display June 3-18, 2023, at Brooklyn Bridge Park for those local to or visiting New York City.
Developed in collaboration with TIME and a team of female writers and photojournalists, Far From Home illustrates how Afghan female refugees are adapting to life abroad and finding community after the fall of Kabul in August 2021. TIME collaborated with Rukhshana Media, an organization dedicated to telling the stories of Afghan women. The Far From Home Photoville exhibit features the work of Sabiha Çimen, Luisa Dörr, Fatimah Hossaini, Diana Markosian, and Kristina Varaksina. 
Traditions and Resistance showcases the stories of Indigenous communities from Kashmir to the Amazon as they preserve and revitalize traditions vital for livelihoods and sustain hope for future generations. Featured photographs honor quiet resistance in the face of urbanization, climate change, and conflict documented by Brian Adams, Enayat Asadi, Sharon Castellanos, Gui Christ, and Shefali Rafiq.
Grantee Caroline Gutman's work from her Pulitzer Center-supported project, Reclaiming the History of American Indigo, will be presented by Photoville. Children of Indigo explores the unsettling history of indigo in South Carolina's Lowcountry and the artists and homesteaders today who are reviving and reclaiming the indigo tradition.
As we work to connect photojournalists' work to broader and younger audiences, the Pulitzer Center Education team will be attending Photoville's Education Day on June 7 to meet with New York City-area students and educators. 
Lastly, as we continue to uplift our visual journalists, we want to highlight an ongoing opportunity: the Eyewitness Photojournalism Grant. The Eyewitness grant is supported in partnership with Diversify Photo. Applications close June 30, 2023.
We hope you'll join us in celebrating and supporting our community of visual journalists, and share these events and opportunities. 
Best,

---
Impact
Rural Rx, a Pulitzer Center-supported series for PBS NewsHour, has caused a wave of impact in affected communities across the United States. 
In the report "Wider Access to Narcan Helps Rural Communities Fight Overdose Deaths," high school student Julia Wilson, of Cato, New York, recounts her experience administering Narcan to a member of her community after an overdose. Moved by her story, an anonymous person provided her with a scholarship to pursue a career in nursing at SUNY Upstate Medical University. 
Peatrice Ball, a mother in Alabama featured in "The Health Care Challenges Pregnant Women of Color Face in Rural Areas," described the hardship she faced in lacking access to transportation after her newborn baby was admitted to the NICU. Since the Rural Rx series aired, Ball has received financial support from the audience through a GoFundMe page started for her family. 
Visit the full impact update and the Rural Rx project page for more information.
---
This message first appeared in the May 26, 2023, edition of the Pulitzer Center's weekly newsletter. Subscribe today.
Click here to read the full newsletter.