Pulitzer Center Update May 23, 2013
Ameto Akpe Named 2013 Persephone Miel Fellow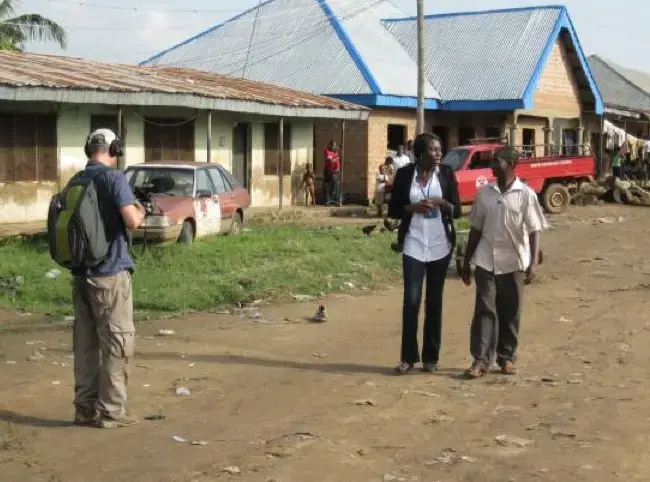 Nigerian journalist/2013 Miel Fellow Ameto Akpe (center) interviews local minister on the consequences of a lack of access to clean water. Image by Peter Sawyer. Nigeria, 2011.


The Pulitzer Center on Crisis Reporting is pleased to announce the 2013 Persephone Miel Fellowship winner: Ameto Akpe.

Launched in October 2010 in a collaboration between the Pulitzer Center and Internews, the $7,500 fellowship supports an international journalist to report on a systemic global issue in his or her home country. The fellowship also provides support from the Pulitzer Center for editorial oversight, multimedia development, outreach and assistance with placement in U.S. news media outlets.

We received more than 165 applications for the fellowship from nearly 80 countries.

Akpe will investigate the impact of US 'soft power' in Nigeria through her Miel Fellowship. Previous fellows reported from Russia, India and Pakistan to produce cross-platform reports that reached both local and international audiences. Through the Pulitzer Center's educational programming, 2012 Miel Fellow Anna Nemtsova of Russia visited the United States in spring 2013 to present her reporting to students and community members.

The Pulitzer Center also brought Akpe to the United States and Europe to speak with students, teachers and the general public about her first Pulitzer Center-supported reporting project, an investigation into Nigeria's water sector, "Nigeria's Water and Sanitation Sector: Leaks and Plugs." Her project was a part of a broader collaborative Pulitzer Center initiative, pairing African and American journalists to raise the profile of problems of access and accountability in West Africa's water sector. Akpe's investigation became the subject of a PBS NewsHour segment in April 2011.

In 2012, Akpe won from the United Nations Correspondents Association its Bronze Prince Albert II of Monaco Foundation/UNCA Global Prize for coverage of climate change in recognition of her Pulitzer Center-funded investigation of mismanagement of a Nigerian water plant, published in BusinessDay newspaper.

Akpe is also one of 24 journalists to receive a fellowship from the Nieman Foundation for Journalism at Harvard University for its class of 2014. Akpe spoke at at the Nieman Foundation, with Pulitzer Center Senior Editor Tom Hundley and Stephen Sapienza, her U.S. counterpart journalist on the West Africa collaborative initiative as part of her Pulitzer Center-supported visit to the United States in 2012.

Legacy of Persephone Miel
Persephone Miel believed in the transformative power of journalism.

After more than 20 years in media development overseas and at home she knew that the best journalism was local. A former Senior Adviser at Internews and Fellow at the Berkman Center for Internet & Society at The Harvard Law School, Miel fought to advance the work of international journalists and ensure that their voices would be heard. She believed that the most effective interventions combined top-level journalism training with the freedom to tackle the toughest stories. Strong partnerships needed to provide support for those journalists to do the reporting that financially strapped or politically repressed media could not or would not undertake.

For those reasons, just before she died in 2010, she told friends that the best way to memorialize her life's work would be to capture that formula in a fellowship. She wanted to enable international journalists to work with the Pulitzer Center to produce in-depth journalism at the local level and then disseminate it to a global audience.

She personally bequeathed the money to start the Persephone Miel Fellowship Fund, to be overseen by the Pulitzer Center in collaboration with Internews. Additional support has come from her family and friends and from all who seek to honor her legacy and support international journalism. We seek to continually grow the Persephone Miel Fellowship Fund to honor her memory and support journalists outside the United States do the kind of reporting they've always wanted to do and enable them to bring their work to a broader audience.

Support the Persephone Miel Fellowship

We're committed to supporting at least one fellowship a year to continue Persephone's wishes. We hope to raise enough support to endow the fellowships and to increase the number of fellows we support each year.

Internews and Pulitzer Center have agreed that donations for the fellowship will be maintained in a restricted Pulitzer Center account.

Please donate today to the Persephone Miel Fellowship Fund.