By Fiona Jin
10th grade, Adlai E. Stevenson High School, IL
With lines from "A World Without Men" by Anna Sussman, a Pulitzer Center reporting project
I have rinsed your name from my mouth. Four months
                 in front of a dirty mirror is enough to realize
my vocabulary of pain, how I learned how to smile
                 to keep my knuckles from falling out of my
mouth, to seek safety far away from the wine cabinet,
                 words blackening like bruises—I want you
to remember my voice & forget it. I want you to rem-
ember: how, always, when I use the word 'safe place,'
                 it means the place for women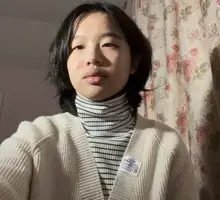 Fiona Jin is a rising junior at Adlai E. Stevenson High School. To her, poetry is a means to assert personhood by telling truths, especially those counter to oppressive societal narratives. Outside of writing, Fiona loves drawing and visiting art museums.
Read more winning entries from the 2023 Fighting Words Poetry Contest.