This letter features reporting from "COVID-19's Spotlight on Air Pollution" by Patrick Ammerman, a Pulitzer Center reporting project
Dear Director Cabrera,
My name is Aishwarya, and I am a 7th grader at Mountain Trail Middle School. I am writing this letter to emphasize the issue of air pollution. I wanted to provide my thoughts on its importance and to reiterate how it is increasingly becoming an urgent issue that we need to act on before it's too late. I request your kind attention to this matter, as you are directly involved with decisions related to the environment and its impact here in Arizona.
Air pollution affects me personally because I deal with eczema-related inflammation on an ongoing basis. Here in Arizona, we have a fluctuating air quality, with good days and bad days, because our dry and arid environment and exposure to ozone levels vary throughout the year. People are increasingly suffering from allergies, asthma, and other respiratory issues. The American Lung Association rated Phoenix's air quality as the fifth most polluted in the United States according to the article "Ozone pollution: Phoenix has fifth-worst air in the U.S." The same article emphasizes how air quality has been decreasing on an annual basis. What is the cause of this? Is it due to an increasing number of vehicles on the road, or an increase in population leading to a higher demand in consumer products as factories need to produce more to keep up? It appears as if we are causing problems for ourselves.
Over the past two years, COVID-19 has affected everyone's life. The article "COVID-19's Spotlight on Air Pollution" by Patrick Ammerman discusses the effects of air pollution during the time of the pandemic. COVID-19 is a virus that targets the respiratory system, and people who have been breathing polluted air are at additional risk. PM 2.5, the kind of air pollution associated with the most COVID-19 deaths, contains particles that are tiny enough to enter the respiratory system yet large enough to cause lung damage. Even though this can be lessened through masks such as the N-95, it is only effective if worn consistently.
At the start of the COVID-19 pandemic, many people were in a lockdown. This resulted in lower-than-expected ozone levels as stated in "Ozone pollution: Phoenix has fifth-worst air in the U.S." Although the amount of vehicle emissions has decreased dramatically due to the pandemic, American Lung Association spokesperson JoAnna Strother says that "the reduced pollution many cities are experiencing is only another indication that bold actions from both the private and public sectors could make a significant difference in air quality." COVID-19 has changed the level of air pollution drastically as vehicle pollution was less at the start of the pandemic due to the quarantine. It also taught us the importance of breathing fresh and clean air. Enclosed environments contribute to more COVID-19 cases due to the recirculation of air. Should people with pre-existing air pollution-related ailments confine themselves indoors and be exposed to re-circulated air, putting themselves at risk for COVID-19? Or should they go outside and risk inflammations related to their pre-existing air pollution-related ailments?
Consumerism is also a big problem, as stated in the article "Consumer Spending Increases 12% in Q2 2021 - The Balance." The journalist writes, "Consumer spending, also known as personal consumption expenditures (PCE), increased 12% in the second quarter of 2021, following an increase of 11.4% in the first quarter of 2021." Factories are forced to make more products due to these high demands, causing air pollution. If people realize that quality of life is more important than consumer-based satisfaction, they will make better choices. Factories will then produce meaningful products in a much cleaner manner, resulting in fewer carbon emissions.
In my research, I realized that the government is providing incentives for using renewable energy-based products, including solar panels and car rebates for EVs. But are people aware of this? Do they understand the clear relationship between how air pollution affects them directly and how these rebates are helping everyone move in the right direction? More advertising for these rebates is necessary if we want to help our environment. If we know about making good choices, we will feel motivated to do so, as it will help us, our environment, and our future.
On a small scale as a person going to school, I think that increasing awareness on environmental issues is a way to help change our thinking and understanding about how our environment is directly related to our lives. Hopefully, this will help us make better decisions. So, I think that environmental education should be a standard taught in science class each year. Doing so will help future generations make better decisions about what is right for the environment and learn to live in harmony with nature. Having more emphasis on environmental programs will help everyone contribute to a better world.
More education is the solution I have chosen. Education and knowledge is power. Power to change our world—from every single home to the whole world, making it a better place to live. Having eczema educated me on some of its causes—one of them being allergies that can be caused by air pollution. Knowing about this helped me realize the impact that our choices and actions have on our environment. So, I feel that mandating environmental education in our schools is a small step to help gain the knowledge that helps us to relate how our actions affect us and our environment. This will help us make choices that will allow us to live in a mutually beneficial way with our environment. Hopefully in the near future, kids like me will not have to deal with ailments that humans are responsible for.
Sincerely,
Aishwarya Ganapathy
---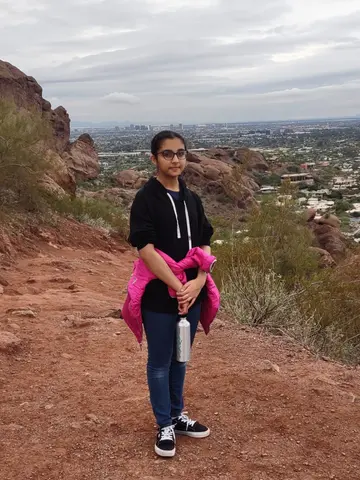 Aishwarya Ganapathy is a 7th grader at Mountain Trail Middle School. She lives in Phoenix, Arizona, with her parents and younger sister. She likes to play the violin and piano, and also enjoys learning Indian classical dance (Bharatanatyam), reading, and hiking various trails around Phoenix. Aishwarya is grateful and thankful to her teachers, Mrs. Ryan-Frandsen and Mrs. Shahverdian, for giving her the opportunity and supporting her in this contest.
Read more winning entries from the 2021 Local Letters for Global Change contest!