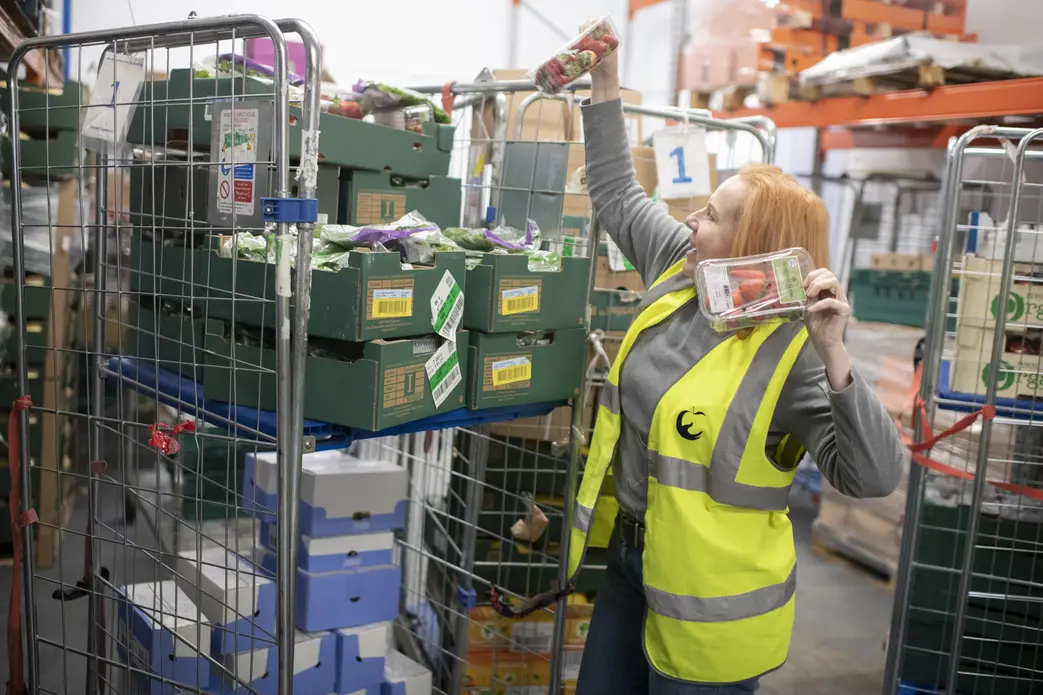 For the past two years, Esther Edwards, 36, from London, has had no choice but to rely on a food pantry to feed her four children ages 6, 8, 10, and 12.
Before becoming regular clients of the food pantry, the self-employed dental hygienist and her partner, also a dentist, often found themselves having to skip meals to ensure their kids would not go to bed with an empty belly.
"As parents, you have to make hard choices," Edwards says.
When the pandemic hit and the UK went on lockdown first in March 2020, followed by a second time in November 2020, and a third in January 2021, making ends meet became even more difficult. Dentist offices were shut down, and the couple was left without income.
Since March 2020, food insecurity has skyrocketed because of worsened economic conditions. As a result, more people than ever are now going hungry in the UK.
But food insecurity is nothing new. Despite the UK having the fifth largest economy in the world, it has one of the worst hunger rates in Europe. Pre-pandemic, about 13 percent of the population experienced it, as estimated by food bank surveys, says Maddy Power, a research fellow in food insecurity at the University of York. The actual rate might be much higher: Experts are deeply concerned about a hidden food insecurity—people who are experiencing hunger, but are not necessarily accessing a food bank.
The pandemic simply shone "a very harsh light on systemic and structural issues that already existed," says Garry Lemon, director of Policy and Research at the Trussell Trust, which runs two-thirds of the UK's food banks.
Studies show that there is a close relationship between poverty and food insecurity: People go to food banks predominantly because they do not have the money to buy food, says Power.
This often has to do with low wages and insecure contracts that prevent people from earning enough to have an adequate standard of living, but also high-living costs, such as housing; a difficult life event such as an illness, a disability or a family breakdown; and a lack of a solid informal networks of support, such as family and friends.
In addition, people who experience food insecurity are usually supported by the social security scheme, which includes access to benefits, including unemployment benefits.
But over the past decade, the scheme has become "less and less able" to properly deal with people's financial crisis and "catch them before they end up destitute," Lemon says, because of freezes, cuts and caps.
"The level of benefits people get on a regular basis is just too low to afford an adequate diet," says Power.
Pre-pandemic, about 94 percent of those referred to the Trussell Trust met the definition of destitution.
"These people are very, very low income—way below the poverty line, living on about 70 pounds a week—and they cannot afford not just food, but also heating, lighting, clothing, toiletries," Lemon says.
When the pandemic hit, the UK was therefore "woefully underprepared" in terms of protecting people from poverty, he says.
As COVID-19 surged across the UK, millions of people experienced a significant loss of income after being furloughed or losing their jobs. This resulted in a spike of hunger as financial vulnerability is a core reason behind food insecurity, according to experts.
Evelyn Community Store, a food pantry in London, went from serving 50 families pre-COVID to about 100 over the last few months, says founder Natasha Ricketts.
These included middle-class families who had never previously worried about putting food on the table, as opposed to just extremely poor or destitute families who accounted for the majority of food bank users pre-pandemic.
The recent widening demographic of users reveals the hard-hitting socioeconomic consequences of the COVID-19 crisis.
To access the store, local residents pay a £3.50 weekly membership and receive a week's worth of food shopping. The fee, says Ricketts, helps eliminate the stigma of charity that might prevent some families in need from showing up.
However, throughout the pandemic, some members of the Community Store have struggled so much financially that they have been unable to afford the weekly membership.
"That was really hard for me to get my head around because in my head everyone has £3.50," says Ricketts. "It's only when people come in and say it [that you realize] how difficult life has been for some."
Regardless of whether people could afford to pay the fee, they would still get the same amount of food every week.
Parcels contain everything from stocked products to fresh ones—beans, chicken, salmon, pasta, milk, eggs, lettuce, bananas, etc.
Most of the food is donated by supermarkets in the area, including Waitrose, Sainsbury's, and Tesco, shortly before it expires. Some items are bought by the Community Store itself with donors' contributions.
Parcels contain different products every week, says Edwards, which helps her family to have a healthy and balanced diet, as well as try new food, such as "lentils and random fruits" that she would not otherwise pick up in a supermarket.
"We try and use every ingredient—it's a very sensible way to cook," she says. "There's just a lot more variation in the thinking and we're a lot more adventurous."
Her favorite dishes are those made in "just one pot" so that she can make sure to also use the ingredients that her children do not particularly enjoy.
The one-stop Community Store removes a lot of stress leaving Edwards with one less thing on her to-do list.
Food banks and charities often give clients "peace of mind" as they take away the psychological burden of having to worry "about where the next meal for you and your children is going to come from," says James Persad, a spokesperson for FareShare, a leading UK food redistribution charity.
This allows clients to focus on longer-term plans to improve their financial situations, says Persad.
Throughout the pandemic, families with kids have been overrepresented among those experiencing food insecurity, says Lemon.
This is because as schools closed, many parents have had to either hire babysitters or decide whether one parent had to give up their job to stay home, resulting in a loss of income.
Ricketts says that for the last several months, the Community Store received numerous emergency referrals from schools nearby. To help feed kids during the holidays, the Evelyn Community Store has been making pack lunches for families eligible for free school meals, as well as for kids who do not qualify for the free lunch but "could do with one."
The pack lunches include a sandwich, crisps, a smoothie, fruit, biscuits, and some yogurt.
Children staying home also meant higher utility bills and providing for extra meals. For this reason, Christmas holidays and half-terms have also been a "nightmare" for people living on the poverty line as her family does, she says.
"It costs a lot more to have four kids in the house," says Edwards. "It's not just food, it's also electricity, water, entertainment. And if the kids are being looked after at home, the parents aren't at work."
The increase of expenses generates the so-called "heat-or-eat phenomenon," whereby people have to make really "hard choices" about whether to pay for energy bills and heat their homes or pay for meals, says Jasmine Fledderjohann, lecturer in Sociology at Lancaster University, and expert in the field.
By giving out free food, charities do a crucial job, helping people on tight budgets "to afford to heat their homes, pay rent, and other pretty basic requirements to live comfortably," says Persad.
But they are concerned that they might not be able to meet the constantly rising demand for much longer.
To reduce food insecurity, it is crucial that the government step in and modify policies, such as zero hours contracts, social housing, and two child-limit whereby you can only get child benefits for the first two children, says Power.
"Things are looking particularly serious this year, and the food banks in our network are deeply worried about the coming few months," says Lemon. "We have to see protection from the government put in place for people because there's only so much we can do, and there's only so much we should do."