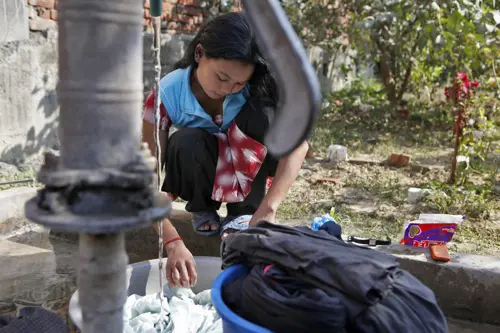 There is a saying about daughters in Nepal: Raising a girl is like watering your neighbor's garden.

Nepali girls are less likely than their brothers to get an education or earn an income, and in some families are considered temporary mouths to feed, as they will move in with their husband's family at marriage.

In the country's poorest rural villages of southwestern Nepal, there is a specific kind of discarded daughter found only among the ethnic Tharu farming families:

The kamlari.

Kamlaris are house slaves, as young as five, who toil away their childhoods cooking, cleaning and babysitting in the homes of higher caste families.

Tharu fathers sell their daughters to work as kamlaris for the equivalent of $50 a year. It's a fortune for the Tharu, sharecroppers who live on less than $1 a day. In exchange, "employers" make promises to feed, clothe and educate the girl. Trusting, illiterate, and desperate, Tharu parents rationalize the sale by saying their daughter won't have to beg for food in the village, and her price tag will feed the rest of the family.

But bonded girls report being beaten, raped, starved, and forced to sleep on the floor. Their masters often break the work contracts, paying less or not at all. Few kamlaris go to school. In the worst cases, the girls disappear.

In mid-January, San Francisco Chronicle photographer Carlos Gonzalez and I boarded a Buddha Air 18-seat propeller plane in Kathmandu and headed for Tharu country to find kamlaris. Although the Nepali Supreme Court outlawed the kamlari practice in 2006, its enforcement has been left mainly to the aid organizations, as the government has been slow to challenge entrenched cultural tradition.

We timed our visit with the annual Maghe Sankranti winter festival, when Tharu families celebrate the harvest with feasts, parades, and ritual bathing. Maghe is also the end of the fiscal year in Nepal, a time when debts are settled and new work contracts are signed. Kamlaris return home for Maghe to the Tharu districts of Dang, Banke, Bardia, Kailali and Kanchanpur, but only for a few days. During Maghe, fathers and middlemen meet to negotiate new one-year kamlari contracts. Sometimes the employers walk the villages and shop for servants.

We flew at eye level with the Himalayan ice cathedrals, past Annapurna, and landed in a wheat field in Nepalgunj. From there we drove two hours east to the Dang district, bordering India.

Our guides were 83-year-old Olga Murray from Sausalito, California and her Nepali counterpart Som Paneru. Eight years ago, the pair came up with a unique solution to ending girl slavery. They offer Tharu families a pig, or a goat in exchange for a promise not to sell their daughter. Families can make more money off the animal than the daughter, and Murray's nonprofit Nepalese Youth Opportunity Foundation pays to educate the girl through high school – about $75 a year.

By providing farm animals, along with public shame, legal threat and kamlari political organizing, Murray's foundation along with the Nepali-based Friends of Needy Children, report rescuing 3,000 kamlaris. Murray's group had to build 36 new classrooms to accommodate all the former indentured daughters.

Our driver weaved through bicycles, cows, rickshaws and honking buses listing dangerously under the weight of too many passengers through rice and wheat fields, dotted with small villages of cinderblock storefronts selling propane and motorcycle parts, wooden kiosks selling tangerines, boiled eggs and roasted nuts. Monkeys ran into the road to pick up pieces of rice and wheat that fell from the trucks. Women walked the roads with bundles of sticks and leaves on their heads, or fished for tiny shrimp in the stagnant pools in the rice fields.

We stopped in Kohalpur in front of a one-story brick house with a gated courtyard of rosebushes. It's two bedrooms, dining room table, television, electricity and running hot water denoted it housed a wealthy family.

Jamuna Chaudhary, 18, took a break from washing clothes at an outdoor water pump to let us in. Her landlords were out, so she was willing to talk.

Her parents sold her 10 years ago, to a different family down the street. She had to clean so much that she developed deep, infected cracks between her fingers and toes from the soap.

"They tricked me," she said, starting to cry. "My employer said I would go to school, so that's why my parents said yes but I never went. I'm sad I can't read or write."

Jamuna took us inside the home for a tour. The two children and parents have beds and dressers in their rooms. Jamuna sleeps on a grimy mattress under a concrete stairway.

She came to the red brick house a year ago and her new employer – a district leader with one of Nepal's Communist parties – treats her much better, she said. She rises at 5 a.m., cooks and cleans until 8 p.m.

"I sweep the house, scrub the floors, do the dishes. Cook. It's difficult most of the time," she said.

Just then a relative returned home, Jamuna's answers became more vague and it was clearly time to end the interview. Before leaving, Murray and Paneru took down her name and address and asked if they could return to talk to her again.

"She's too old for traditional school, but we could get her into a literacy program and into a vocational education program," Murray said.

Jamuna said she wanted them to visit again. Step one of the rescue process was a success. Aid workers collaborating with Murray and Paneru will return and try to convince Jamuna's employer to let her go. They will knock on her family's door and offer a pig or goat.

If that doesn't work, they'll send an official cease letter. They might hold a public meeting to bring shame on the employer, or publish his name in the local newspaper. As a last resort, Murray, a former research attorney for the California Supreme Court, will team with Nepali lawyers and file a lawsuit. Aid organizations have filed 70 cases against kamlari owners so far. Half the cases are pending, and employers gave up their domestic servants in the other half, said Shikha Shrestha, associate program director of Friends of Needy Children.

"She's just so beautiful," said Murray, as we drove away.
RELATED ISSUES