 A Mongabay investigation has found factories in Cambodia's garment sector are fueling their boilers with wood logged illegally from protected areas.
A Mongabay team traced the network all the way from the impoverished villagers risking their lives to find increasingly scarce trees, to the traders and middlemen contending with slim margins, up to the factories with massive lots for timber supplies.
The garment industry association denies that any of its members uses forest wood, but the informal and opaque nature of the supply chain means it's virtually impossible to guarantee this.
This story was supported by the Pulitzer Center's Rainforest Investigations Network where Gerald Flynn was a fellow. *Names have been changed to protect sources who said they feared reprisals from the authorities.
---
KAMPONG SPEU, Cambodia — The roar of the engine cut through the 5 a.m. gloom one morning in December 2022 as Saroeun* and his cousin Sovann* pulled away from their wooden stilted house in the village of Kteh, which sits inside Aural Wildlife Sanctuary in Kampong Speu province. But the rumble of Saroeun's koy-yun, a purpose-built logging tractor, soon blended into the noise as other villagers rose with the sun to head into the forest, searching for saleable timber.
Home to Phnom Aural, Cambodia's tallest mountain, Aural Wildlife Sanctuary has been decimated by loggers over the past two decades, which has since pushed Saroeun and other loggers to head further west, traveling across the sanctuary's borders into Central Cardamoms National Park.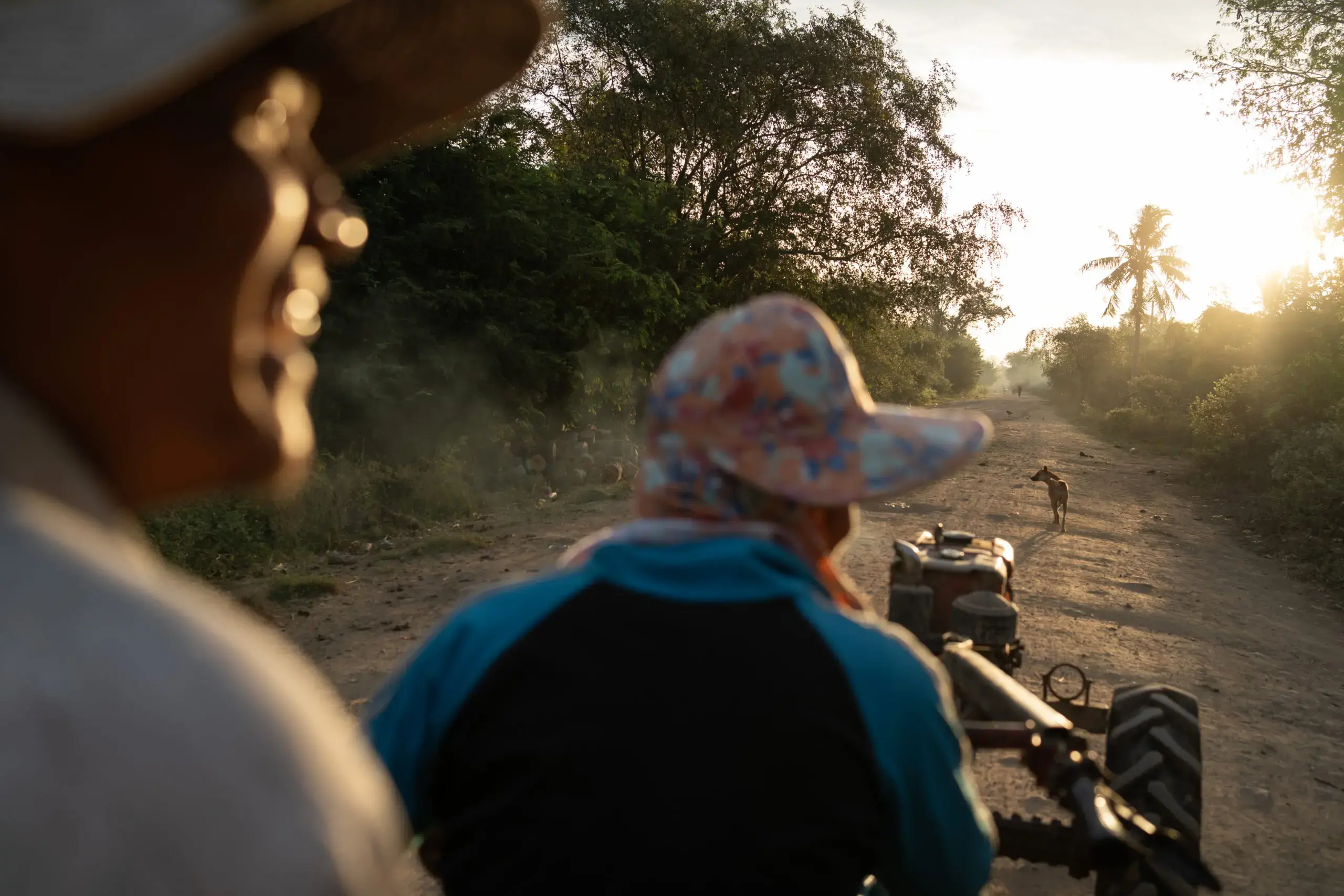 This 402,352-hectare (994,233-acre) protected forest boasts vast mountains that sprawl across Kampong Speu, Koh Kong and Pursat provinces, is home to a wealth of biodiversity, and is widely regarded as one of the best-preserved rainforests in Cambodia — although recent infrastructure developments have seen the forest's natural defenses peeled back by loggers taking advantage of a new hydropower dam.
---
As a nonprofit journalism organization, we depend on your support to fund journalism covering underreported issues around the world. Donate any amount today to become a Pulitzer Center Champion and receive exclusive benefits!
---
The forest made for a brutal journey as Saroeun navigated roads cut crudely through the trees by loggers working their way ever deeper west into the Cardamoms.
But the koy-yun­ is designed to handle the uneven terrain. Black fumes belched out of the engine as Saroeun and Sovann were hurled from side to side in tandem with the contours of the track. As the journey became more treacherous, the forest grew thicker around them.
"It's really miserable driving the koy-yun­ with a full load of timber," Saroeun said. "It's all about luck. I've had accidents before where I flipped the koy-yun over, I didn't reach the brakes in time so I had to jump to avoid being crushed."
When asked if he'd ever been injured by going out to the forest to log, Saroeun nodded.
"It happens," he said nonchalantly. "People die driving koy-yuns."
After two hours of this bruising journey, the pair approached their destination. Sovann hopped off the moving koy-yun and disappeared into the undergrowth. He emerged holding a chainsaw wrapped in cloth. It's safer, he explained, to leave it in the forest than risk authorities finding it at his home. Sovann took out a slim metal rod that he then dipped in oil and meticulously set about cleaning the chainsaw blade, tooth by tooth.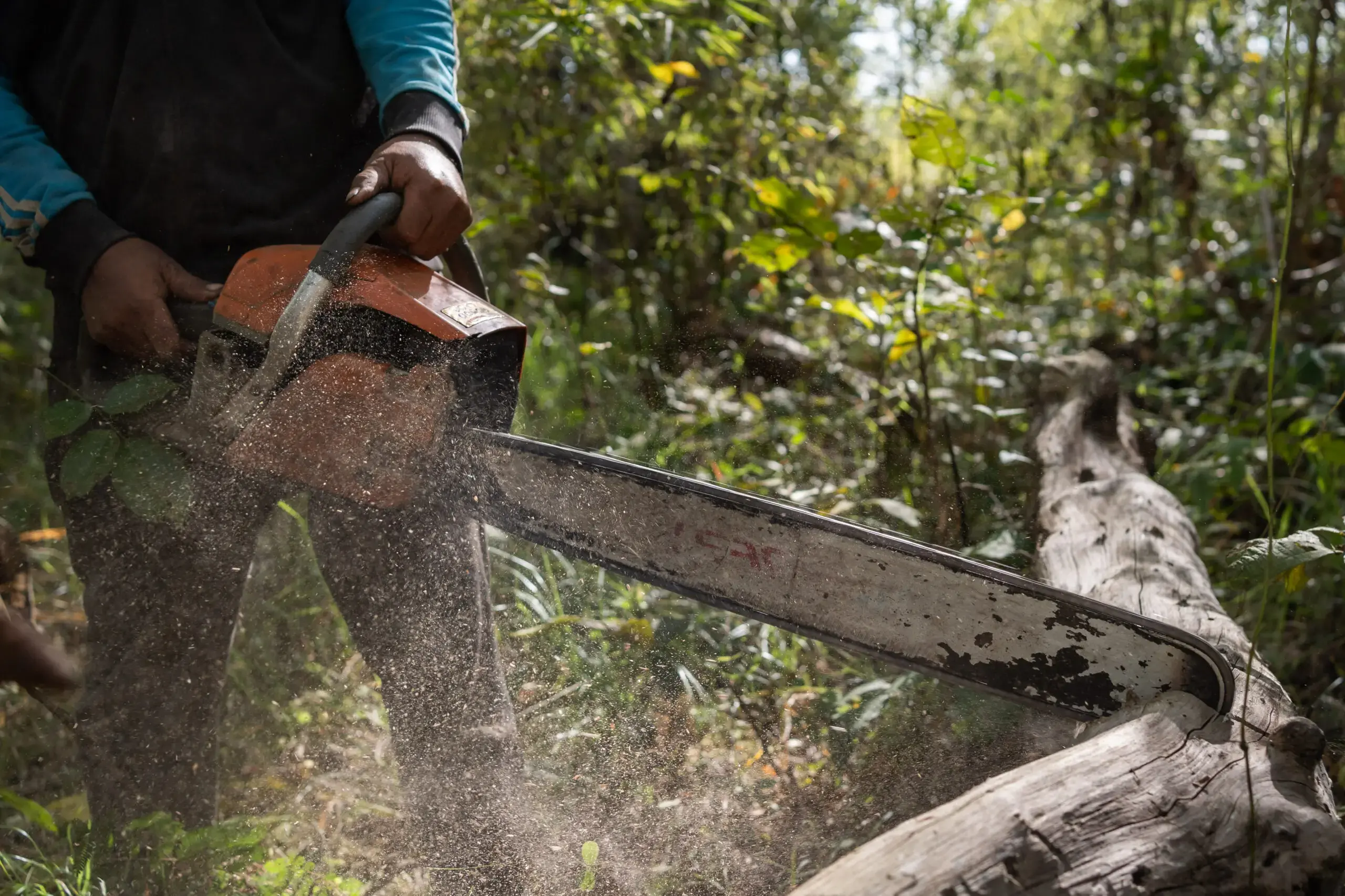 Meanwhile, after parking the koy-yun, Saroeun began working with a machete, clearing the scrubby brush from around the base of a large tree. The pair had found their quarry.
"We'll cut three or four trees down per trip," Saroeun said. "Unless we find a really big one. This tree is already dead, so it's less risky for us to take. When we get back to the house, I'll call a few traders, mostly middlemen who sell the timber to garment factories."
With that, the squeal of Sovann's chainsaw as it bit into the dead wood joined a chorus of other chainsaws that could be heard throughout the thick forest. An unseen number of loggers were out that same morning, seeking to find timber they could sell for firewood, mostly to garment factories.
Factories woven into the fabric of Cambodian society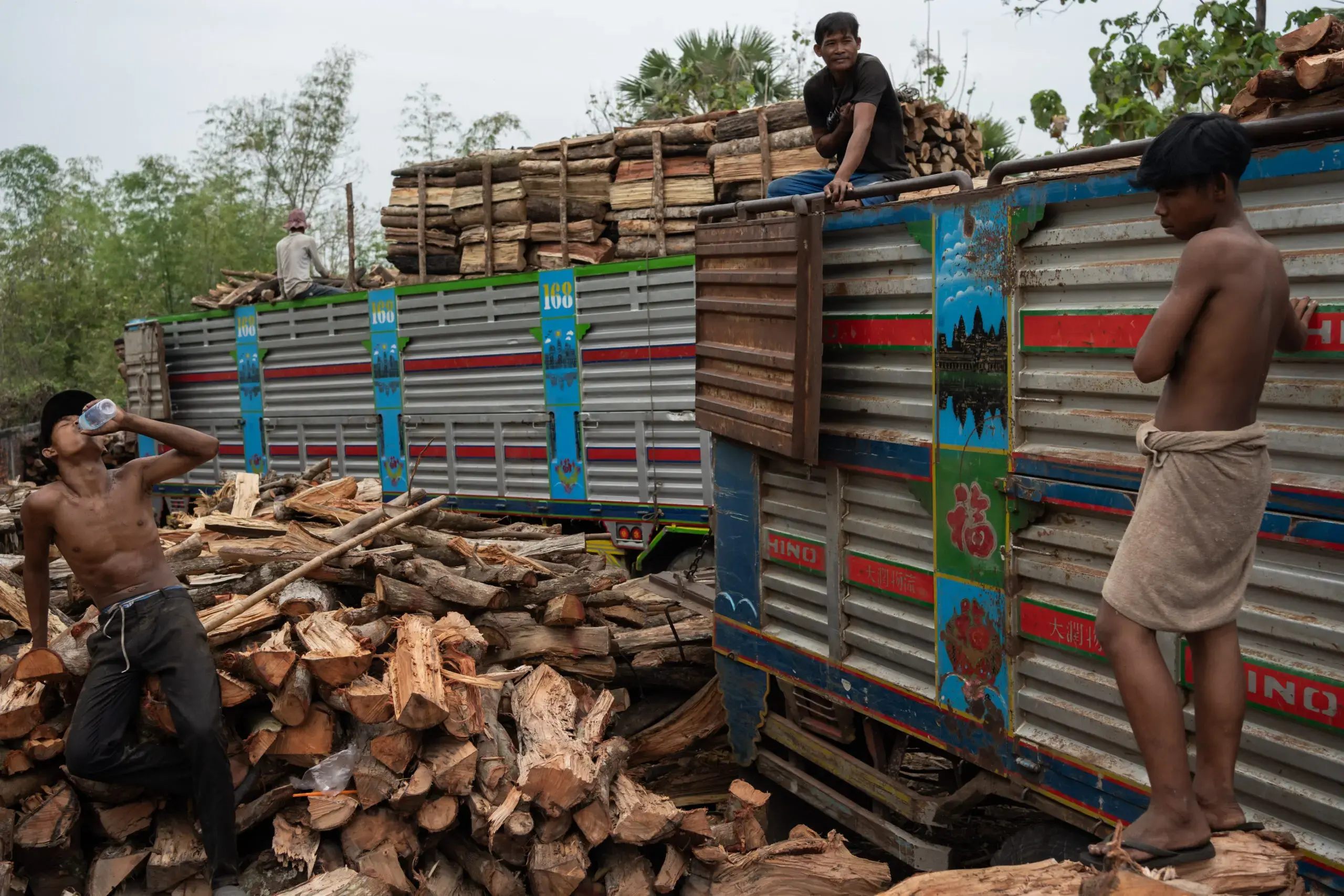 Cambodia's garment sector is a multibillion-dollar industry that employs some 750,000 Cambodians, mostly women, across an estimated 1,200 factories that produce clothes, footwear and textile products nationwide.
Of these, an estimated 680 factories make garments, footwear and travel goods for export, and generated $11.3 billion in 2021 and $12.6 billion in 2022, according to Ken Loo, secretary-general of the Textile, Apparel, Footwear & Travel Goods Association in Cambodia (TAFTAC) — formerly the Garments Manufacturing Association in Cambodia (GMAC).
Data from the General Department of Customs and Excise shows that across the first five months of 2023, the sector's exports fell roughly 20% compared to 2022, from some $5.2 billion to just over $4.1 billion.
However, this key economic engine is also driving deforestation across the country due to the factories' huge demand for wood.
The wood is used on-site as biomass to boil the water needed to wash, dye and steam-iron the clothes and products ahead of sale. Other factories rely on burning wood as a means of generating the electricity to power the various machines operated by factory employees.
But the scale of the issue remains relatively unknown, largely due to a dearth of data on the matter and wholly opaque supply chains that render many factories — and their owners — in the dark about the origins of the wood that fuels their boilers.
"Most factories don't use forest wood," said Loo of TAFTAC. "[They] must be crazy to use forest wood."
Loo said the use of timber sourced from Cambodia's forests would be more expensive, less reliably sourced, and wouldn't meet the proof-of-origin requirements that some international brands have imposed on Cambodian factories.
"If it happens, it must be in a minority of factories," Loo added. "And we don't hear about it happening. I assume this practice is not common."
However, Loo said many factories likely have no idea where the wood they burn is from, and he conceded that TAFTAC has no data on which of the association's member factories use forest wood.
Neth Pheaktra, spokesperson for the Ministry of Environment, which is responsible for the management of protected areas where much of the wood reportedly used in the garment sector is illegally sourced from, did not respond to detailed questions submitted by Mongabay.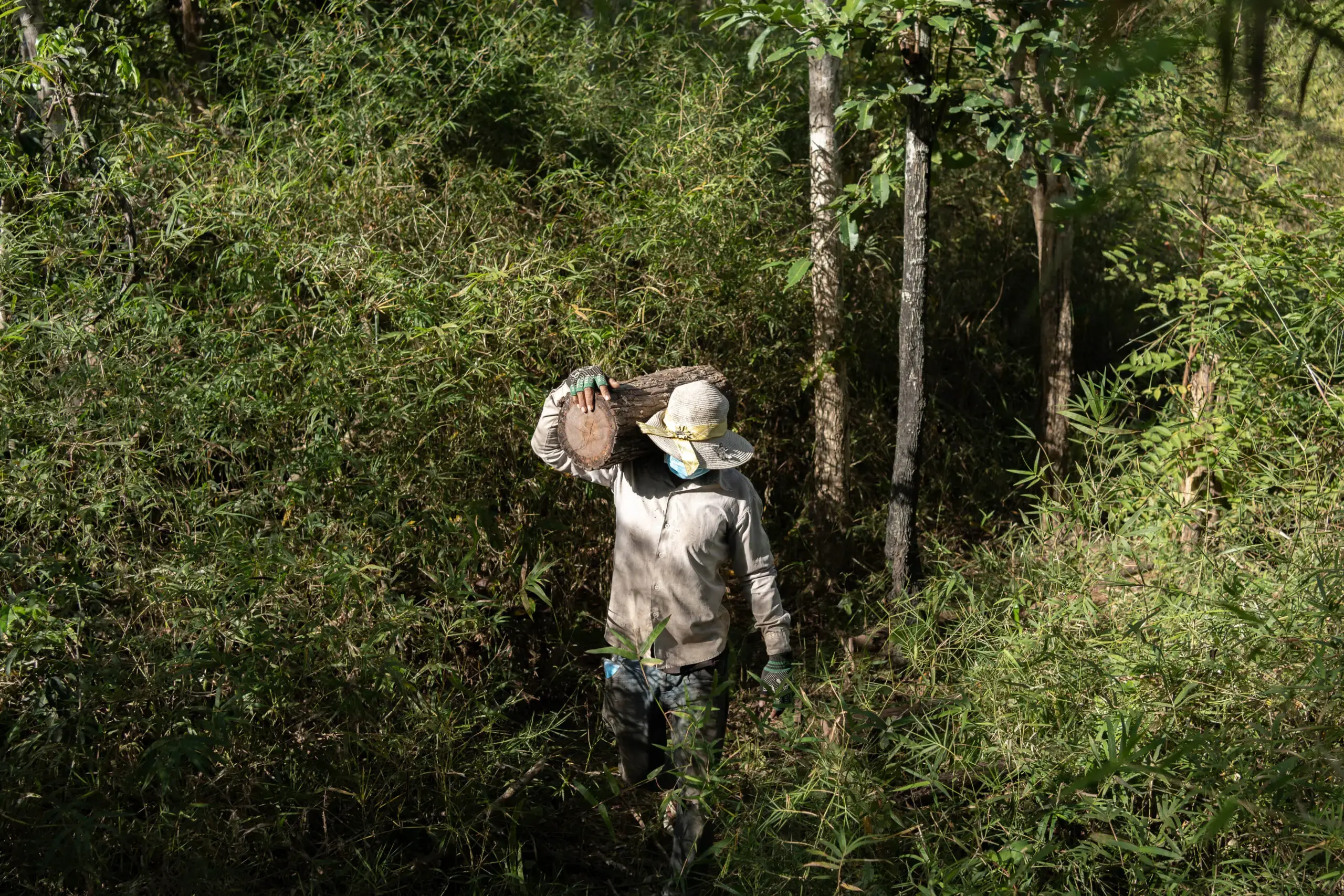 Academics have previously attempted to estimate how much forest wood winds up in Cambodian garment factories, with Laurie Parsons, a senior lecturer in human geography at Royal Holloway, University of London, conducting research in 2021 that surveyed 255 randomly selected factories on the fuel sources they used in their boilers.
Of the 255, Parsons' team was able to get answers from 160: of those, 48 admitted to using either purely forest wood or a mix of forest wood and other fuel sources.
Loo dismissed Parsons' findings as "rubbish," saying that TAFTAC (then known as GMAC) contacted 20 of the factories Parsons' data listed as using forest wood and was told by these factories that they used legally sourced plantation wood.
"This is not at all surprising," Parsons said of Loo's response. "TAFTAC's goal is to promote the reputation of the industry and this is relatively easy practice to deny as they are literally burning the evidence."
Parsons added in an email to Mongabay that "We are very confident that around 30% of factories are using forest wood, which gives you a sense of how widespread the problem is. At the same time, the scale of the problem of deforestation in Cambodia is so vast that even large-scale industrial usage like this can be made to look small."
Various crackdowns on the use of forest wood have seen the trade pushed underground, Parsons said, noting that while 20-ton trucks are not so frequently seen transporting forest wood to garment factories, timber is still illegally harvested in large quantities by informal networks of local people, delivering timber to depots.
"So it's still happening, but it's now much, much harder to get a handle on than it previously was," Parsons added.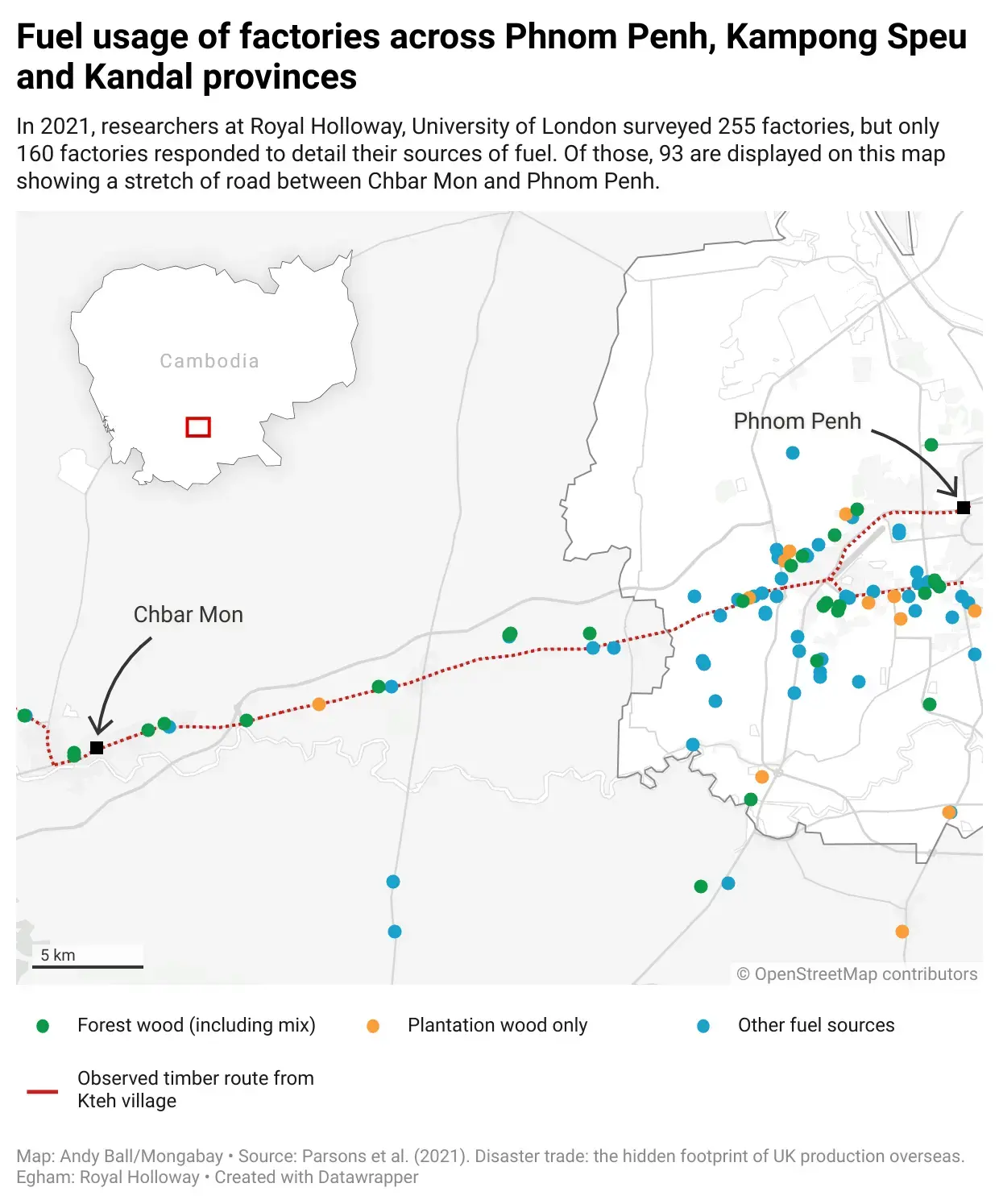 Tracking the timber traders of Aural
Saroeun and Sovann are part of these informal networks, as are almost all the residents of Kteh and neighboring villages across Ta Sal commune. But often, they're just the first step that the forest takes toward the factories.
By 9 a.m. on the morning that reporters joined Saroeun and his cousin Sovann, the pair had loaded up their koy-yun with the carved-up remains of four dead trees. During the roughly hour and a half that they'd been logging, four other koy-yuns had rumbled past, all in search of timber for the garment sector.
"The koy-yun can carry $20 worth of timber, so Sovann will get $4 for this trip," Saroeun explained as his cousin wedged another chunk of timber onto the koy-yun. "I will get $16, but I have to pay for the diesel, rice and other expenses. I've been coming back to this forest for two or three years, we used to be able to go logging closer to the house, but now we must go further into the forest to find wood."
At 11 a.m., the two arrived back at Saroeun's house and set about unloading the morning's haul from the koy-yun, placing the sliced logs atop a pile. This stash of forest wood, hiding in plain sight outside Saroeun's house, had grown to a sufficient point where he had enough to sell. It was time to call the timber traders.
Traders sit just above the loggers in the network of extraction that transports timber out of the Cardamoms, but few have direct contact with the factories that use the wood.
After a quick lunch, Saroeun and Sovann once again boarded the now-empty koy-yun to set off once more on the second trip of the day. They would go on to make two more trips later that day. After lunch, Saroeun's wife began negotiating with the timber traders.
As the villagers' koy-yuns returned from their initial ventures into the forests and mountains of the two protected areas that Kteh straddles, the quiet dusty road that runs through the village became frantic with minivans.
Gutted of all seats but those in the front row in order to maximize storage space, these beaten-up minivans displayed the wear-and-tear from years of transporting illegal timber out of the Cardamoms to the city. Sun-faded, scratched, sporting cracked windshields and almost every injury a vehicle can sustain while remaining functional, this ramshackle fleet of the timber traders reflects the informality of the network that sustains one of Cambodia's largest economic sectors.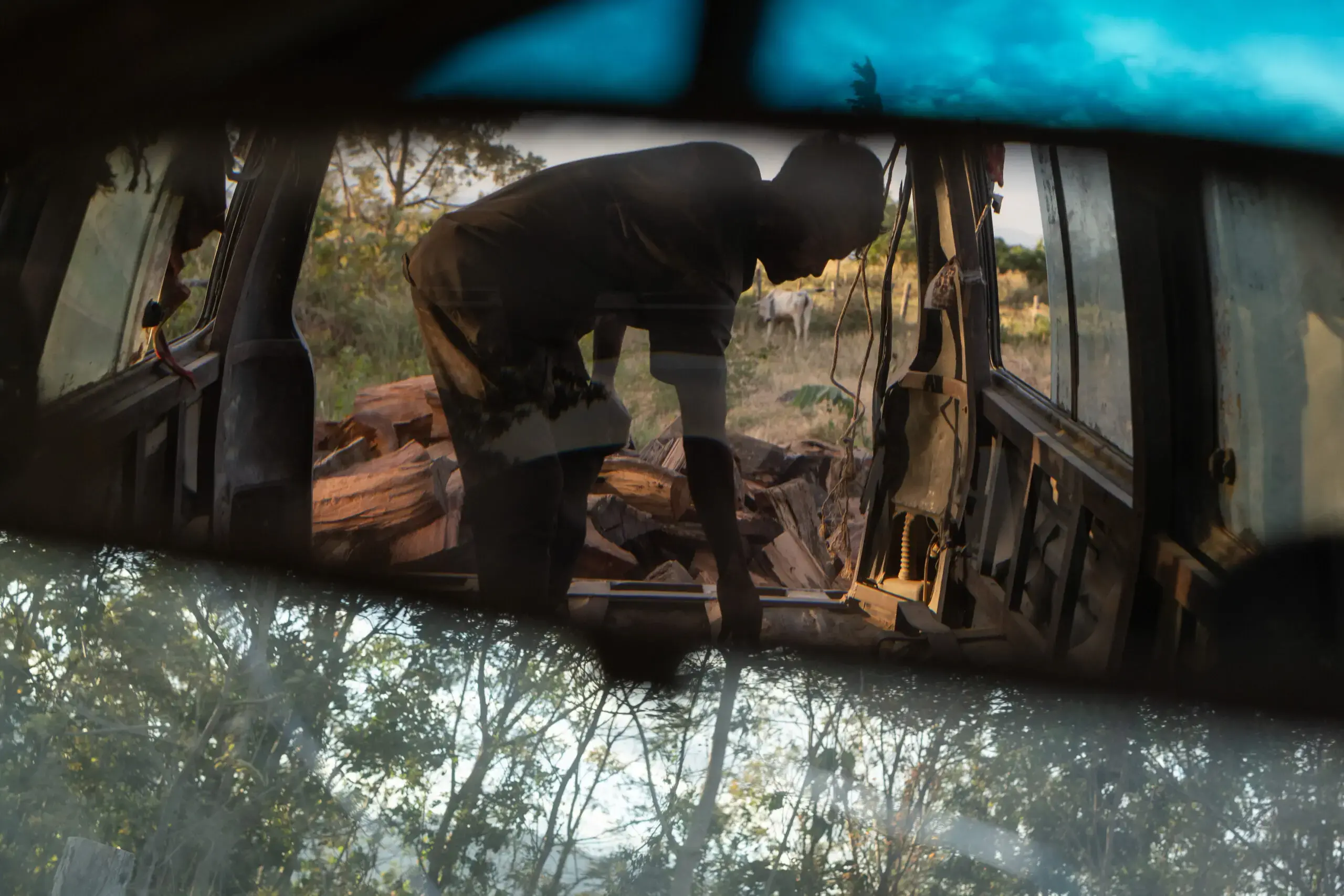 "I'm from Chbar Mon," said a man who identified himself only as Soth, referring to the capital city of Kampong Speu province. "I transport and sell this [wood] to regular customers in Chbar Mon, they then sell it on to garment factories. I don't know which factories it goes to — I just sell to the middlemen near the bridge by the canal."
Soth had invested in an open-top truck, larger than the regular minivans that, by 11:30 a.m., could be seen parked outside almost every house in Kteh village.
"The villagers here all cut from the mountains, we cut it up to make it easier to load," Soth said. "I can sell each truckload for $200 in Kampong Speu and have been doing this since 2014, making one trip every day from Chbar Mon to Kteh. I buy here for $125, each truck holds about 6 tons, but the owner of the wood bought it from six separate koy-yuns."
Saroeun's wife added that, sometimes, loggers in Kteh will sell to other loggers — particularly if they haven't collected enough to sell directly to a trader and need more cash to keep working.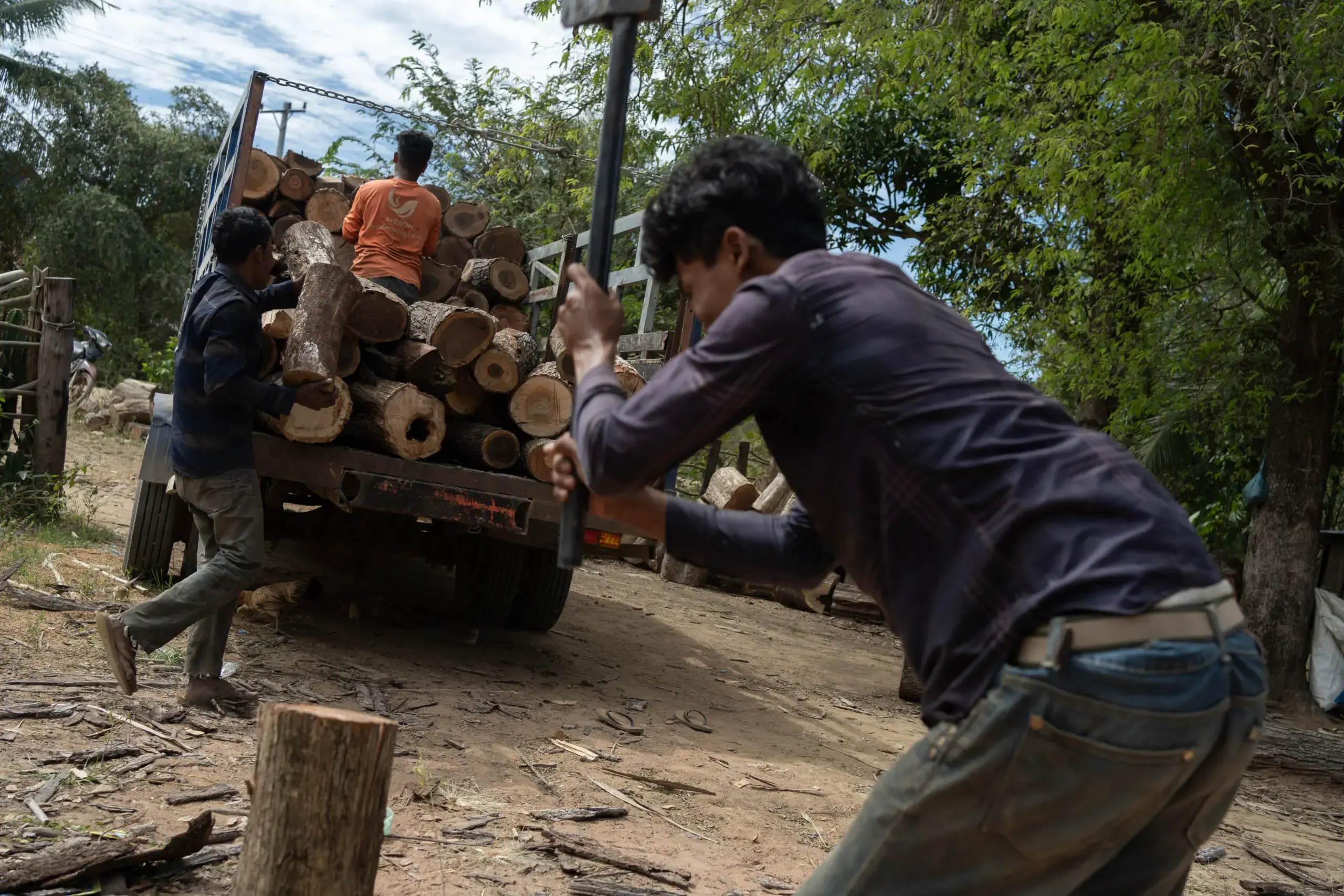 Fast fashion driving loggers deeper into the forest
For Soth, the economics of the network is shifting and the balance is tilting in the favor of the factories, rather than the traders.
The same truckload that used to cost him $75 now costs $125 when he buys from loggers like Saroeun, but the price that factories are willing to pay the middlemen that Soth sells to has either stagnated or fallen, leaving him to absorb the losses on the purchase of wood, while receiving lower profit margins upon sale to the middlemen.
The traders mostly can't sell direct to the factories, Soth said, because the factories take the timber on credit, paying only at the end of the month. This leaves traders to cover the costs of buying and transporting the wood on the promise that the factory will pay them at the end of the month.
"Those middlemen, they have the money, so they can do business like that with the factories," said Kanika*, another trader who was in Kteh to collect the day's delivery of forest wood. "We don't have that kind of money — I'd need $10,000 to pay up front if the factories only paid me monthly."
This sentiment was shared among the traders who spoke to Mongabay, who collectively said that factories often refuse to pay at the end of the month, safe in the knowledge that no complaint can be lodged over the theft of illegally harvested timber.
Others noted that the COVID-19 pandemic, which caused severe disruption in Cambodia's garment sector, saw a lot of middlemen lose their direct connections to garment factories as orders from international brands plummeted.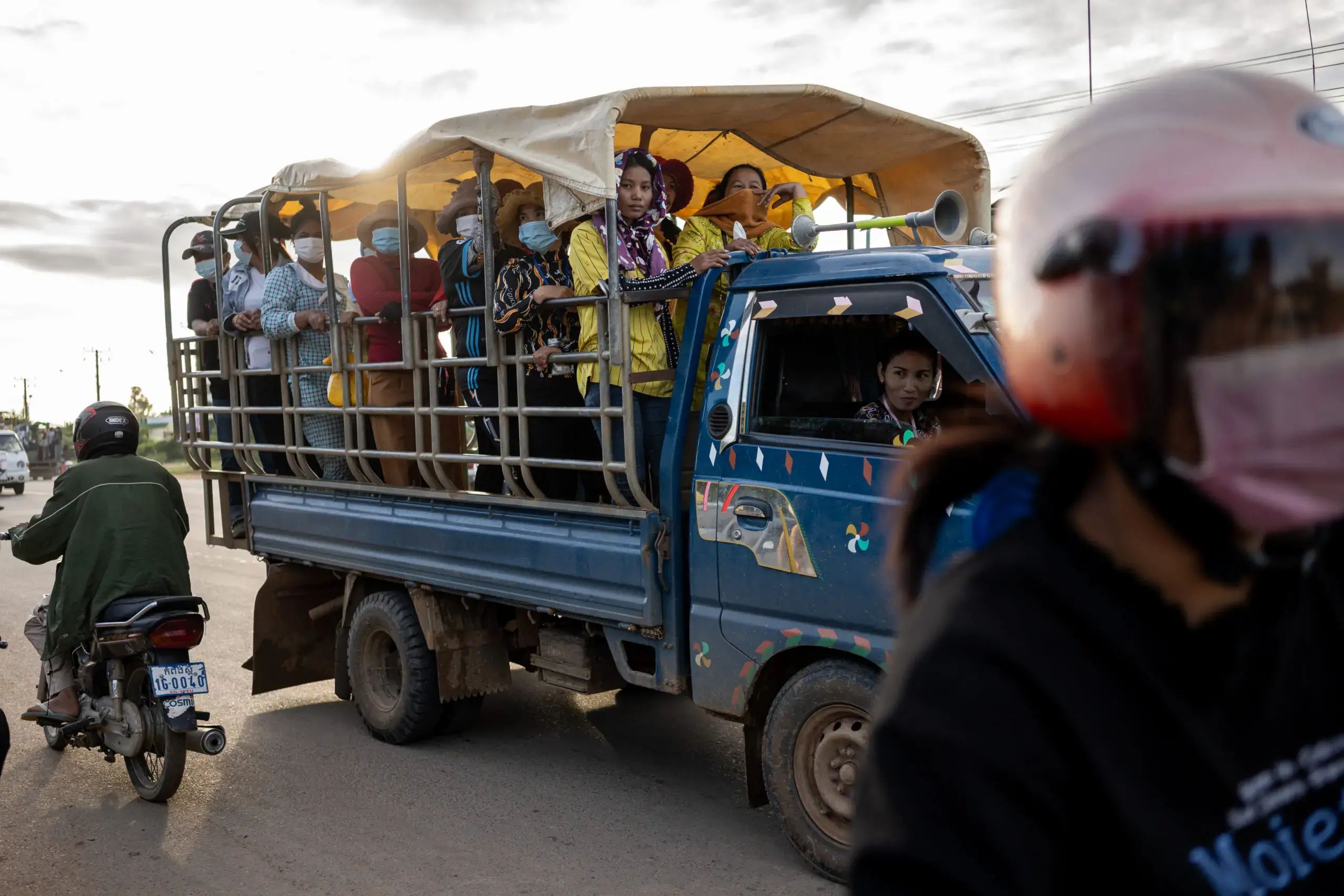 "The factories are able to manipulate the price, but the villagers charge more for the wood because there are more traders coming here than before," Soth said.
When asked if more traders were coming to Kteh because timber supplies across Aural district were dwindling, Soth said he was concerned about the sustainability of his work.
"I worry that one day we will have no logs to buy. It's very seasonal here, in the dry season we buy and sell a lot, but the wet season, the logging stops so our sales stop too. Middlemen and factories both stockpile for the wet season."
But the rate of deforestation that sustains almost every household in Kteh can't last forever — a fact that hasn't escaped Saroeun or any of the other loggers who spoke to Mongabay.
They don't need to imagine what life will look like when the logs run out; they only have to look 6 kilometers (4 miles) down the road to the village of Choam, where garment factories' demand for wood has outstripped the available supply of timber.
Much of the best timber across Kampong Speu was lost when more than 100,000 hectares (about 250,000 acres) of the province's total 701,700-hectare (1.73-million-acre) landmass was awarded to allies of the government in the form of economic land concessions throughout the 2000s. Many concessionaires were accused of running illegal logging operations and laundering illegally harvested timber through sawmills established inside their concessions, resulting in 29% of Kampong Speu's forest cover being lost between 2001 and 2021, according to Global Forest Watch.
"There are only a few people logging in Choam now, it used to be like Kteh, but now we must go further to buy wood for the factories," said Raksmey*, who gave up on logging in Choam and turned to transporting timber instead.
"There are basically no logs in Choam anymore," she said. "They've already cut all the trees they can reach and still profit from taking them. They used to have many trees, but now the forest is gone in Choam, so they don't cut or sell anymore."
As a timber trader, Raksmey has seen the trade driven deeper to the west, farther from the factories back to the east in Chbar Mon, by profit margins that are too slim to support loggers, even if they were willing to drive their koy-yuns farther into what remains of the forest surrounding Choam.
The expenses of fuel, labor and supplies for longer trips into the forest soon outweigh the money that loggers can make by selling timber to the garment sector. But as they remain connected to the industry only informally, there's no support offered to them.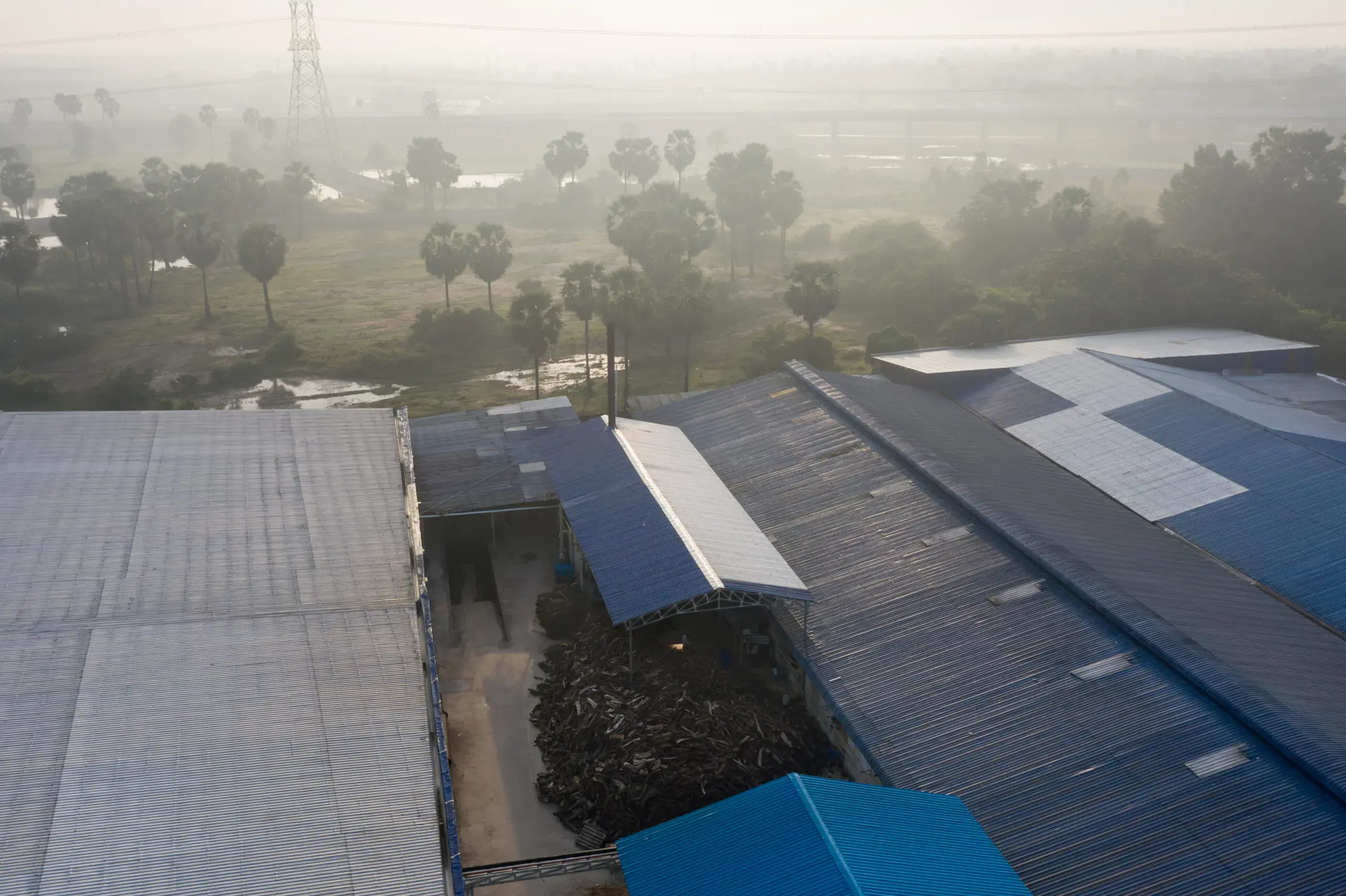 The middlemen selling the forest to the factories
While traveling some 85 km (53 mi) east, along National Road 44, the forest and mountains of Aural melt away as the peri-urban Chbar Mon sprawls into view. The light-industrial capital of Kampong Speu province is a far cry from the rural poverty that Saroeun and the loggers of Kteh live in, but it's by no means a wealthy area.
Crammed in the backs of trucks, garment workers being ferried to and from their respective factories make up the majority of the traffic. Those lucky enough to live closer to the factories where they work opt to drive motorbikes — chiefly because they're considerably safer than the often overpacked trucks, many of which have been involved in crashes resulting in the death and mutilation of countless workers over the years.
The middlemen, who act as the gatekeepers of the wood before it's sold to the factories, mostly live in thatched huts and crumbling shacks along the city's canal. This is what awaits the traders after the roughly two-hour drive from Kteh. But while the traders will always find someone willing to take the timber off their hands, the middlemen survive by cultivating relationships with factories.
Kampong Speu has no shortage of prospective clients, however. When Mongabay began this investigation, the province had 121 factories listed as TAFTAC members, although as of mid-June 2023, this was revised down to 103. It's unclear whether the other factories shut down or simply abandoned their TAFTAC membership.
"These logs came from Aural [Wildlife Sanctuary], but I don't know which village they are from," said Pich*, a worker at one of the many depots that line the canal of Chbar Mon. "The owner of this place is named Yoi, he gets vans loaded with logs that usually drop wood off in the morning, then we deliver these logs to factories everywhere in Kampong Speu and Phnom Penh."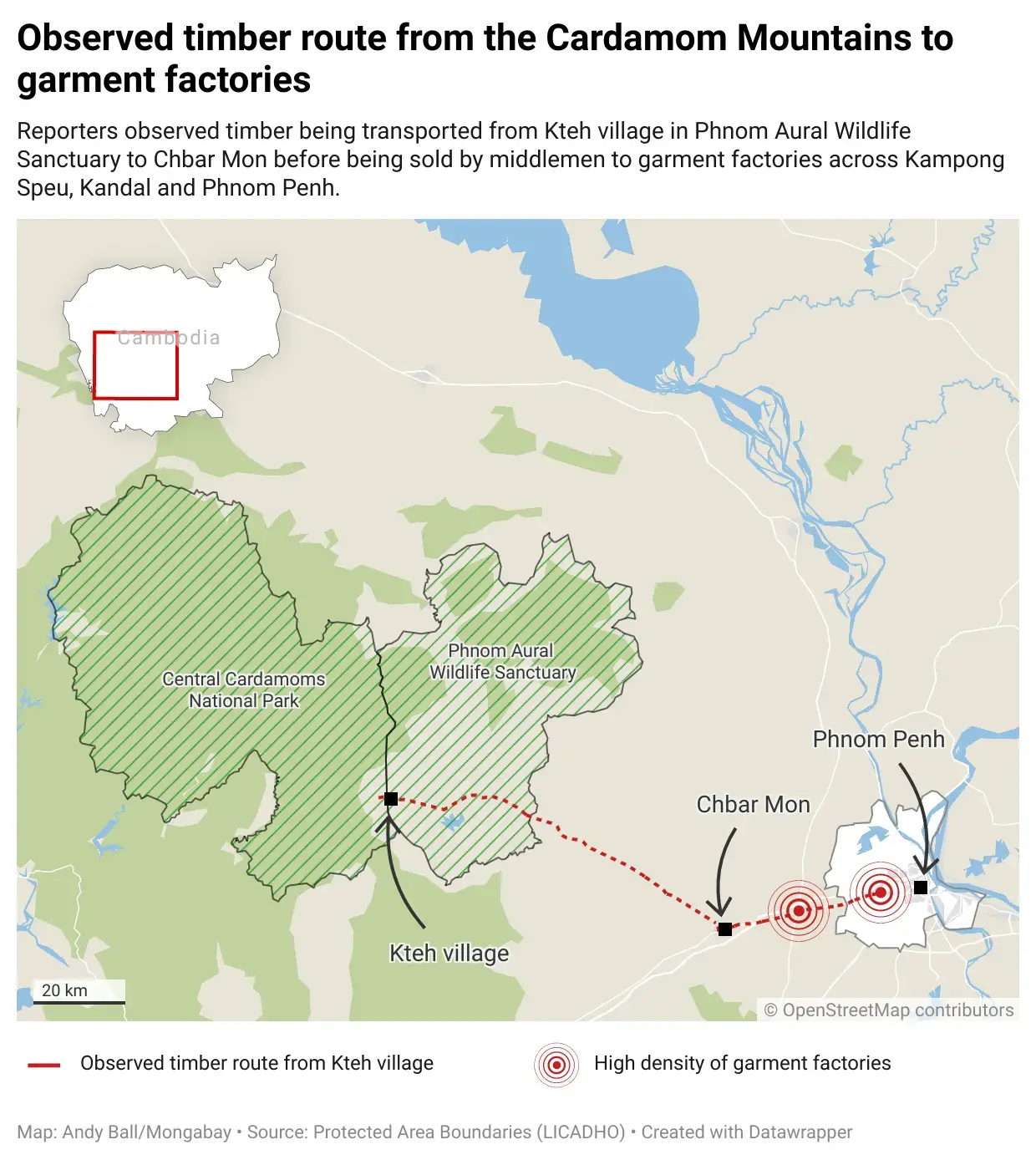 While reporters were unable to track down Yoi, a woman who identified herself as Yoi's mother confirmed that the timber stacked in the yard by the canal had indeed made the same two-hour journey from Aural Wildlife Sanctuary, but added quickly that this was at the request of the factory, not her son.
"The wild [forest] logs are more expensive than these pieces of wood," she said, pointing to distinctly different tree species that lay in pieces across the yard. "The wild logs are better and larger, while the logs from plantations are small like this, but the large logs are disappearing and only these small logs remain."
She went on to detail how in 2010 and 2011 there was a seemingly endless supply of forest wood that garment factories in Chbar Mon could acquire legally. She said this was because Cambodian People's Party senator and tycoon Ly Yong Phat was awarded 21,451 hectares (53,007 acres) of forest bordering Aural Wildlife Sanctuary in the form of economic land concessions for his hugely destructive sugar companies, Kampong Speu Sugar and Phnom Penh Sugar.
"The big plantations had a site manager to clear the trees," she said. "The loggers could cut trees outside the plantation and the traders buy from many different places, [so] logs can come from the forest or from the plantation, we cannot say, [traders just] sell [it] to us."
The factories, Yoi's mother said, continued to order forest wood, even after Ly Yong Phat's plantations were cleared, because the forest wood is more calorific than the waste wood generated through rubber, acacia, cashew and mango plantations.
Yoi's mother wouldn't say how many factories she supplied to, but noted that there were many between Kampong Speu and Phnom Penh. Nor would she detail the prices the factories paid for different wood species, saying only that she buys forest wood for the equivalent of $25 per cubic meter, or about 70 cents per cubic foot.
"Sometimes the traders tell us it comes from Ly Yong Phat's plantations, but we mix the wild wood in with the plantation wood and sell it to the factories; there are maybe 20 or 30 other depots like this one doing the same," she added.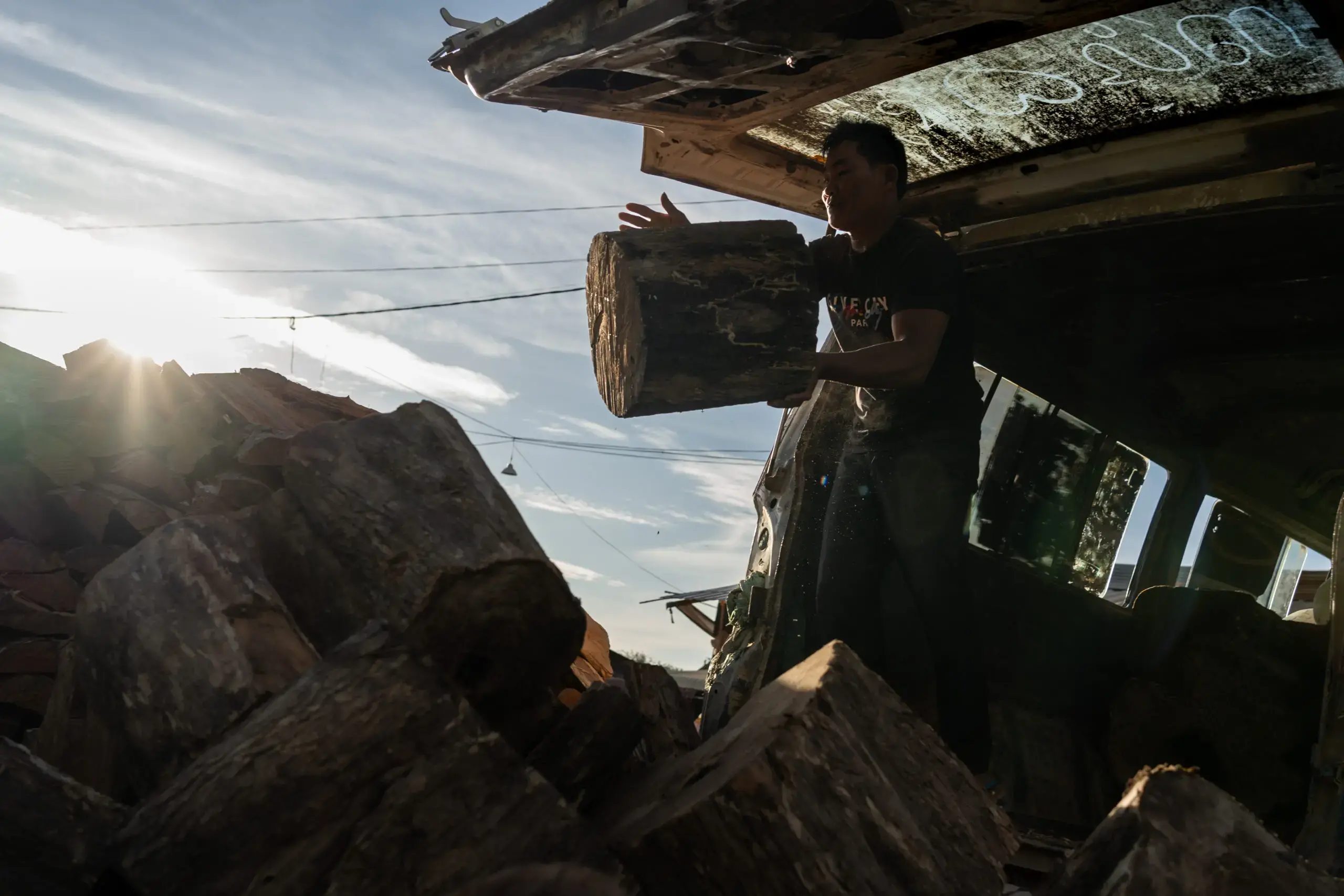 Further down the canal, similar stories emerged from the middlemen supplying the wood to the factories, but details continuously conflicted.
Some middlemen said forest wood was cheaper to buy, while others said it was more expensive due to its desirability. Some told reporters the wood came from a plantation in the mountains of Aural, but didn't know the name, while others told us they had no idea where the wood came from. Some said they delivered to factories daily, others weekly. Most were cagey when it came to revealing the names of the factories they delivered to, citing fear of losing relationships they had spent time building with factory owners or staff; others said they just didn't know the names of the factories.
"The name is in Chinese and English, I can only read Khmer!" one middleman told reporters.
The only consistent details from numerous interviews with middlemen living along the canal in Chbar Mon were that the wood came from Aural district, that factories would pay $20-25 per cubic meter, and that nobody doing this job along the canal was getting rich.
"Aural still has forest, but where villagers live, now the areas became sugarcane plantations [where] Ly Yong Phat allowed people to stay [and] plant sugarcane, cashew and mangos [for him]," one Chbar Mon depot owner said. "[Ly Yong Phat has been] clearing the forests since 1995 or 1996, this is the story of the big people, but we are the normal people and still we don't have closed walls for our houses."
Finding the forest in the factories
Hui Yuan Garment, a TAFTAC member garment factory, overlooks the arterial National Road 4 that connects the coastal city of Sihanoukville to Phnom Penh, the capital. It's one of the many factories nestled in the Kampong Speu segment of National Road 4, an area where Parsons of Royal Holloway found many factories to be using forest wood during his 2021 study.
Just to the west of the factory's entrance, a small dirt track shoots off from the national road, winding its way around a separate factory before landing at a loading yard full of timber.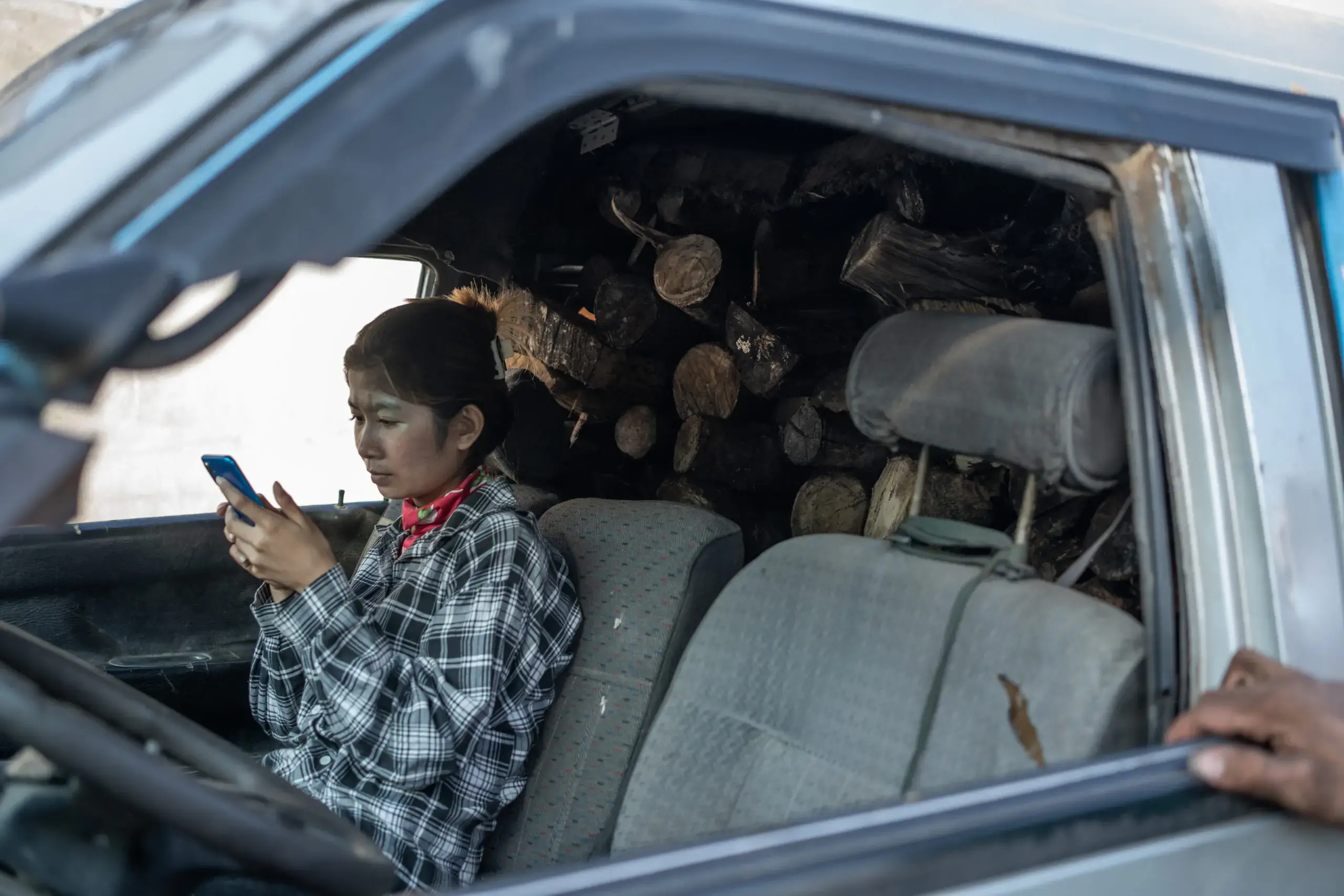 In December 2022, it was here that reporters were able to track timber from a depot in Chbar Mon, where the wood was sourced from Aural Wildlife Sanctuary, to the rear of Hui Yuan's factory.
The first vehicle spotted delivering timber to the factory was a koy-yun loaded with logs.
"I get $180-250 per koy-yun, that's how much the factories will pay me for it," said Bo Ray, the driver. "I only buy dead logs because it's easy to see freshly cut timber — that's how you know it comes from the forest — and dead wood burns better.
"Illegal logging is happening across Aural," he added. "I know them, but I can't say who."
Bo Ray was followed by a second vehicle: a rusting white minivan with all the rear seats pulled out to make way for the stash of timber that was piled from floor to ceiling. So stacked was the vehicle that the minivan's rear door wouldn't fully close and had to be tied down with rope. A cloth was draped over the wood so that the vehicle's illegal contents weren't so immediately visible to other motorists.
"We have a mix of forest wood from Aural and cashew wood from Kampong Chhnang [province]," said a man unloading wood from the minivan. "We used to get wood from Pursat province, but now we deliver to two or three different depots in Kampong Speu where I can sell a van-load of wood for between $300 and $400."
Kea, a man who identified himself as the owner of the minivan, said he sources the forest wood across Aural district from various households like Saroeun's.
"I can't count them all, but there are lots of Chinese factories [in Kampong Speu], many of them have more than 2,000 workers," Kea said. "I sell directly to the factories. I know they use the wood in their boilers."
Kea added that he typically makes one delivery to each factory he sells to per week, sometimes as often as every three or four days. The irregularity of the factories' demands is matched by the irregularity in the supply of the wood, so Kea's network of factories that he sells to extends beyond Kampong Speu in order to keep the timber flowing.
"I have to deliver to a factory in Ta Khmao city [in neighboring Kandal province] now," he said as he climbed into one of the only two seats remaining in the van.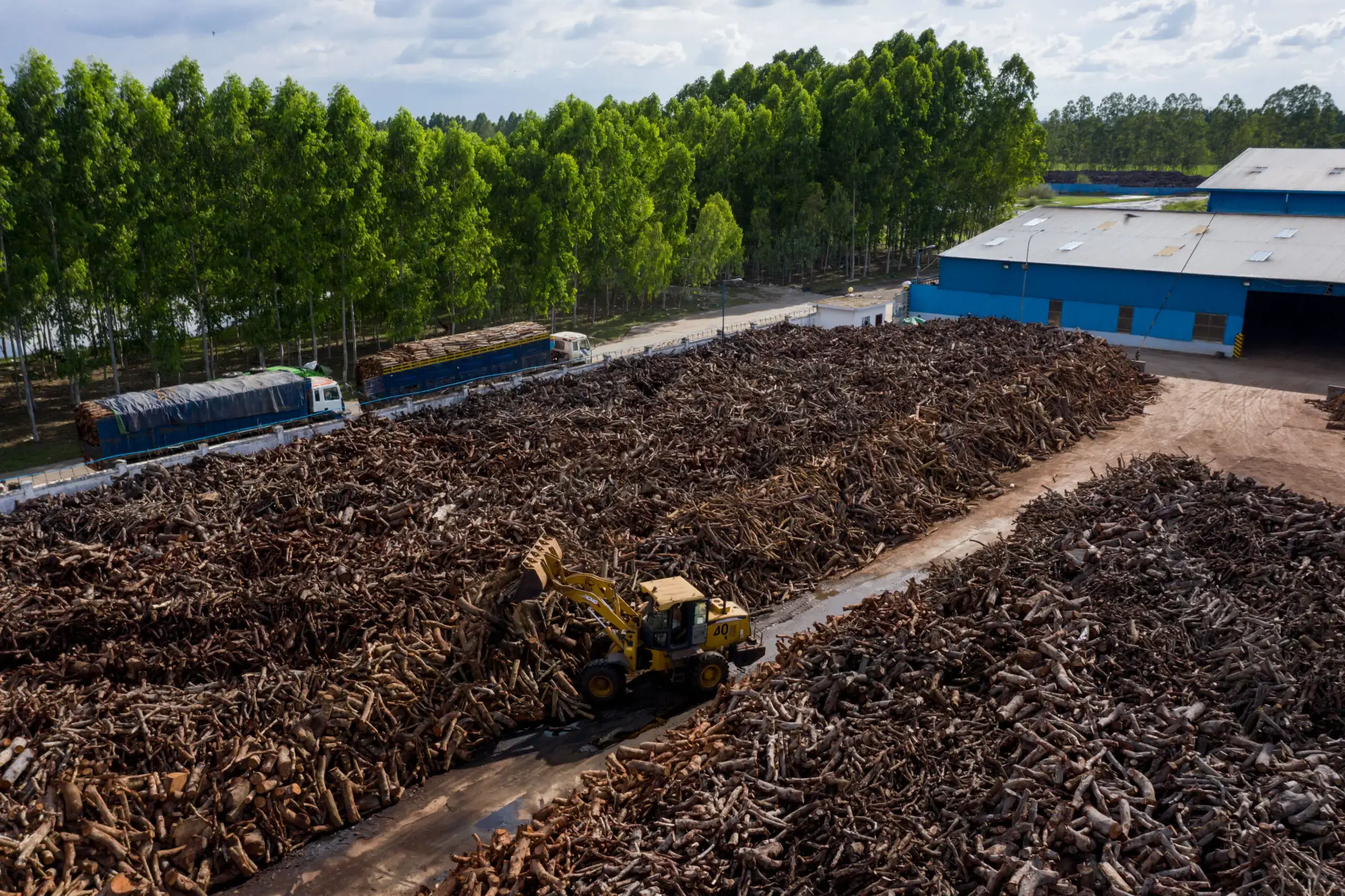 Can't see the forest for the trees
This is just one snapshot of the logging networks that take forest wood to factories. The informality of these loose networks of loggers, traders and middlemen breeds an opacity that renders quantifying the rate of deforestation linked to Cambodia's garment sector challenging.
While this lack of transparency benefits factories like Hui Yuan, which reporters verified sourced wood from forests, it simultaneously casts aspersions on all Cambodian factories that use wood, as the source can rarely be proven, whether it was logged legally or otherwise.
Hui Yuan Garment did not respond to emailed requests for comment.
Goldfame Star Enterprises, a TAFTAC member factory, is emblematic of the murkiness that shrouds the garment sector's relationship to deforestation. The factory employs 3,716 staff and covers 21.3 hectares (52.6 acres) of Kandal province's Setbou district — of which 2.25 hectares (5.56 acres) are used purely for storing timber.
Based on satellite imagery, this 2.25-hectare lot has been used for timber storage by the factory since at least 2008 and was joined to National Road 21A by a purpose-built road for timber deliveries in 2009.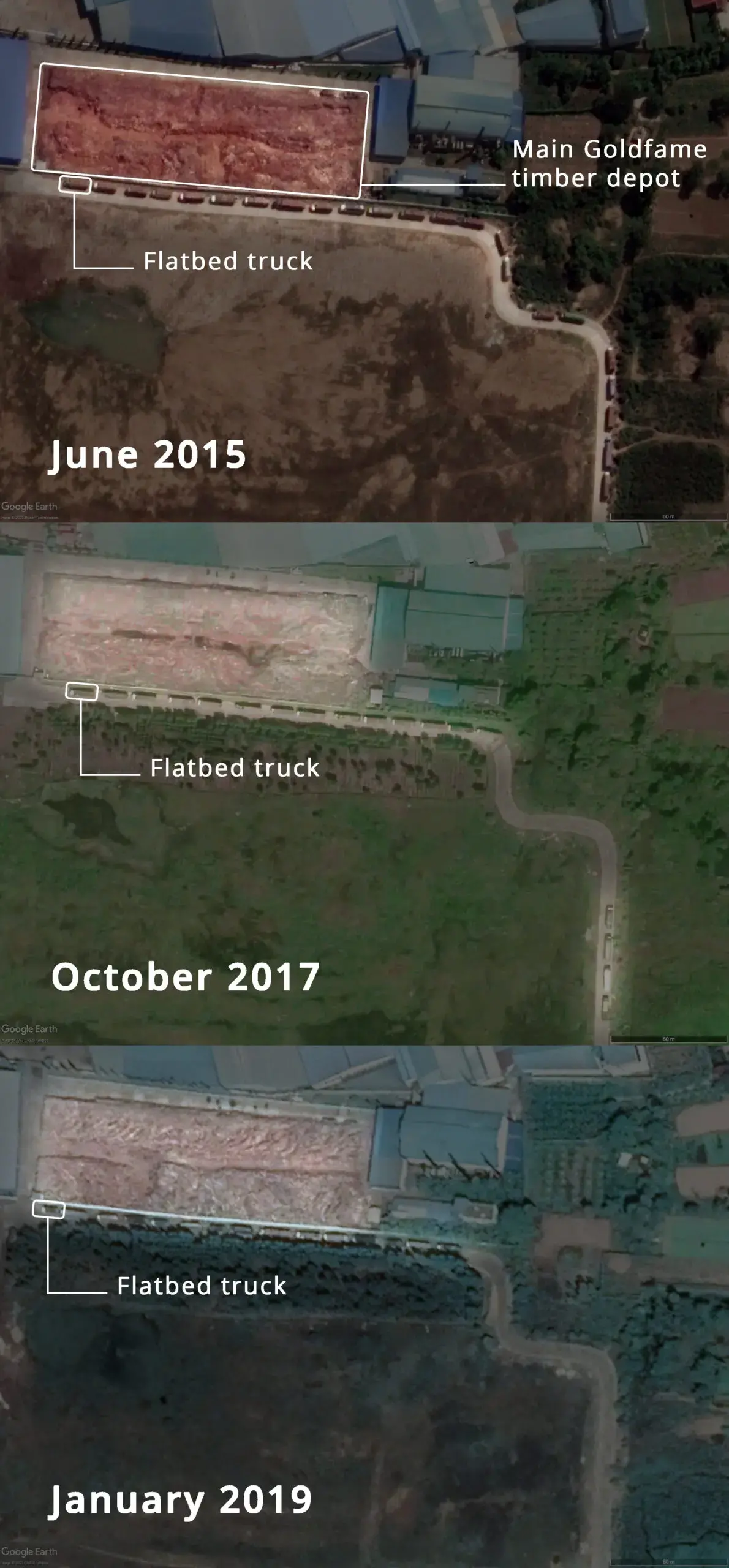 The flow of timber can be measured in satellite imagery where timber trucks are visible, with 23 large flatbed trucks seen delivering timber in June 2015, down to 18 trucks in October 2017 and then 15 trucks in January 2019. From reporters' own observations, deliveries appear to have shrunken down to a smaller number of trucks, but the flow remained constant throughout 2022 and 2023.
"The log trucks come in every night, five to six log trucks arrive around 11 p.m. or midnight, sometimes 1 a.m., though there are not as many trucks as before," said one factory worker. "The logs are cashew, forest and mountain logs, I don't know where they come from, but we know cashew wood by looking at the [logs]."
While Parsons of Royal Holloway was unable to determine whether the wood at Goldfame was forest wood or sourced from plantations, security staff at Goldfame's Kandal factory told Mongabay reporters that they didn't know where the wood came from, but that vast volumes of timber were delivered daily.
"The wood trucks come in every night and not less than 10 trucks," the guard said. "Previously [prior to the COVID-19 pandemic], there were 30 to 40 trucks."
The Hong Kong-based Goldfame Group, which has operated in Cambodia since 1996 and now boasts nine factories, as well as ownership of 100 hectares (247 acres) of land across Cambodia, did not respond to emailed questions. Goldfame Group's director, Catherine Chan, could not be reached for comment, making it impossible to tell whether the wood is sourced legally from plantations and economic land concessions or illegally from forests — or a mixture of both.
"This is exactly the kind of legal ambiguity that makes environmental protection so difficult in Cambodia," said Parsons, who added that land concessions are likely a major source of wood for larger factories, where the volume of wood consumed daily makes ad hoc collection unsustainable.
"As ever, though, it's unlikely to be only one factor at play," he told Mongabay. "Deforestation is rampant in a myriad different places and ways. And the garment sector is just one sphere of the economy to exploit it."
RELATED ISSUES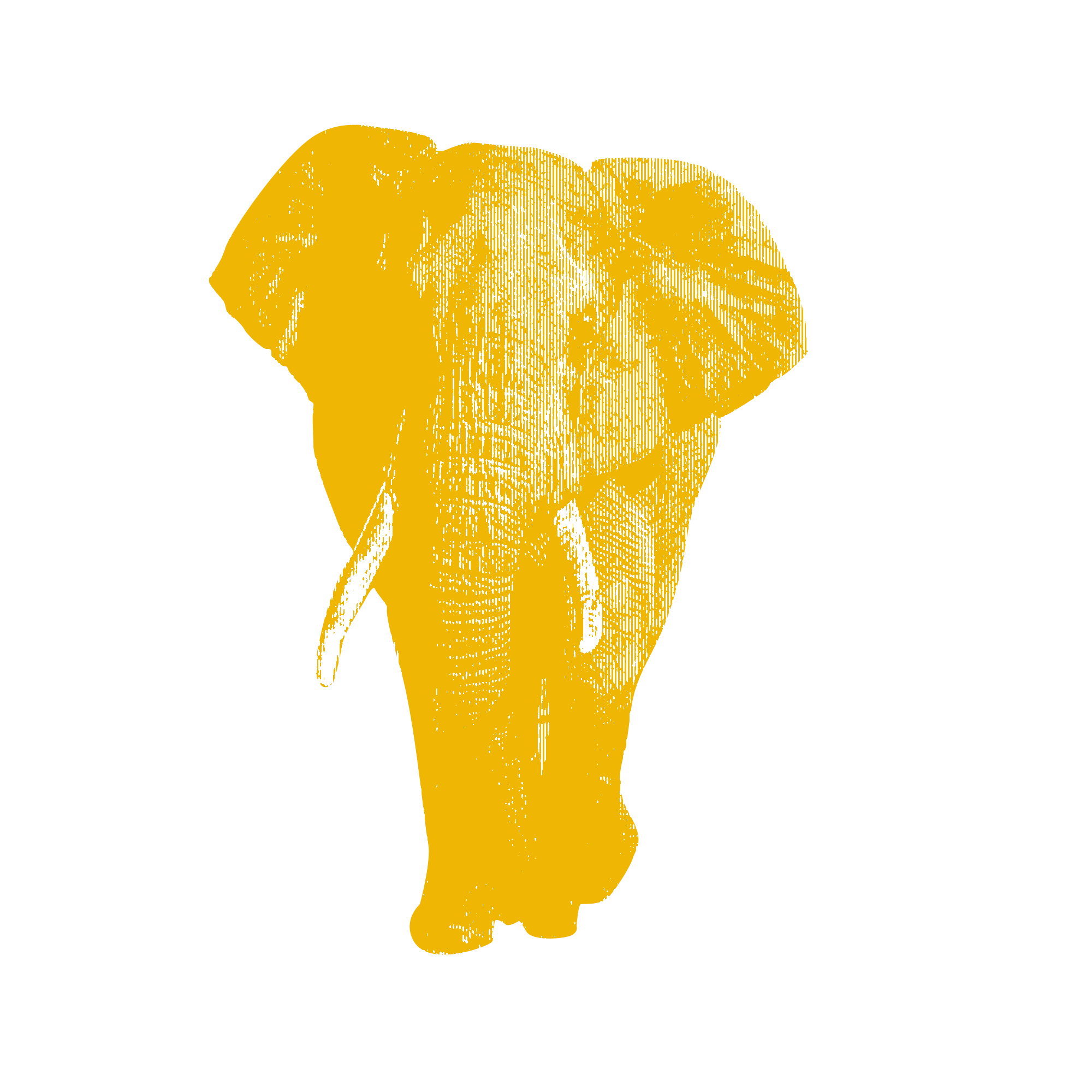 Issue
Environment and Climate Change
Environment and Climate Change

Governance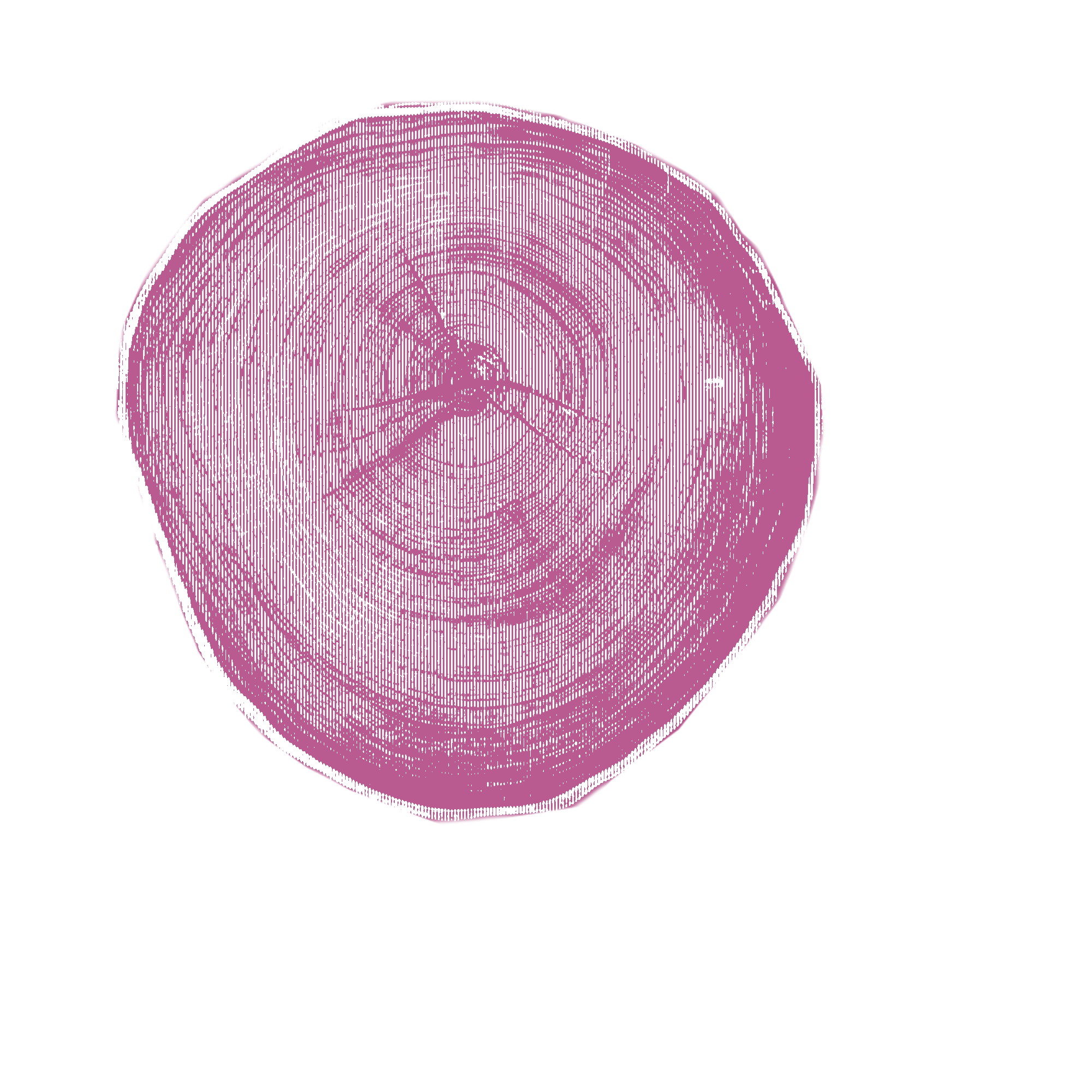 Rainforests
RELATED INITIATIVES