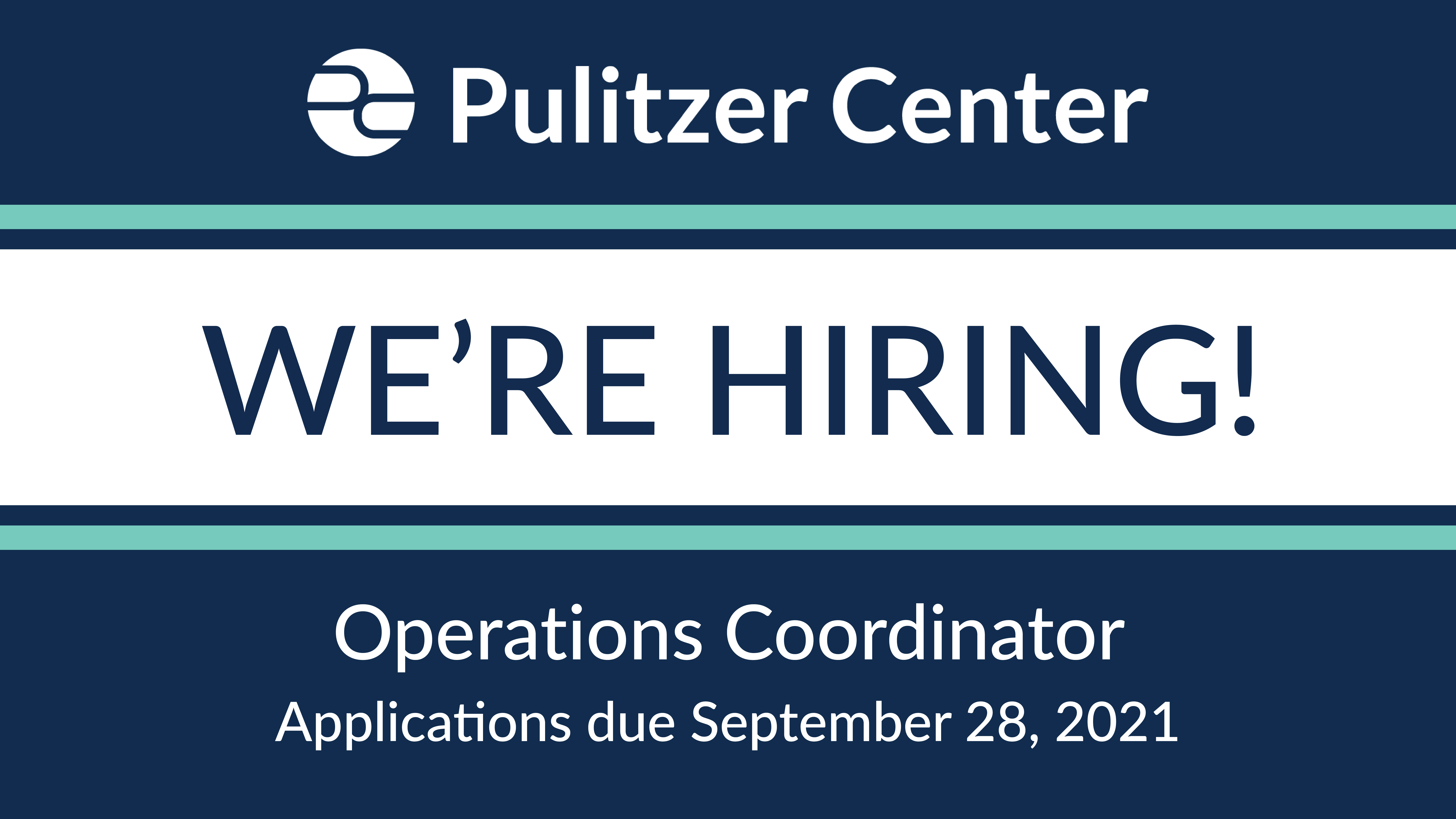 The Pulitzer Center is seeking an outgoing and highly organized Operations Coordinator to assist with the management of daily activities and administrative tasks extending across finance, human resources, and organizational systems. The operations coordinator's responsibilities include a great degree of internal stakeholder management to support the goals of the Pulitzer Center.
To be successful as an operations coordinator, you should be able to resolve problematic situations efficiently and have excellent communication, task management, and organizational skills. The optimal candidate can simultaneously function in hectic environments while implementing new processes that will ensure smooth daily Pulitzer Center operations. This position reports to he Human Resources Director.
The Pulitzer Center is a nonprofit organization that supports the development of independent, quality journalism worldwide with an ambitious network of educational partnerships at the K-12 and college levels. We support more than 150 reporting projects a year, working in partnership with dozens of media outlets worldwide, hundreds of secondary and middle schools, and a Campus Consortium network of 35-plus universities, community colleges, and historically Black colleges and universities.
Essential Functions
Key Responsibility 1: Human Resources Support (25%)
May assist with payroll functions, including processing, answering employee questions, and fixing processing errors.
Conducts or assists with new hire orientation.
Assists with planning and execution of special events such as benefits enrollment, organization-wide meetings, employee recognition events, holiday parties, and retirement celebrations.
Maintains accurate and up-to-date human resource files, records, and documentation.
Maintains the integrity and confidentiality of human resource files and records.
Performs periodic audits of HR files and records to ensure the collection and retention of all required documents.
Key Responsibility 2: Financial and Accounting support (25%) 
Coordinate the payment of Pulitzer Center grantees, fellows, and vendors twice a month.
Troubleshoot and resolve payment issues while communicating to the appropriate internal and external stakeholders.
Work with the Operations Team to develop process and system improvements.
 Key Responsibility 3: Supporting Development Team Financial processes (15%)
Add new revenue in the Salesforce CRM system.
Perform weekly donations uploads to the Salesforce CRM system.
Work with the development team to ensure the proper coding of all bank deposits in both the Salesforce CRM system and the Intacct Accounting System.
Key Responsibility 4: General Organizational Support (15%)
Point person for maintenance, office mail, shipping, supplies, equipment,  and bills.
Partner with HR to maintain office policies, as necessary.
Organize office operations and procedures.
Coordinate with IT and vendors on all office equipment.
Key Responsibility 5: Participation in efforts and project that support Pulitzer Center culture and values (10%)
This may include task forces, training sessions, meetings, committees, special projects, organizational events, and any other activities that support the Pulitzer Center.
Participate in the Operations Team planning process.
Qualifications
Demonstrated commitment to valuing diversity and contributing to an inclusive working and learning environment.
Two years of experience that relate to the responsibilities included in this job description OR equivalent education/experience
Excellent judgment and creative problem-solving skills.
Excellent organizational, task, and time management skills.
Experience using two or more of the following software systems and technologies:

Google Docs and Sheets
Salesforce
Project Management systems such as Asana or Trello
Accounting systems such as Sage Intacct, Xero, or Quickbooks

The ability to work independently and to have an open and collaborative approach.
The desire and ability to learn new skills.
Language abilities in addition to English are a plus. Special consideration is given to those who speak one or more of the following languages:

Portuguese
French
Bahasa Indonesian
How to Apply
Please apply before midnight on September 28, 2021, using this form. The form asks you to upload a resume, provide a personal statement of interest (no more than 500 words), and answer three short questions related to your qualifications for the position. The form also requires you to provide contact information for three references.
The Pulitzer Center is an equal opportunity employer. The Center is committed to fostering an inclusive environment where the individual differences among us, whether in terms of race, religion, color, age, gender, national origin, sexual orientation, physical challenge, or marital or family status, are (i) understood, respected, and appreciated, (ii) recognized as a source of strength, and (iii) valued as qualities that enrich the environment in which we work.
Salary will be commensurate with work experience and academic qualifications. This position includes excellent benefits and a collegial work environment.
Applications will be reviewed and interviews scheduled on a rolling basis until the deadline.
About the Pulitzer Center
The Pulitzer Center is a nonprofit organization that supports the development of independent, quality journalism worldwide behind some of the best reporting of the last decade: on conflict and peace-building, environment and climate change, migration and human trafficking, emerging science and health issues, criminal justice, and much more. The organization's projects have won the Pulitzer Prize, George Polk Awards, Peabodys, Emmys, National Magazine Awards and more.
Since opening its doors in 2006, with high ambitions to fill in the gaps in under-funded global reporting and inspire a new generation of journalists to cover the big global issues that affect us all, the Pulitzer Center has expanded its funding and mission to support  more than 170 reporting projects a year on pressing global issues, sparking high-impact stories in more than 600 news outlets forging strong partnerships with leading national and international media: The New York Times Magazine, Le Monde, PBS NewsHour, and The New Yorker, as well as local, regional, and specialty media outlets in all continents.
The Pulitzer Center's unique education and outreach program brings the organization's projects and journalists into hundreds of school and university classrooms as well as a wide range of public forums. The Pulitzer Center works closely with a network of 35-plus universities, community colleges and HBCUs (historically black colleges and universities), bringing journalists onto campus in person and online and providing mentored reporting fellowships for students attending universities that are part of the Pulitzer Center Campus Consortium. The Pulitzer Center is also currently engaged in a major expansion of the organization's educational work in the United States, as lead education partner for The New York Times on The 1619 Project; the Pulitzer Center is developing a similarly ambitious education program globally under the auspices of its Rainforest Journalism Fund and Rainforest Investigations Network.