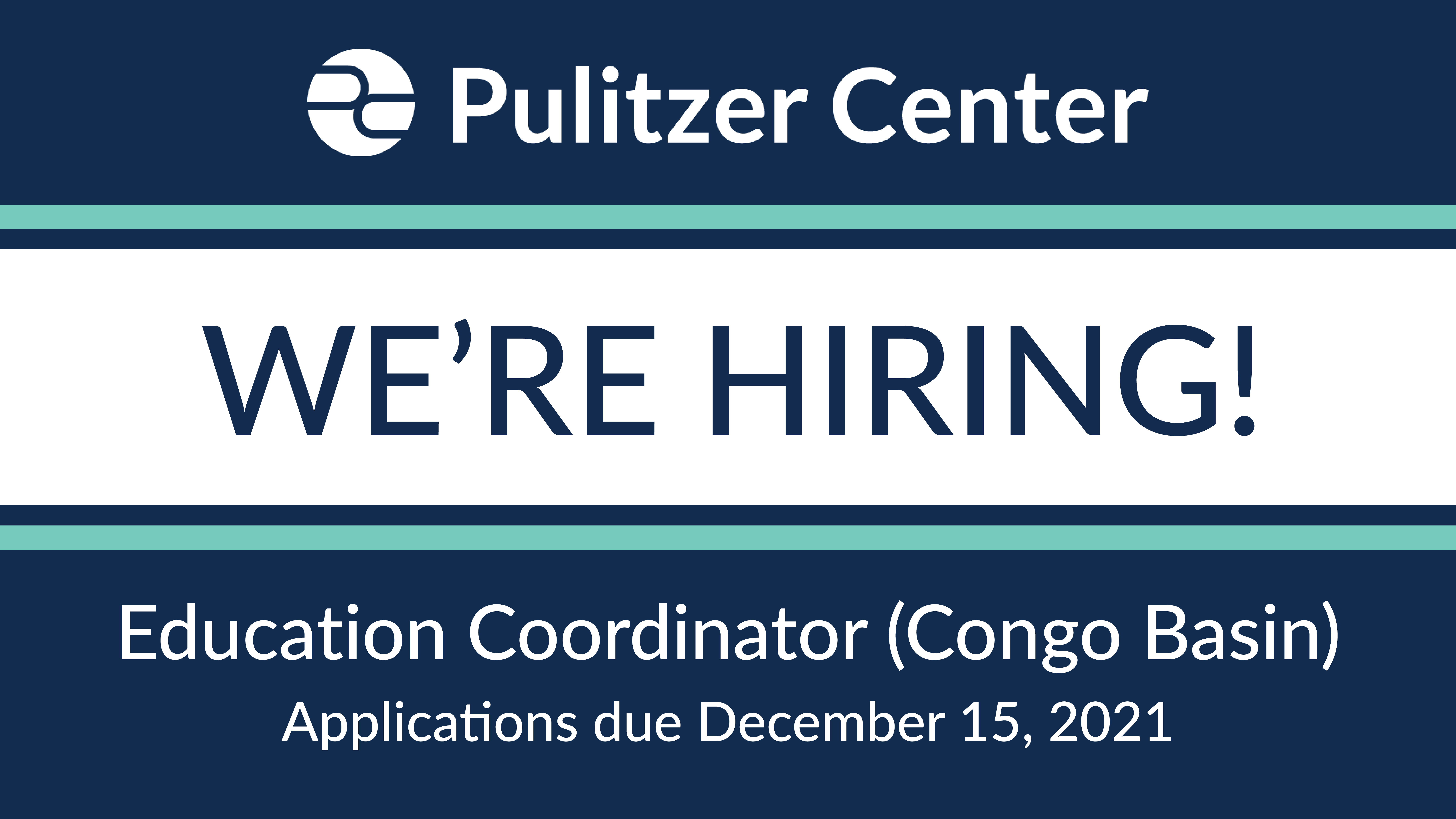 The Pulitzer Center is seeking an Education Coordinator in the Congo Basin region to support the reach and efficacy of our international climate and rainforest programs. As a part of the rainforest outreach and education team, this position will work to connect two main Pulitzer Center initiatives on the rainforest regions: The Rainforest Journalism Fund (RJF) and the Rainforest Investigations Network (RIN). Together they are helping journalists to produce in-depth quality content about environmental crime, threats faced by the Indigenous peoples, and the investigation of supply chains, among other key underreported topics.
The Pulitzer Center is a nonprofit organization that supports the development of independent, quality journalism worldwide with an ambitious network of journalism and educational partnerships. We support more than 150 reporting projects a year in partnership with dozens of media outlets worldwide. We also support in-depth engagement with reporting through collaborations with a vast network of nonprofit organizations and outreach partners, hundreds of secondary and middle schools, and a Campus Consortium network of 35-plus universities, community colleges, and historically Black colleges and universities. With this position, we seek to expand our network of educational partners internationally, with a specific focus on the Congo Basin region.
The goal of the Education Coordinator is to leverage RIN and RJF reporting reaching schools, universities, and broader educational communities, mainly in the countries that share the Congo Basin. The coordinator will help to implement effective and culturally appropriate education programs inspired by the Pulitzer Center model. Programs and activities may include:
Development of partnerships with universities to bring journalism and journalists to new academic fora and discussions
Development of partnerships with education ministries, secretariats, and institutions to engage teachers and students, to promote environmental and journalism content.
Support curriculum design and development for classrooms with Pulitzer Center-supported journalism projects, working directly with schools or through education book editors
Coordinating events and projects to build lasting relationships and networks with teachers, school and district administrators, and curriculum specialists, connecting them and facilitating their collaborations with the Rainforest Pulitzer Center programs
Assist in the organization of online and in-person visits by journalists and staff in classrooms
Coordinating regional program administration: building and maintaining records of education contacts and programs, coordinating payments to consultants and education partners, and serving as the first point of contact for the regional education email
Contributing to program evaluation: coordinating timely impact survey distribution to education partners
Apply a Diversity, Equity, and Inclusion lens to all strategy development and implementation
The ideal candidate is detail-oriented, has strong program coordination and communication skills, and is passionate about our mission of cultivating a more curious, informed, empathetic, and engaged public by connecting students and teachers with underreported global news stories and journalists who cover them.
Required qualifications
Strong organization, communication, and program coordination skills
Experience working with the education system and an established network in the region
Comfort in establishing partnerships and in  facilitating events for students and teachers in-person and online on Zoom and other webinar platforms
Familiarity with the scientific, environmental, social, legal, political, and commercial forces at play in deforestation and climate change
Commitment to diversity, equity, and inclusion (read more about how the Pulitzer Center defines these terms here)
Desirable qualifications
Experience supporting program evaluation
At least 5-10 years work experience
Proficiency in oral and written English
Fluent in French
Passion for education and the Pulitzer Center's mission
Experience working with nonprofit organizations and/or initiatives intersecting with education is a plus
Salary and benefits
The coordinator position will require a commitment on average of 20-30 hours per week, with fluctuations depending on the stage of the initiative. Compensation will be commensurate with the time required and relevant experience
Location
Remote/flexible location.
How to Apply
Please apply before midnight (ET) on Wednesday, December 15, 2021, using this form. The form asks you to upload a resume, provide a personal statement of interest (no more than 500 words), and answer three short questions related to your qualifications for the position. The form also requires you to provide contact information for three references. Applications will be reviewed on a rolling basis until the deadline.
The Pulitzer Center is an equal opportunity employer. The Center is committed to fostering an inclusive environment where the individual differences among us, whether in terms of race, religion, color, age, gender, national origin, sexual orientation, physical challenge, or marital or family status, are (i) understood, respected, and appreciated, (ii) recognized as a source of strength, and (iii) valued as qualities that enrich the environment in which we work. See our Diversity, Equity, and Inclusion statement for details.