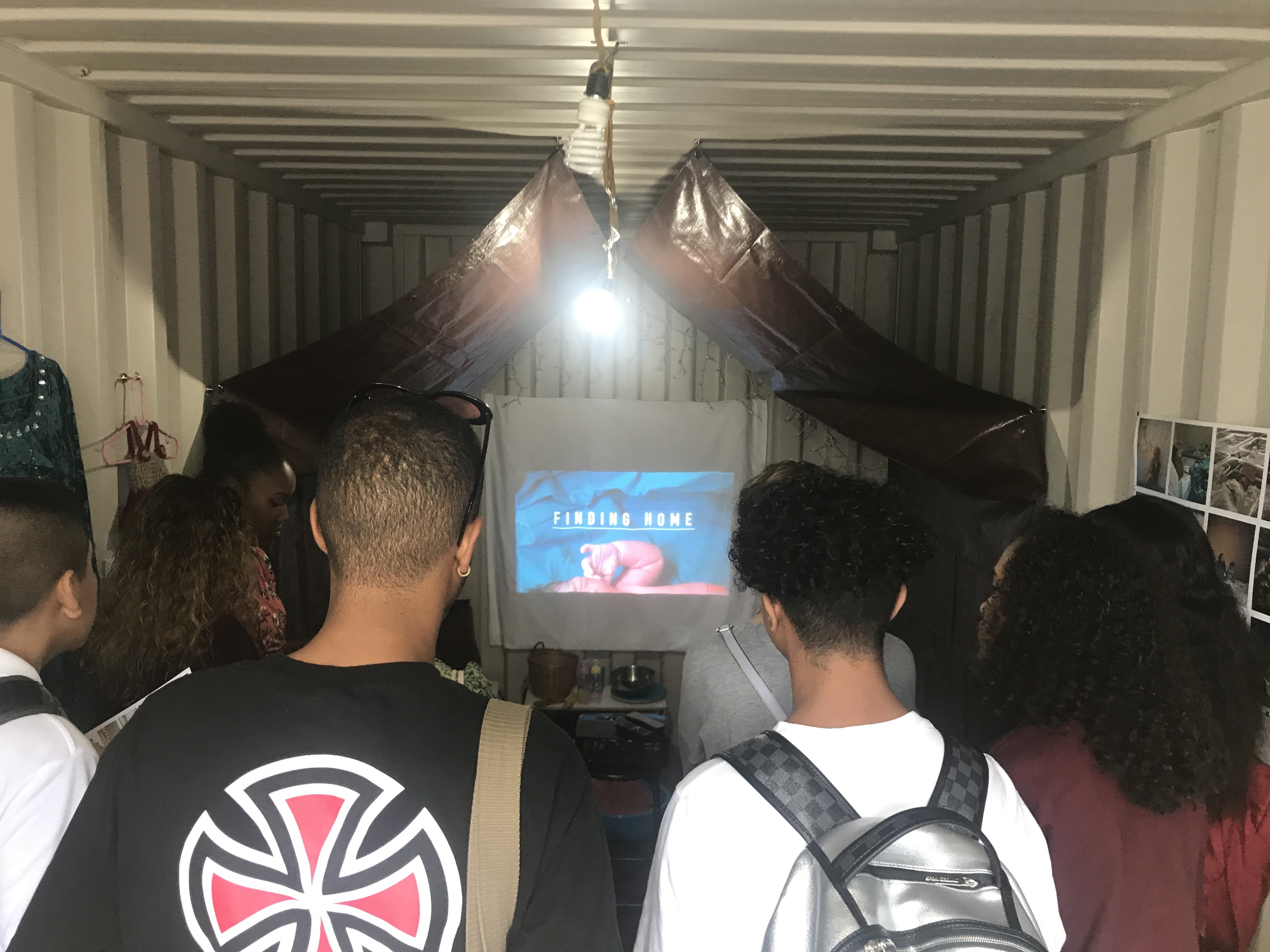 As a part of Photoville's Education Day, more than 100 students visited the Pulitzer Center's Finding Home exhibit on Thursday, September 14, 2017. Photoville is a festival of exhibitions installed in shipping containers, and Photoville's Education Day is an art education program that gives New York City middle school and high school students a look inside the exhibitions, artists, and curators that make up the festival. "Finding Home" was a stop on the students' tour this year.
Finding Home is a series of stories from TIME that follows three mothers in the heart of the refugee crisis in Europe. The TIME team includes photographer Lynsey Addario, international correspondent Aryn Baker and videographer Francesca Trianni. They have been covering the families over the course of a year: from the day they gave birth through the first year of the babies' milestones.
The Pulitzer Center's Multimedia Coordinator and curator of the exhibition, Jordan Roth,  presented "Finding Home" to the students in sessions throughout the day. Students and teachers watched the project trailer, explored the photographs in the exhibition, and asked questions about the project.
In an effort to create a space that connected viewers more to the story, Roth created a "refugee tent" in the back of the container by collecting mismatched household items and two dresses directly from the families documented. One student asked, "Does anyone actually sleep here?"
"My name is [also] Helen," said another student, after learning that one of the mothers decided to name her baby, Heln (pronounced Helen).
One teacher summed up the day full of discussions: "How often do we ask each other 'where are you from? where is your family from?' These children don't have an answer for that… Do you think that affects how they identify? Do you think that affects anything about their lives?"
Photoville will be open again on Thursday, September 21 and will stay open until Sunday, September 24.
RELATED ISSUES

Issue
Conflict and Peace Building
Conflict and Peace Building

Issue
Migration and Refugees
Migration and Refugees