For students at Hardy Middle School in Washington, DC, talking to strangers wasn't easy. Perrine Punwani's eighth grade class spent three days studying slow journalism guided by Paul Salopek's "Out of Eden Walk," an epic 10-year exercise in slow journalism following humanity's first footsteps out of Africa.
In a three-day "Walk Like a Journalist" workshop led by the Pulitzer Center education team's Fareed Mostoufi and photojournalist grantee Allison Shelley, students practiced detailed observation, interviewing and slow reporting skills in their classroom, in Washington, D.C.'s Dupont Circle and in their own neighborhoods.
Mostoufi introduced the class to Salopek's walk across the world, punctuated by "milestones" that he records after every 100 miles with a detailed description of his location and three photos: a panoramic view, the sky, and his feet. On day one of the workshop, students recorded their own milestones in the classroom, answering the questions: what do you see? What does it make you think? What does it make you wonder?
"I am in Ms. Punwani's 7th period honors class. There are 29 kids in this class. What do they all have in common? They all want to do something in their life."
Students focused on observing detail and feeling, and finding ways to communicate them.
"In this colorful yet dark space, filled with colorful people of unique personalities. United, we make a never-ending noise and this feeling of comfort filling the air."
Then, they took those techniques to the field. Before venturing into Dupont Circle on day two of the workshop to conduct interviews, students gathered at the Pulitzer Center offices where Mostoufi set the stage for the day.
"What is the role of a journalist? Why is it important to report the truth?"
Students brought up the issue of "fake news" and journalistic integrity. But what does that mean? Talking to multiple people, doing research, and being unbiased, they said.
"So why the Out of Eden Walk? What's different?" Fareed asked.
"He's walking," one student offered. "Why?"
"When we read something, we don't always get the feeling." Other students agreed. "So he's bringing through the feeling."
Shelley then presented her own work from Haiti. "I wanted to do slow journalism...I wanted to take pictures of the [earthquake] recovery process."
Students looked up to see a woman standing with both arms raised above her head, surrounded by the rubble of Port-au-Prince's main cathedral and what little remained of its walls. "Why do you think I took this picture?"
"She's praying despite the destruction."
"What can you learn about this woman from the picture? You can show someone's mood, you can show how they feel. You can show relationships to other people," Shelley explained.
And then they were off. Students took over Dupont Circle with notebooks and cameras to observe, develop questions, and ask them—to strangers. And a few days later, they tried it in their own neighborhoods.
On day three, the education team returned to the classroom at Hardy to share students' work and debrief.
"What worked? What was really hard?" Fareed asked them.
"Some people were really nice, some were meaner when they turned us down."
But their favorite part of the workshop?
"Definitely the interview, when we were going out to Dupont Circle, because not only were we working on our journalism skills but we were interviewing others in the community and getting to know the D.C. area," Taha explained.
"It really allows you to get in with the diverse society we have in D.C., and it really helps you understand how it is these days so you can really feel much better about Donald Trump being elected," added Giulio.
The eighth-graders came away knowing more about journalism, but more importantly for Giulio, how to do it.
"News reporters, you know they travel for the job, but I didn't know like actually how to do it, because I've never actually tried it."
As part of an exhibit and reception, the students' photos and reporting were on display at the Pulitzer Center in late January.
The Walk Like a Journalist project was funded in part by the D.C. Commission on the Arts & Humanities, an agency supported in part by the National Endowment for the Arts.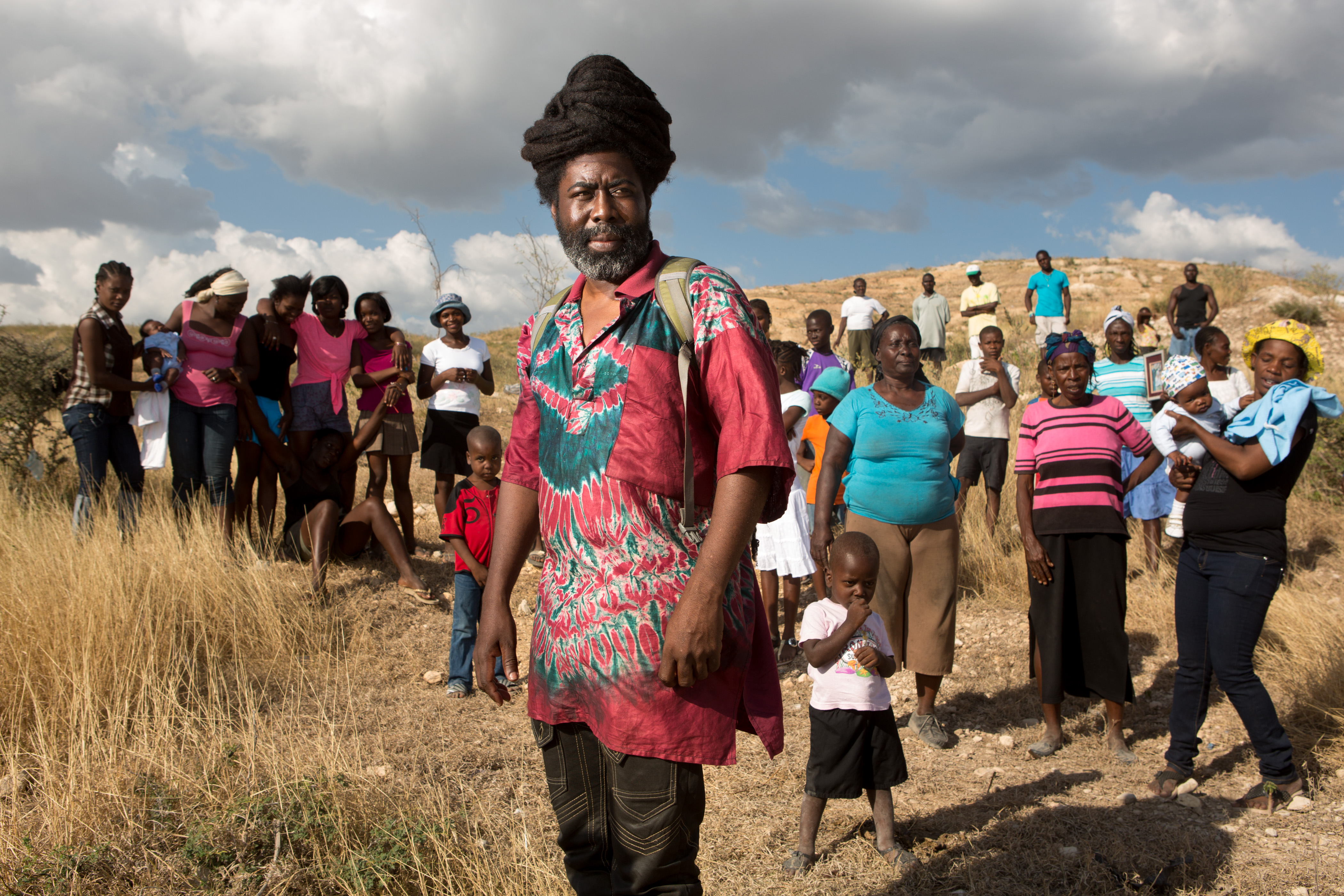 How the residents of Canaan navigate land rights, urban planning, and governance—on their own.
RELATED ISSUES

Issue
Migration and Refugees
Migration and Refugees

Issue
Land and Property Rights
Land and Property Rights