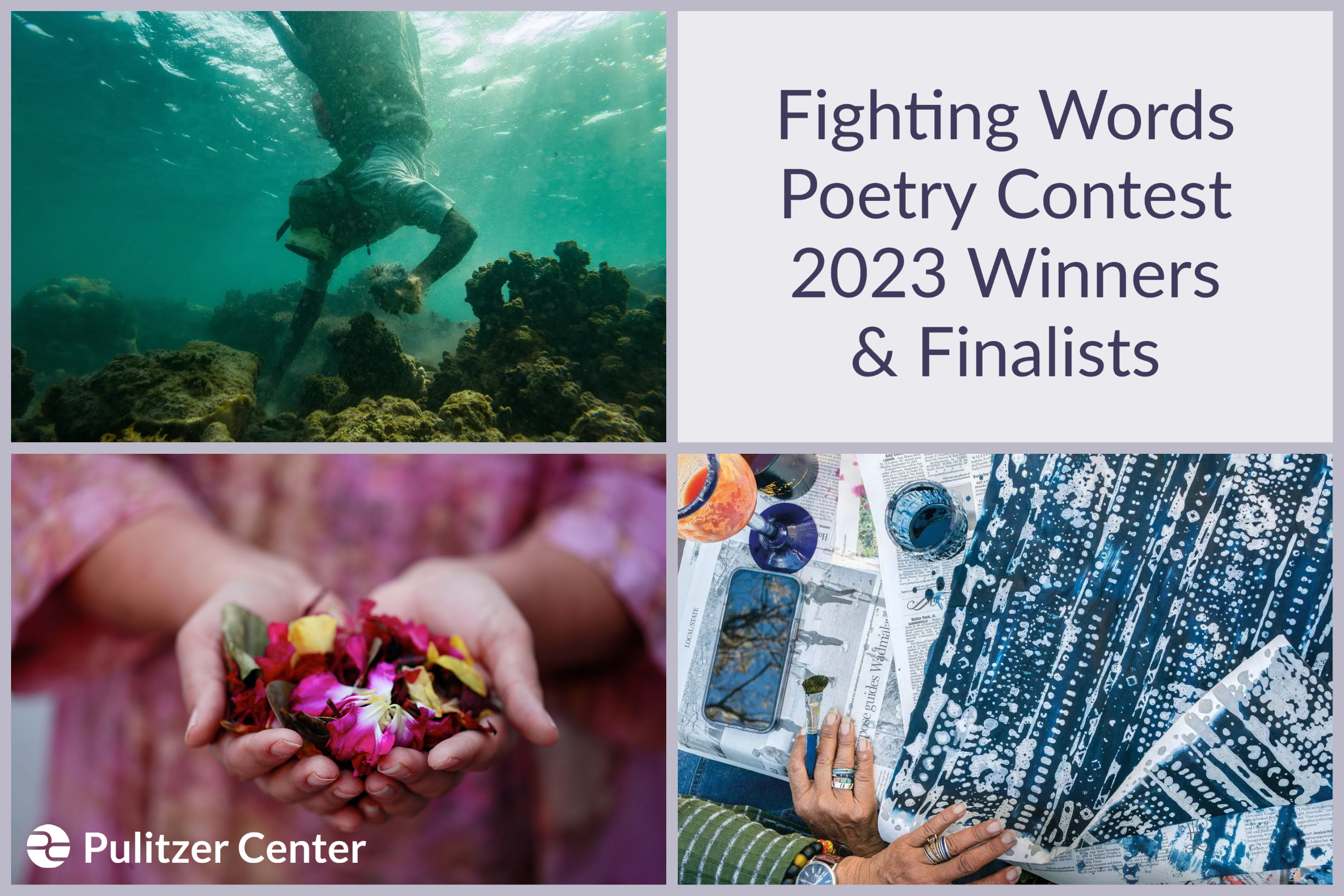 The Pulitzer Center congratulates the 2023 Fighting Words Poetry Contest winners and finalists!
Every year, students around the world participate in the Fighting Words Poetry Contest by choosing a Pulitzer Center-supported news story that interests them, reflecting on their personal relationship to the story and the issues it illuminates, and writing a poem that elevates the voices of those most affected alongside their own.
In this sixth annual contest, we received a record-breaking 1,675 entries written by students in 13 countries, 36 U.S. states, and the District of Columbia. We are grateful to every student who used their poems to explore new issues, ask necessary questions, and express under-told truths.
Please join us in celebrating the 24 young poets whose work appears below. They include three winners and four honorable mentions selected by guest judge Danez Smith, as well as 17 finalists.
You can view the poetry contest workshop guide and judging criteria here. Stay up to date on opportunities and resources by signing up for our weekly education newsletter. The next Fighting Words Poetry Contest will open in March 2024.
Contest Winners:
(* = poem is accompanied by an audio recording)
1st Place
"Untitled" by Mariana B. O.
10th grade, OR
Comments from judge Danez Smith: The poet's searching prayer, which at first turns towards faith before taking us to such a rebellious and firm-footed finale, moved me to tears. "espíritu santo, / amor del padre y del hijo, / ¿qué es del amor para las madres e hijas?" That question is one yet to be answered, but this poem puts God and world to task. This poem is a battle cry for the women and girls of the world.
2nd Place
"Blue Hour" by Vivian Zhu*
11th grade, Adlai E. Stevenson High School, IL
Comments from judge Danez Smith: Such a gorgeously written poem, lush in its imagery and keen in its sight. "History is one long blue hour / sown between bouts of bloodshed." Somehow the poet keeps blue new all the way through, sweeping us through the blues of so much history in three brilliantly crafted sections.
3rd Place
"Bladed" by Daniel Yim
12th grade, Bellarmine College Preparatory, CA
Comments from judge Danez Smith: From the opening lines, this poet had me in their grasp. This poem highlights the absurdity we sometimes find in the news, keeping the imagery as wild and shocking as the source material. This is a poet who knows how to work image, so cinematic in their control of what we see and where we land in the poem.
Honorable Mentions:
"A Question" by Ava Heydarian
11th grade, Walter Johnson High School, MD
"Lo Que Era" by Francisco Sarmiento-Fernandez*
7th grade, Greene Street Friends School, PA
"i haven't felt the rain" by Sofia Celli
6th grade, Village School, MA
"odesa" by Brooke Deegan*
9th grade, Pine-Richland High School, PA
Finalists:
"anthozoa as powder kegs" by Claire He
11th grade, Carmel High School, IN
"Thar Badlega Pakistan" by Shezal Bardaie*
9th grade, New Tech High @ Coppell, TX
"Voices" by Casey Costello*
6th grade, F.A. Day Middle School, MA
"Colonia" by Ivi Hua*
10th grade, Mead High School, WA
"we the garden" by Archer Bouslog*
12th grade, Theodore Roosevelt High School, IA
"The Definition of Skin" by Sophia Tranquillo
10th grade, Centennial High School, OH
"Dream Land" by Mackenzie Duan*
11th grade, Dougherty Valley High School, CA
"False Alternative" by Ares Bandebo-Cambra*
5th grade, Old Greenwich School, CT
"August 21st, 2022" by Fiona Jin*
10th grade, Adlai E. Stevenson High School, IL
"A Muslim Child in a Hindu Country" by Jordan Naseem*
9th grade, Liberty Senior High School, MO
"More Blood for Your Buck" by Raina Zrinko
10th grade, Spotswood High School, NJ
"Nestlé: Exporter of Disorder" by Mikail Yasir
9th grade, New Tech High @ Coppell, TX
"Diving for Their Lives" by Asa T. B.
6th grade, OH
"Dive" by Beatrix Stone
11th grade, Strathcona High School, Canada
"Definition" by Elena Stevens*
11th grade, Piedmont High School, CA
"Subtly but Surely" by Heona Liu*
8th grade, Bigelow Middle School, MA
"elegy for the widows of the drug war" by Kaelin David
11th grade, Walnut High School, CA
---
In addition to Danez Smith, thank you to our semifinal and final round judges, who ensured all entries were reviewed by at least two readers: Elliott Adams, Hannah Berk, Fernanda Buffa, Maryel Cardenas, Kendra Grissom, Donnalie Jamnah, Jessica Mims, Fareed Mostoufi, Sushmita Jaya Mukherjee, Mark Schulte, Sarah Swan, and Ethan Widlansky.