Pulitzer Center Update June 2, 2023
Announcing the 2023 Pulitzer Center Reporting Fellows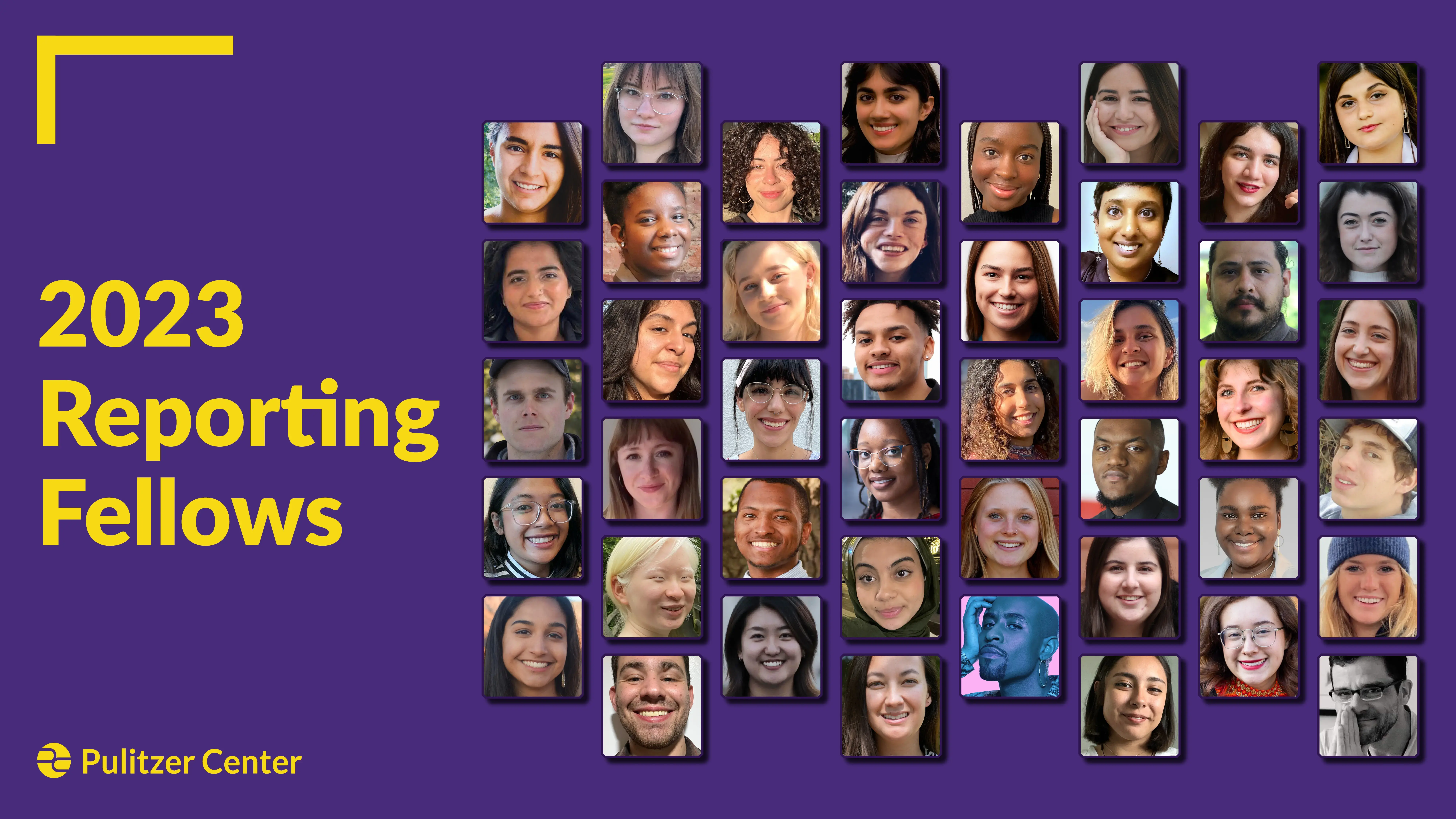 The Pulitzer Center is excited to announce its 2023 cohort of 44 Reporting Fellows. Their projects address some of the most critical and underreported stories in today's world, including migration, global health, and climate solutions.
"So much thought, creativity, and pre-reporting went into this year's proposals. The range and diversity of the subjects they chose is astounding. And I'm thrilled to see their projects develop and to work with such a talented and inquisitive group with such eclectic interests!" says Kem Sawyer, Reporting Fellow program director.
Every year, the Pulitzer Center awards fellowships to students at our Campus Consortium partners—these include liberal arts colleges, community colleges, state universities, historically Black colleges and universities, and graduate schools of journalism and public health in the U.S., Canada, and Qatar.
Each Fellow is paired with an adviser—a Pulitzer Center grantee with special expertise in the Fellow's topic or reporting destination. Pulitzer Center editors also provide mentoring in reporting, writing, and multimedia. Explore the projects of our 2023 Reporting Fellows below:
Wildlife
From the Missouri School of Journalism, Adam Goldstein will cover the pronghorn migration path that connects Grand Teton National Park to the Upper Green River Basin in Wyoming. Despite ongoing litigation, the migration path is facing "decimation" by a fossil fuel company. Goldstein, a former States Newsroom intern, will cover this issue by centering ecological researchers and Indigenous perspectives.
Lalini Pedris is pursuing her Master of Arts in journalism and public affairs at American University. Her Pulitzer Center project will focus on elephant survival in Bangladesh in an area where Rohingya refugees have now settled. A native Texan of Sri Lankan heritage, Pedris is now a Washington Post investigative journalism practicum student.
Climate Solutions
Our University of Chicago Fellow, Hannah Wilson-Black, will report on climate activists in the Appalachian coalfields and in North Carolina. Previously, Wilson-Black worked as an intern for Appalachian Voices and The Nature Conservancy.
From the University of Richmond, we have Fellow Jackie Llanos Hernandez. She will travel to Puerto Rico, where she will cover climate change's impact on journalism and journalists. Llanos Hernandez is currently a team lead at the Capital News Service in Richmond, Virginia, where she covers education in Spanish.
Mandile Mpofu from Boston University's College of Communication, will report on local efforts to combat climate change in Namibia's Kunene Region. Mpofu has previously worked as a reporting intern at Africa Radio in Paris.
Julia Manipella, our University of Oklahoma Fellow, will base her project on an emerging environmental youth activists network in South Asia. Manipella was a freelance art team assistant on Keeper of the Ashes, an ABC docuseries about the Oklahoma Girl Scout murders.
Global Health
Wake Forest University's Una Wilson will report on community gardens in Mumbai, India, as a way to address the city's human and environmental health crises. Wilson's project will focus on the groups who initiated these gardens, the residents affected, and the impact of these gardens on community health. At Wake Forest, Wilson served as the environment editor for the school's Old Gold & Black newspaper.
Jacob Boyko, a Fellow from South Dakota State University, will travel to Buenos Aires to report on the city's water crisis. The polluted Matanza Riachuelo has endangered the health of many local residents, and Boyko plans to focus on some of the city's potential solutions. As a student at SDSU, Boyko was an editor for the student-run Collegian.
Allison Delgado from Forsyth Technical Community College will document barriers to healthcare access among Indigenous communities in Peru. In 2021, Delgado authored The Secret Recipe, a children's book about traditional Chinese medicine.
The Johns Hopkins Bloomberg School of Public Health Fellow, Blessed Sheriff, will travel to a Sierra Leone psychiatric hospital to report on its innovative caretaking methods and attempts to modernize its mental health system. Sheriff is currently working on her Master of Public Health degree at Johns Hopkins and her MD in liberal medical education from Brown University's Warren Alpert Medical School.
Florence Middleton, from the University of California Berkeley's Graduate School of Journalism, will document postpartum experiences, following a diverse group of women in the United States to tell a complex and intimate story about postpartum life. Middleton is a photojournalist, and some of her past work can be found in Oakland, California-based publications.
Art and Technology
Taja Mazaj, our University of Pennsylvania South Asia Center Fellow, will report on tribal Kutch women's artistic traditions in Gujarat, India. Mazaj is a deputy editor and opinion writer at The Daily Pennsylvanian, UPenn's student newspaper.
John W. Bateman is our 2023 School of the Art Institute of Chicago Fellow. For his project, Bateman will focus on diversity and accountability in Mississippi art funding. Bateman is a writer and a lawyer, with extensive experience in arts management and the visual arts.
This year's Hampton University Fellow, Christian Thomas, will report on A.I. inclusion in Japanese art communities. While the world attempts to navigate new technological advancements, Thomas's project will focus on Japan's model for using technology to enhance creativity. Thomas served as editor-in-chief of The Hampton Script.
Gender and Identity
Guttman Community College Fellow Kameo Latortue will create a podcast on internalized homophobia and transphobia in New York City's Black queer community. Latortue is a member of the queer Pop/R&B recording duo EHRIE, along with his twin brother. They have been writing, producing, recording, and performing original music since they were 9 years old.
Reporting Fellow team Te Shima Brennen and Rajvi Desai from Columbia University's Journalism School have been following a Black trans community in Crown Heights, Brooklyn, for more than a year. Their film, Mother Wit, focuses on the community's unique approach to education, wisdom, and knowledge, instilled by their late matriarch, LaTravious Collins. Brennen was a 2022 Reuters Institute Fellow at the University of Oxford, where they researched how journalists can build trust in trans communities. Desai is a current fellow at the Sundance Institute's Transgender Possibilities Intensive.
Brittany Klintworth from Glendale Community College is reporting on mass consumption of fast fashion in Italy and the U.S. Her solutions-oriented project will focus on women's role in the industry. Some of Klintworth's past work can be found in El Vaquero, Glendale's student newspaper.
Syracuse University's S.I. Newhouse School of Public Communications Fellow Tania Ortiz will investigate how the rapid increase of femicides in Mexico has motivated feminist organizations to become more involved in combating this issue. Ortiz is a student web journalist at Syracuse, where she has written for Syracuse.com and NCC News Online.
Migration
Our University of Wisconsin Fellow, Audrey Thibert, will be reporting on Sub-Saharan women in Bizerte, Tunisia. Her project will highlight migrant women who find hope and community, despite facing discriminatory labor and living conditions. Thibert has received multiple student journalism awards, including the Inaugural Anthony Shadid Memorial Scholarship for International Reporting in 2022.
From Davidson College, Katherine Coetzer will be reporting on climate migration in Nepal's borderlands. Shifting between Nepal's Upper and Lower Mustang villages, Coetzer will chronicle the uncertainties and tensions confronting communities impacted by climate change. Coetzer is a regional coordinator for the Dean Rusk International Affairs Forum, where she writes articles about current affairs.
Our Elon University Fellow, Madison Powers, is covering the relationship between gang violence and migration in Latin America's Northern Triangle. Her project specifically focuses on how women and children are impacted by this issue. Powers has been a student journalist at the Elon News Network since 2021.
Beibei Liu and Mayara Teixeira's documentary follows a couple who crossed the Darien Gap from Venezuela to the U.S. more than eight months ago. The team, from Columbia University's Class of 2023, will explore the migrant experience from a deeply personal perspective as the couple struggles to find ways to support their children back home. Liu has worked as a news editor at multiple news organizations in Beijing, New York, and at the University of Missouri, where she received her bachelor's in journalism. Teixeira is a former reporter at Rede Globo, the largest media company in Latin America.
Sports
Swarthmore College's Jacinta Fernandes-Brough will report on Nigeria's national women's football team. Ahead of the 2023 Women's World Cup, her project will focus on the sexism faced by the Super Falcons and their battle to achieve equitable pay. Fernandes-Brough was a research assistant at the University of Oxford's Department of International Development in 2022.
Our Fellow from Southern Illinois University Carbondale, Simeon Hardley, will report on the impact of high school sports on Cairo, Illinois, a city with a dwindling population; Hardley will examine what it's like to be a student athlete. He is an aspiring sports journalist, who creates multimedia content for local athletic teams.
Labor
Flagler College's Fellow, Abigale Kreinheder, will report on Kopi Luwak coffee production. She will focus on how the coffee industry's increased demand for Kopi Luwak has challenged its attempts at ethical production in Indonesia. In the past, Kreinheder served as the magazine outreach director at Strike Magazine in St. Augustine, Florida.
Katie Schulder-Battis, a Fellow from Northwestern University's Medill School of Journalism, will cover the impact of climate change on herding communities in Mongolia. Her solutions-based project will combine environmental science and narrative storytelling to create an interactive, multimedia page. Schulder-Battis is receiving her Master of Science in Journalism, with a special focus on social justice issues.
Communities and Shared Identities
Jermaine Ervin Jr., a Fellow from Huston-Tillotson University, will visit the United Kingdom to compare the experiences of Black U.K. citizens to Black Americans. His project will focus on code switching and the regional differences between Black-led cultural and social norms. Ervin Jr. is an aspiring educator, with a major in education and concentration in technical applications. 
Our Fellow from Georgetown University Berkley Center for Religion, Peace, and World Affairs, Elene Chkhaidze, is reporting on the role of religion in the Cyprus conflict. Her project centers religious leaders and visual elements to document the role religion could play in reconciliation efforts. Chkhaidze is a junior at Georgetown's School of Foreign Service in Qatar, where she interned at the the U.S. Embassy for Regional Security Office.
Water and the Environment
The University of Colorado Boulder's Center for Environmental Journalism Fellow, Gabriel Allen, will cover subsistence hunting in an Inupiat community on the Northern Coast of Alaska. While traveling, he will search for stories of how whalers and hunters are adapting to a new climate reality. A current master's student, Allen has contributed work to Discover Magazine, Astronomy Magazine, The Colorado Sun, and the Jackson Hole News&Guide.
Reporting Fellowship team Sarah Shamim and Mishaal Hasan Shirazi of Northwestern University in Qatar are reporting on the damage caused by Pakistan's record-breaking floods. Through a documentary and interactive written feature, their project focuses on the damage caused to homes in three different communities in two provinces of Pakistan. In the past, Hasan Shirazi was a production manager assistant at the 2022 FIFA World Cup in Qatar. Shamim was an editorial intern for the American Energy Society.
Precious Williams is our Fellow from George Washington University Milken Institute School of Public Health. On a trip to Lagos, Nigeria, Williams will focus her reporting on how the locality's poor flood drainage system leads to disease spread and malaria outbreaks. Williams is a Master of Public Health student, and a program assistant at the Primary Health Care Performance Initiative in Washington, D.C.
Aging Populations
Laila Gad, from Hunter College, will be reporting on how Singapore is accommodating its rapidly aging population during heat waves. Her project will also look at the policy and research considerations that are necessary for similar initiatives to be replicated in New York City neighborhoods. Gad is a climate scholar at the City University of New York Baruch College's Climate Scholars Program.
Jesus Villalba is our Fellow from Westchester Community College, who will be creating a video project about healthcare for aging undocumented workers in the U.S. He was an archive intern and camera operator for the feature length documentary Decade of Fire.
Gentrification and Development
Anusha Mathur, our Penn in Latin America & the Caribbean Fellow, is reporting on tourism's impact on Indigenous communities in Playa Venao, Panama. She plans to create a podcast and long-form narrative about the impact of development on locals. At UPenn, Mathur is a political science and communications student, with a concentration in public service.
Lauren Harpold is this year's Fellow from Washington University in St. Louis. This summer, she will be reporting on gentrification in Amsterdam, Netherlands, and St. Louis, Missouri. Her project will cover recent development, the cultural histories of both cities, and current efforts to tackle gentrification. Harpold is a researcher at WashU, where she recently presented "Addressing Vacancy: Race, Segregation, and Code Enforcement" at the Fall Undergraduate Research Symposium.
Disaster Preparedness
For the Yale Program on Climate Change Communication, Fellow Maggie Wang will travel 70 miles north of the world's densest urban area to report on the Philippines' new disaster-resilient development known as New Clark City (NCC). Wang recently finished her first year at Yale Law School, and her multimedia Pulitzer Center project will focus on the NCC project's feasibility.
Barbara Isabel Espinosa Barrera, our Fellow from Boston University's School of Public Health, will be reporting from Latacunga, Ecuador, which neighbors the Cotopaxi volcano. Her project will focus on the city's community members and leaders who are organizing to mitigate the effects of a future volcano eruption. Espinosa Barrera's interest in public health and journalism has culminated in a fellowship and editorial assistantship with Boston's Public Health Post.
Special Initiatives
Fellows Muriel Alarcón, Julia Knoerr, Sararat Tosakoon, and Beatrice Zemelyte also join this cohort. They were previously selected in late 2022 to report on Climate Science and Global Health Inequities Special Initiatives.
We are looking forward to working with the Fellows on these exciting projects and to later bring them together to discuss their reporting at Washington Weekend. Congratulations to the 2023 Pulitzer Center Reporting Fellows!