Pulitzer Center Update June 13, 2023
2023 Reporting Fellows Join Virtual Orientation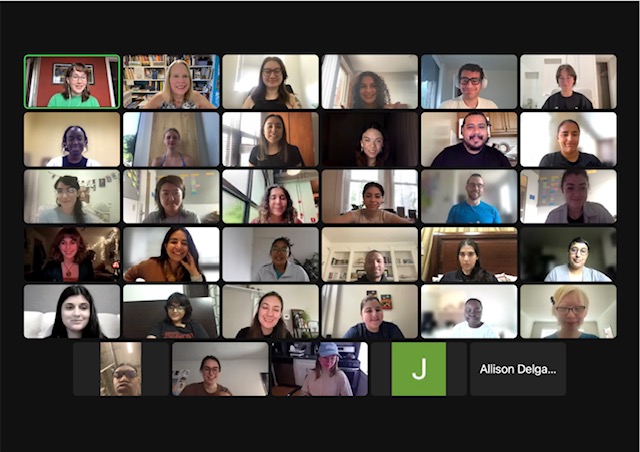 On June 5, 2023, the Campus Consortium team welcomed the 2023 Reporting Fellows to a week-long virtual orientation. More than 40 students and recent graduates from our campus partners zoomed in from across the U.S., Panama, and Qatar — many meeting each other for the first time. Coming from journalism schools, liberal arts colleges, HBCUs, schools of public health, community colleges, and state universities, they will cover a wide range of issues from migration and the climate crisis to gender and identity. Their reporting will take place in 27 countries from Lithuania to Namibia, Argentina, Mongolia, and the Philippines.
Guidance from Pulitzer Center Editors
The orientation kicked-off with advice sessions led by the Pulitzer Center editors. Their reporting tips included some memorable takeaways: Executive Editor Marina Walker Guevara encouraged the Fellows to foster collaboration and view everyone they meet as potential partners rather than competitors. Boyoung Lim recommended students think about their audience. Who needs to read your story and why? This will make the story sharper and more relevant. For aspiring photojournalists, Steve Sapienza emphasized the importance of patience and good lighting for impactful images.
Gustavo Faleiros, our environmental investigations editor, told the Reporting Fellows to "do more" with each story and transform it into something bigger with data and multimedia. Susan Ferriss wants journalists to contact and challenge people with power. She encouraged students to ask difficult questions while reporting—a sentiment echoed by publishing manager Dana Thompson, who said reporters should "never assume anything."
Tom Hundley offered reassurance about the future of journalism, emphasizing the enduring relevance of the skills the Fellows are acquiring. Jon Sawyer, the Pulitzer Center CEO, had one crucial piece of advice: "Save your notes."
Insights from the Campus Consortium Advisory Council
During another session, members of our Campus Consortium Advisory Council weighed in with their tips. Gail Gordon-Allen, the interim vice president at Harry S Truman College, advised Fellows to "practice purposeful reflection" throughout their reporting journeys. Kari Lydersen, a professor at Northwestern's Medill School of Journalism, urged students to "activate all their senses" while reporting in unfamiliar environments.
Independent journalist and Reporting Fellow alum Sydney Combs had two pieces of advice for this year's Fellows: Back up all of your files and use collaboration to expand your stories. Dayna Myers, managing editor of the Johns Hopkins Bloomberg School of Public Health's Global Health NOW, urged Fellows to prioritize capturing compelling photographs to accompany their articles.
Pulitzer Center grantee and reporter for the Boston Globe David Abel shared a crucial question that should be at the forefront of every journalist's mind: "Why?" Abel also stressed the significance of concluding interviews by asking, "Is there anything I haven't asked that you think I should know?" Jen Beard, a professor in Boston University's School of Public Health, provided simple yet impactful advice: Say "yes" to opportunities.
Advice from 2022 Reporting Fellow Alums
Four Reporting Fellow alums from the 2022 cohort, Laura Goodfield, Colleen Henegan, Sara Mar, and Dylan Ortiz, also provided valuable advice to the incoming class. They emphasized the importance of being open-minded, flexible, and prepared. Practical tips included building strong relationships with advisers, conducting thorough research and pre-reporting, keeping tabs on one's own biases, and leaning into the unknown. The alums also encouraged Fellows to take advantage of the extensive Pulitzer Center network for guidance and support.
And More Tips
Orientation week concluded with interactive small-group discussions facilitated by the Campus Consortium team's Jazzy Gray, Libby Moeller, Holly Rosewood, Kem Sawyer, Mikaela Schmitt, and Ethan Widlansky. Participants explored strategies for building trust with sources, organizing notes, staying safe, and navigating new regions.
Many thanks to the Reporting Fellows alums, Campus Consortium Advisory Council, and Pulitzer Center editors for inspiring our Fellows. And good luck to all those embarking on reporting projects!