Pulitzer Center Update December 22, 2016
2016: A Year in Photos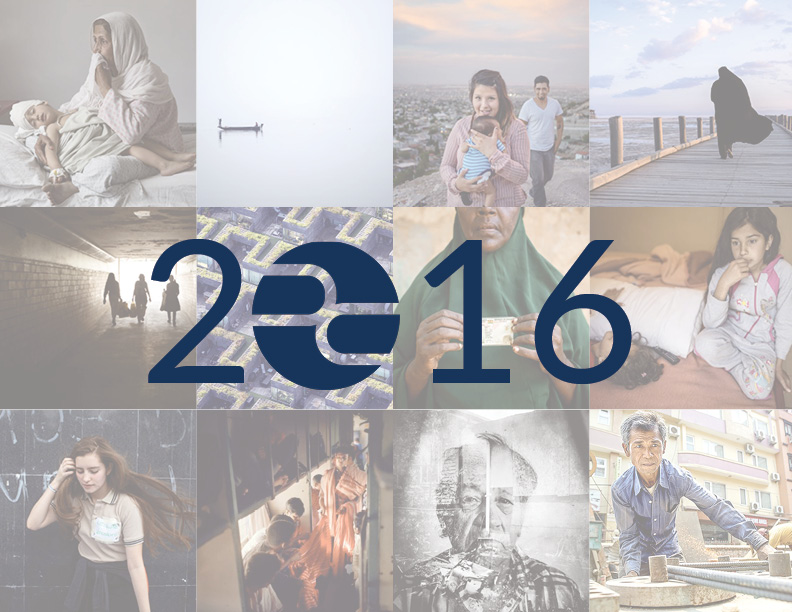 Political tumult. The continuing refugee crisis. Environmental degradation. Natural disasters. Gun violence. In this historic year the Pulitzer Center has supported reporting from all over the globe on wide-ranging issues from questions of identity to public health crises. To wrap up 2016, each member of our staff was asked to choose a favorite image. Take a look at our selections below.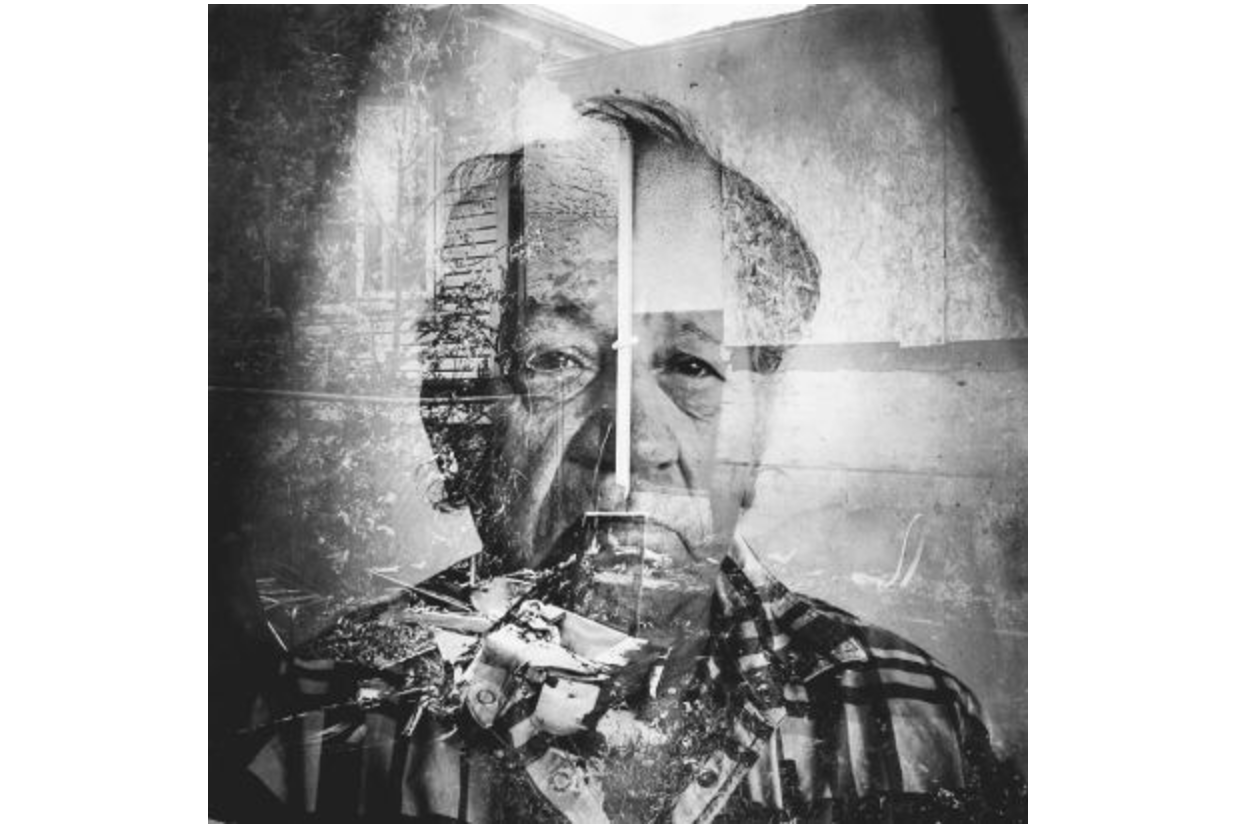 Image by Daniella Zalcman. Canada, 2015.
Jon Sawyer, Executive Director "These stunning multiple-exposure portraits (shot and edited on an iPhone!) capture a world of pain and loss—in this case Elwood Friday, a Canadian First American who was among thousands wrenched from family and home and placed in residential Indian schools with the explicit aim of destroying their cultural heritage. Daniella stumbled onto this story while researching another Pulitzer Center project. She is now exploring similar abuses against indigenous peoples across the globe."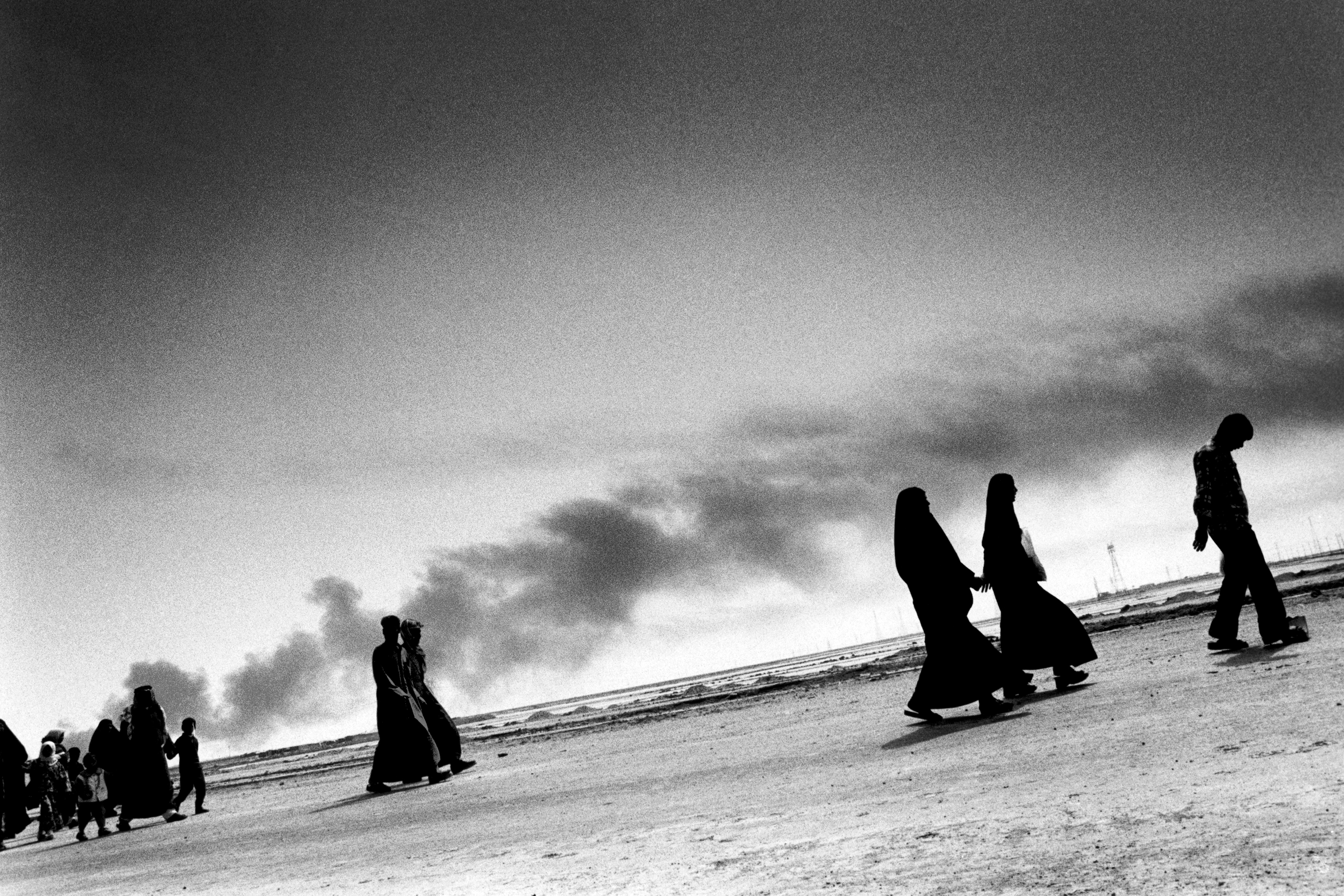 Image by Paolo Pellegrin/Magnum Photos. Iraq, 2003.
Nathalie Applewhite, Managing Director: "This image graced the cover of The New York Times Magazine's August 14 ad-free issue that was devoted entirely to "Fractured Lands," a manifestation of 18 months of reporting into why and how the Arab world collapsed. It featured a 42,000-word story by Scott Anderson, accompanied by Paolo Pellegrin's stunning photography and a companion virtual reality piece by Ben Solomon. It represents one of the Pulitzer Center's most ambitious projects and is a testament to the reason the Pulitzer Center exists—to spark conversations and advance a more nuanced understanding of the most challenging global issues of our time. Paolo's image of civilians fleeing Basra in 2003 is iconic in its representation of the journey of refugees across an unsteady landscape—and the stark journey ahead."

Image by Sara Hylton. India, 2016.
Jeff Barrus, Communications Director: "The photo lets us into an unseen world—that of India's long distance train travelers. I love how we see how densely packed the train car is, with people sitting on what are essentially shelves lining the ceiling. It's a temporary community and way of living built for a single journey, fading off into memory when the passengers finally arrive at their destination, but instantly returning as new people board the train."

Image by Paula Bronstein. Afghanistan, 2016.
Emily Baumgaertner, Health Projects Coordinator: "The trauma setting is a growing priority at the intersection of conflict and global health journalism. Here, Najiba cradles her nephew, two-year-old Shabir, at an emergency hospital in Afghanistan. Shabir's mother is off burying his sister, who was killed in the same blast. But Najiba—not the injured boy—is clearly the main subject of the image. Her hands are placed delicately and her detached gaze stretches out of the frame; the family is shattered, and Paula captures a long, quiet moment, almost oil-painted, in the midst of heartbreak."

Image by Sharron Lovell. China, 2015.
Jin Ding, Marketing Coordinator: "As one who grew up on the bank of the Yangtze River, Sharron Lovell's reporting on China's South North Water Transfer Project connects to my soul. Two fishermen on a leaf boat sit where the lake blends into the sky—it is the same China as we see in ink wash paintings and the same China as my childhood memory. While the world is much in its chaos, how many of us are keeping the dream of 'The Peach Colony' as Tao Yuanming, a Chinese poet, painted for us 1600 years ago? The difficulties people in Danjiangkou reservoir are facing dragged my heart back to real life."

Image by Natalie Keyssar. Venezuela, 2016.
Katherine Doyle, Associate Editor:
"A protester in San Cristóbal wears a label that reads 'Venezuelan Student' in response to government allegations that demonstrators are paid instigators acting on behalf of President Maduro's opposition. San Cristobal was where a wave of anti-governments protests started in 2014. Today, Venezuela is in gridlock after several years of unrest and inflation that is predicted to reach 2,000 percent this year amid a chronic shortage of basic goods, food and medicines."

Image by Ako Salemi. Iran, 2016.
Tom Hundley, Senior Editor "The U.S. is pretty much the last country standing in which it is possible to deny that global warming is real—and be rewarded with a senior cabinet post. Ako Salemi's eloquent images of what global warming is doing in his homeland, Iran, are hard to deny. I'm drawn to one that shows a lone woman in flowing garb walking away from us, down a wooden pier, into what will soon be a golden sunset. But the pier leads to nowhere. There is no water beneath it. Lake Urmia, in northwest Iran, near Tabriz, has dried up. Ninety percent of its surface water gone. Part of the problem was mismanagement of the resource for agricultural purposes, but scientists agree that global warming was a major contributing factor. I'm sure the woman in the picture understands that the laws of physics will not be denied."

Image by Misha Friedman. Ukraine, 2016.
Marvin Kalb, Senior Advisor: "Nothing positive will happen in Ukraine until the people feel they have a police force eager to help them with serious problems, dope use being one of them. I hope something can be done to improve things, but I am skeptical about the chances of success."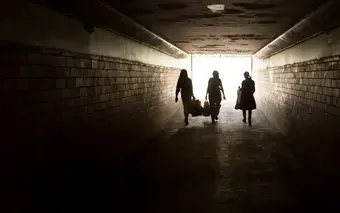 Image by Allison Shelley. Denmark, 2016.
Rebecca Kaplan, Mellon/ACLS Public Fellow: "Allison Shelley's photographs and Ana Santos' reporting on Filipino au pairs in Denmark explore the economic forces, cultural barriers, and immigration policies that leave women who participate in the cultural exchange program vulnerable to abuse and exploitation. I like how the photo highlights a mundane activity, shopping for goods to send back home, that taps into why these women participate in the program and the larger economic history of Filipinos working abroad and sending remittances to their families."

Image by Will Swanson. Kenya, 2015.
Akela Lacy, Project Coordinator: "As the U.S. prepares for a Trump presidency looming with questions of how we will recalibrate our national security strategies at home and abroad, Will Swanson's photo serves as a reminder of the perils of a blanket approach to 'anti-terrorism' that targets suspect extremists by ethnicity or religion. Amid Kenya's ongoing war against Somalia-based al-Shabab, Kenyan ethnic Somalis have been victim of extrajudicial killings and 'enforced disappearances.' In September 2015, Kenya's National Commission on Human Rights opened investigation into some 80 such cases. Will's photograph of the loved one of a disappeared person captures simultaneously a fortitude and an ultimate helplessness in the face of the Kenyan government, which 'has a history of extrajudicial killings by police.' The striking green hijab draws us to the photo's center, where we have to squint to understand the document in her hands. The ID card of her missing loved one may be her one hope for any recourse—if he's still alive."

Image by Robin Shulman. Canada, 2016.
Fareed Mostoufi, Senior Education Manager: "Robin Shulman's portrait of a Syrian family settling into a new life in Toronto, Canada, with the financial and emotional support of a community of local Canadians continued to be an anchor of hope for me this year. The descriptions of refugees Amir Al Jabouli and Raghda Altellawi proudly practicing their English, their young daughters Ghena and Naghan embracing after their first days of school, their sponsors Ashley and Ali setting up the family's new apartment, and then both the Syrian and Canadian families celebrating their new friendship over a meal reminded me of the healing power that can come from individual action and compassion. Shulman writes in her piece, 'Raghda didn't know they were being privately sponsored until they arrived in the Toronto airport. 'It restored my faith in humanity,' Raghda said.' I was torn about which image to choose from this project. There was Al Jabouli and his family walking through the snow and straining to listen to the Arabic-translated Google map route guiding them to Ghena and Nagham's school on their first day of classes. There was the image of Ghena and Nagham showing their teddy bears, some of the few possessions they brought from Syria. I went with the image above because it represents a glimpse into what I hope will be a future where all people can go to the park somewhere together and enjoy living free of the conflict and fear that threaten to separate us."

Image by Jen Stephens. Malawi, 2016.
Ann Peters, Director of Development and Outreach: "Their innocence taken from them, they are now inspiring others, these young heroes of Malawi: They are Violet, Innocencia, Rejoice, Yamikani and Harrison whose HIV-positive status had been kept from them through much of their childhood and early teenage years. They were angry, scared, feeling alone. Ultimately they found a place among Malawi's teen clubs that support HIV-positive adolescents. Now they have become leaders in the fight to educate people living with HIV and training youth to help themselves. Once the forgotten generation, they are now, as The George Washington University Student Fellow Jen Stephens titles her project, the 'New Frontline in the Battle Against HIV.' Their strength, their joy and their hopefulness are why I chose to share Innocencia's photo with you in this season of light."

Image by Veejay Villafranca. Philippines, 2015.
Jordan Roth, Special Projects Coordinator: "The story of HIV/AIDS in the Philippines today is reminiscent of the epidemic in San Francisco during the 1980s. HIV/AIDS rates are rising and the future is unknown for many infected. I think the dark tones of Veejay Villafranca's image convey this feeling perfectly. In the wake of President Duterte's violent anti-drug campaign, I think this darkness represents so much more."

Image by Alex MacLean. Denmark, 2015.
Stephen Sapienza, Senior Producer: "This stunning geometric aerial photo by Alex MacLean represents 'hope' in an era of human-induced global warming. While President-elect Trump is poised to 'cancel' the landmark Paris Agreement on climate change, this beautiful, lush planned community in the Ørestad district of Copenhagen shows it is possible to adjust our lifestyles to live a less carbon-dependent future."

Image by Nikita Sampath. Bangladesh, 2016.
Kem Knapp Sawyer, Contributing Editor: "In southwestern Bangladesh severe and frequent cyclones have affected the drinking water—turning fresh water saline. For many, 'fresh water remains a luxury,' Boston University Student Fellow Nikita Sampath reports. The woman pictured here cannot afford fresh water for her family and must walk half a mile each day to fetch saline water. Her clothes—their vibrant colors, gold and magenta and green—draw us in and make for a stark contrast to her face. But it is the intense gaze and pressed lips that say it all: Climate change is real."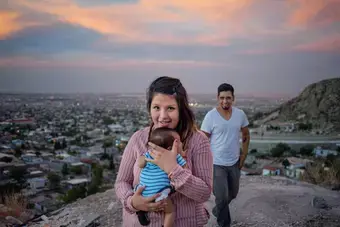 Image by Dominic Bracco. Mexico, 2015.
Mark Schulte, Education Director: "Dominic's commitment to the families of Juarez is a story I return to time and again when I have the opportunity to talk about the passion our grantees bring to their work. Drug wars have ravaged the city, but this image of a resilient young family is beautiful and full of hope."

Image by Ann Hermes, Nepal, 2016.
Lauren Shepherd, Education Outreach Coordinator: "One year since the 7.8-magnitude earthquake and its aftershocks struck Nepal last spring, killing nearly 9,000 people and damaging 900,000 houses, people still continue to rebuild. In spring 2016, Ann Hermes photographed life in Nepal, focusing on those working in construction and people living in temporary shelters. Her series of photos encapsulates the range of emotions the resilient people of Nepal go through in a day, a month, a year. Weary expressions are complemented by ones of determination and hope. In this photo of a construction worker, the bright sunlight provides a crisp view of the deliberate movements of Man Pur Chaudhazy as he bends reinforcing steel near the foundation of the Kantipur Hotel in Kathmandu, Nepal. The viewer's attention is drawn to the worker's face, where we can see the focus in his eyes, breaking through what could be weariness. The blur of sparks and spinning wheels behind the worker evoke a sense of positive development in a epicenter that was recently dusty and static. Reconstruction after the earthquake has been reportedly slow as the government stalled in distributing aid to both Kathmandu and the villages damaged near the epicenter."

Image by Jodi Hilton. Greece, 2016.
Evey Wilson, Associate Producer: "I have been blown away by Jodi Hilton's dedication to follow this story. Her images immediately transport me to Greece with the refugees and I'm always looking forward to new installments of her work. Quiet moments like this are often lost in the reporting of refugees but I think it helps me understand what it's really like. These two sisters share a quiet moment. It's so familiar, similar to moments I've shared with my sibling where my brother has wanted my attention but I've been lost in thought. I'm really impressed with Jodi Hilton's ability to document the entire scope of this issue."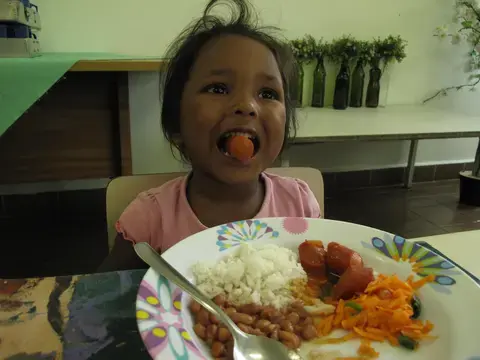 Image by Rhitu Chatterjee. Brazil, 2015.
Joan Woods, Capital Campaign Director: "Good Nutrition—the secret sauce of kids' learning in every classroom, every school, every country, every part of the world."

Image by Lynsey Addario for TIME. Greece, 2016.
Libby Allen, Intern: "Taimaa Abazli, 24, holds her new baby Heln in their tent at the Karamalis camp in Thessaloniki. These women are fleeing their countries, giving birth to their children in strange places, and are ushering in a generation of children who are born into no nation. Her face shows determination, in spite of everything."